Shinybass journal entry 08-25-11
There's gold in them thar hills!
Goooood morning! Now, some of you may be thinking that I have fallen off the planet. I assure you that this is NOT true. I still have my Stride-Rites firmly planted on the ground (while reaching for the stars – anyone? anyone?), and in the middle of this touring madness, I decided to pop the question to my long-time girlfriend. Now, before you start making assumptions, the decision is a great crutch as to why I haven't written anything in a while. The truth is actually much more lame – I let the website domain name expire, and I also spent a lot of time in remote places and quite honestly getting out and enjoying the West coast, as opposed to sitting online. The balance is tricky, because I feel an obligation to keep the fingers moving for you folks. It IS a journal, after all.
I guess the adage is true – you get what you pay for. And since this is free-er than free, rolling blackouts may occur from time to time. (That's what I call it when the internet is down on the bus – get it?) But last we left, I was somewhere doing something. And it probably had to do with driving across the country. Literally. According to the GPS, we had 3016 miles to travel before we hit our next port of entry. With two drivers working in tandem, we hoped to be in Washington sooner that you can say 'Oregon Trail', but only if you say it with a really funny accent over the course of two and a half days.
When I checked in last, we were rolling through the Midwest, which meant that it was probably day 2 of the journey. Day one was met with a canceled flight for Phil, which meant we picked him up in Massachusetts and drove him to Buffalo, NY to catch a flight. That delayed things just a bit, but we made great time, and we started to settle in as the day came and went and we woke up nearing the flatter, more farm-friendly states. For those scoring at home, we rolled on I-90. Like the entire damn length of it. So get a map and trace our route. Looks fun, eh?
If you have ever been to Chicago, the Museum of Science and Industry has a WWII-era German Sub. Now, there aren't many of these left, so if you go, then treat yourself and walk through the exhibit and the craft. It is amazingly eye-opening. I liken a tour bus to a sub, except we can see sunshine and watch satellite TV (which, even with 500 channels gets amazingly old). Our sub is also not in danger of sinking, although blown tires and generator problems have been known to happen. But, our swanky ride rambled west, and we made really good time. By day two, we started seeing some really nice scenery…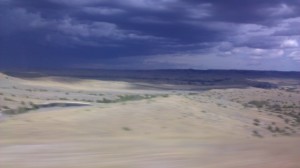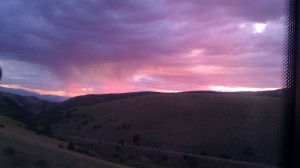 As the sun went down in Montana, we all hopped out of the bus and took some really great sunset pictures.  Two of my favorites were taken by our keyboard player Andy.  One of which has become my new twitter picture.  The other my facebook picture.  Can you tell I like them a lot?  We snapped a bunch of pictures that day, including one of an approaching storm, which are always amazing to see.  Back in '98 or so, my old band drove from Colorado to Nashville in the van, and it was my first time in any of the Midwest states.  I remember that I was in amazement, but not nearly as appreciative as I am today.  Cherish where you are, when you are there.  That is the lesson for the day.  And in that spirit – onward!
We had a quick stop in Spokane for lunch (I had the meat loaf Benedict at Frank's Diner – some 3000 calories of creamy goodness), and a wonderful discovery of a classic car dealer in the heart of downtown.  After the shock wore off that I couldn't afford anything in the store, I hit a 12-mile bike ride to help ease off lunch.  We rode through Gonzaga and into the middle of town, along the river.  Very, very nice.
Our final destination was the Snoqualmie resort, which is nestled about 10 miles outside of Seattle.  I was up early, wanting to soak in all the beauty of the Coeur d'Alene and the surrounding area.  I am so happy I stayed awake for all of that.  The beauty of the area is such a wonderful, unknown secret to the the Eastern part of the country.  The Snoqualmie Casino is a beautiful money machine, nestled in a picturesque setting.  As we were setting up (and READY to play our instruments for the first time in 4 days), I noticed the wonderful far-off mountains to the left of the grandstands, not even seeing the HUGE mountain hidden by clouds just to our right.  It was pretty trippy.  I didn't get to see a bear or an eagle, but I watched the casino shake me down in blackjack.  That's OK – I made some of it up a state later.  Below are a couple shots of the resort – the second being the view from the balcony of the bar.
The first show on the run out west was behind us, with us letting off a little steam in the cigar bar at the casino.  With the 3000 mile road trip behind us, we were off to Portland, where we would spend the next two days in a hotel with a non-moving toilet.  Life was grand indeed.  Unless you owned an accordion.  Then you were made fun of.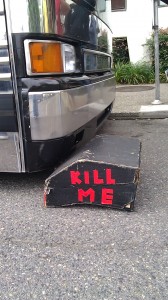 Next stop : Portland.  Next journal entry : sooner than the last.  Next thought : unknown.
See you on the road!
---
---