Shinybass journal entry 08-27-12
And I didn't see one tulip…
If you are reading this you are alive, and if you are alive, then you, like me, realize the value of being alive.  I don't mean being a breathing, heart-beating, human – I mean that you actually clicked on a link that brought you to this website, which means you are either a)bored , b)killing time at work , c) surfing on your phone waiting for the dental assistant to call your name, or d) you are curious as to what we've been up to lately.  If your answer was 'D', then that means you are actually 'alive', and seeking knowledge of some kind.  You may just be here for the pictures, and that's OK – I am happy to take pictures for you – but if you are looking for a little more, then (Word)press on.
As you may know, Phil has signed on to be the pregame entertainment for the Tennessee Titans this season.  This has been met with mixed reviews – there is a talking head here in town on a sports show that hates Phil for some reason, and can't wait to bash him every week.  I understand he has to have something to talk about and keep his ratings and calls up, so more power to him.  I would love a sit down with him, or even have a water-cooler discussion with him.  Not to hurt him or tell him off, just to get his 'real' opinion – not the 'Jim Rome wannabe  so he can keep his phoney-baloney job' opinion.  He (and I) will find that we are not unalike – all just trying to our lights on.  But if you take the stage, inevitably someone will hate you.  I've been hated my whole life.  Like Katt Williams says – 'I wish people would hate on me' – it means you are doing something.  So whatever your name is on 104.5 the Zone from 3-6PM, (I looked it up once but have forgotten it and really don't want to waste my internet time on another search that would take .004 Google seconds)  I have another parody of 'Call me Maybe' to watch, so yap away.
So game one was without incident, and we had a tremendous time.  It is a little stressful up there, to be honest, just because of the dynamic of it all.  We really can't hear crowd reactions, and being so far from the crowd is a little different for us.  However, with the first game out of the way, I know the rest will be all downhill from here, figuratively speaking.  Here's a little shot right before halftime last week.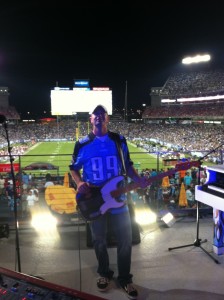 After a short nap, it was off to the airport for a 6AM flight to Sacramento.  Actually we had a layover in Vegas, and with a lot of prodding from my brother, and much resistance from my sleepy inner-conservative, I slid $20 into an airport slot machine.  I am pretty sure every Travel Channel show I have ever watched on gambling says to stay away from the machines in the Vegas airport.  5 minutes later, I was cashing a claim ticket for $140. Turns out my dog boarding was paid for by the greasy quarters of a thousand bored Southwest passengers.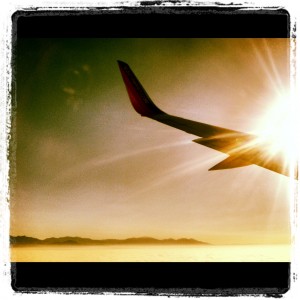 Once in Sacramento, we were shuttled to the Toby Keith bar in a VIP van, complete with a stripper pole, strobe lights, and wet bar.  I said 'Yep – this is exactly what my wife thinks I am doing right now'.  Sound check came and went, and I was able to have dinner with a dear friend and his family before our show.  The beauty of this job is being able to reconnect with old friends, even if it is once a year.  It saves us both a lot on plane tickets.  I was stuffed on sushi, and we hit the stage to a raucous crowd, and then it was back in the stripper bus for the 30 minute ride back to the hotel.  This was probably the least and lamest 'party' ever on the bus – 2 of us were asleep, and I think 12 words were spoken the entire trip.  We were some tired boys. And it was about to compound…
Lobby call was 5:30 for a flight to LA.  So day 2 on the road found us with another night with 4 hours of sleep.  Flying into Los Angeles is relatively easy, it's the flying out that sometimes sucks. But our transportation was waiting, and the 2+ our ride to our final destination was filled with a bunch of tired children.  (That would be us).  Our final stop was at a ranch outside of Solvang, California, where we played a private event.  The house was out of a fairy tale, and the grounds were immaculate.  There were grapes being grown everywhere, and around the corner was one of the tasting rooms from the movie 'Sideways', and I also posed by the Windmill hotel where the characters stayed.  Super touristy fun!
After sound check, we had a couple of hours to kill, and as fate would have it, there was a classic car show in town.  I was in heaven.  There were some amazing California cars out there, and they are always showing them off.  As tired as I was, I still found the strength to walk around some amazing cars and of course windmills.  Then it was nap time.
The party went off without many hitches, and they treated us extremely well.  I was happy to spend some time in wine country (and I took it considerably easier on the red stuff than in Canada), and after a nightcap with yet another dear friend, then it was time for bed.
Sleeping a solid 7 hours, I felt like a new man, and enjoyed walking the Sunday morning sleepy town of Solvang, where the Danish coffee shops were baking, and the early fog hadn't lifted.  My feet took me to yet another of my 'things' – the 4 faced clock.  And here it is…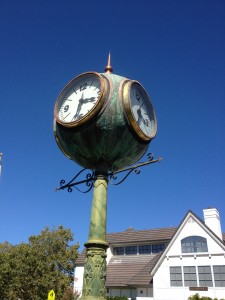 Then it was back in the car for the 2 hour trip back to LAX.  Riding down the 101 is so wonderfully peaceful, especially on a calm Sunday morning.  I had visions of sailing the ocean yet again this week, and I can't imagine why.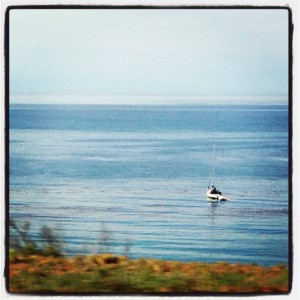 Then it was back into yet another Southwest flight that reeked of feet and peanuts.  The 4 hours seemed to go by quickly, and I was actually productive on this flight, getting music together and reading a bunch.  After a crazy week of shuttle vans and flights, I slept really well last night.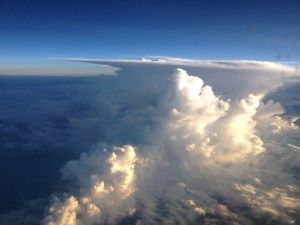 I'm so incredibly excited about this week.  Another Titans game is on the books for Thursday, I have an in-town show at the Rutledge with a songwriter, then I am on the bus yet again for all points.  In the craziness that is my life, I will be making it even crazier in the days to come.  I warned you about several announcements, and the Titans one was big.  There's another popping soon, so all in due time.  In the meantime, keep moving yourself forward, and if this journal entry kept your mind off the impending root canal, then my work here is done.
See you on the road!
PS  – in response to some of your inquiries – I am still a Steelers fan at heart!
---
---