Shinybass Journal Entry 08-31-11
What day is it now?
I find myself asking this question more often than not. With the schedule twice as busy as it was a year ago, I relish in the fast pace of my life, for it beats the alternative, which is sitting at home pissed because you aren't working. If you are hating your 9-to-5 job, then remember, a) you have a job, and b) at least your paycheck is guaranteed. In our world, if we see a hole in the calendar, we cringe. But not this time. I liked seeing the brief pause in the calendar. It gave me a chance to mow my yard, harvest some jalapenos, and get back to a small degree of normalcy. So here I sit, all normal-like and stuff.
It takes me a minute to remember where I left off, and where I am going with the journals, since I am in the middle of recounting the events from our West Coast run. I realize that reliving a tale from several weeks ago may be a bit 'last week' (literally), but realize that with the new age of technology, no one, including myself, really keeps a paper journal any more, so this is my pen and papyrus. So bear with me as I relive some golden times in our Pacific Northwest, if not for your entertainment, but for my (eventual) loss of memory.
So as we hit Hotel 30 in Portland, I was surprised by a few things.  First, I had no idea how wonderfully hip and cool Portland was, and this was just from the initial ride in.  The next two days off would find me exploring every nook and cranny of this amazing town.  Second, I was surprised at how crappy the French Toast was in the cafe at the hotel (travel tip to all of you out there), and that if one spends $12 on breakfast, then one should not leave the cafe hungry.  Lesson learned.  I was off to visit with a friend, who took me to a great golf course (where this woodland creature decided to watch us tee off), and where I found 4000 baseball bats, all clumped together and bound by bark.
2 Days off in any town is plenty of time to get into trouble, so by day 2, we had the place mapped out and we were ready for action.  Portland is known for their bike-friendly streets, the beautiful landscape, and micro brews.  Luckily for us, we like to bend our elbow occasionally.  We found a great brewery that had an 8% beer that we all seemed to really like, and then hit the town for a few more.  The next day we would have to actually get up and go play a show, so we didn't hit it too hard.  OK – SOME of us didn't hit it too hard.
Our next day found us in Warrenton, OR, which is just outside of Astoria.  This little fishing town nestled in the hills next to the Columbia River is as pleasant and inviting as a big comfy chair, begging you to stay too long and enjoy everything it has to offer.  The landscape cannot be done any justice by my cell phone pictures, but know that the water is beautiful, and that bald eagles rule these skies.  Our hosts took us into Astoria for lunch, where the crab mac and cheese and salmon burgers made everyone feel like new men.  Not that we were done with the old ones (ba -bum-ch).  As we ate, we were told of all the Hollywood attention this town had attained, most notably from shooting the movie 'The Goonies' in and around the county.  This is one spot I would love to hit again.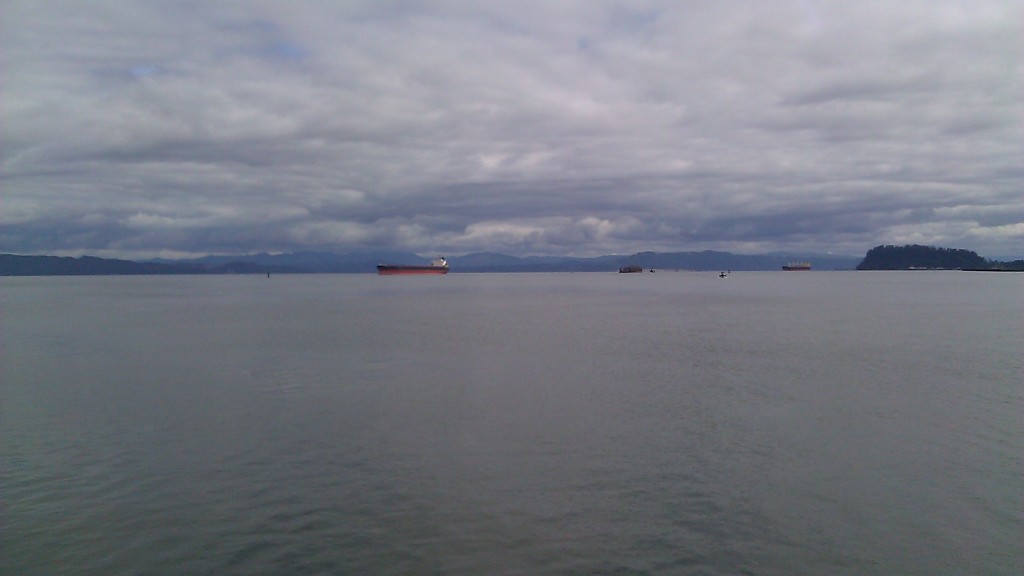 After our show in Warrenton, we played a massive game of corn hole as Reba serenaded us from the stage.  We were some tired little boys, and all ready for a shower and hot meal once we drove the 90 miles back to Portland.  About 60 miles out, smoke was billowing from the rear of the bus.  Our driver instructed everyone out, because a bus fire is nothing to mess around with.  It turns out that it was just a bad coolant hose, but we were still stuck on the side of a mountain.  After hours waiting on a service truck, we did get under way again, and our 9PM ETA at the hotel turned into 3AM.  I didn't mind.  I slept, and I won the pool.  Plus, Andy and I took the mountain bikes on a logging trail, so we got some exercise as well.
Our next few days found us in Folsom, San Jose, and then Anaheim at the House of Blues.  I had friends at each stop, which makes life on the road a little better.  Andy and I biked about 15 miles in San Jose, and the Disney Resort the put us up for the HOB show was overrun by a bunch of smelly musicians all trying to do laundry at the same time.  Such is life on the sub.  I don't have many pictures from California, so instead, I will leave you with a parting shot of a lake I hit in Portland.  I call this 'Lake'.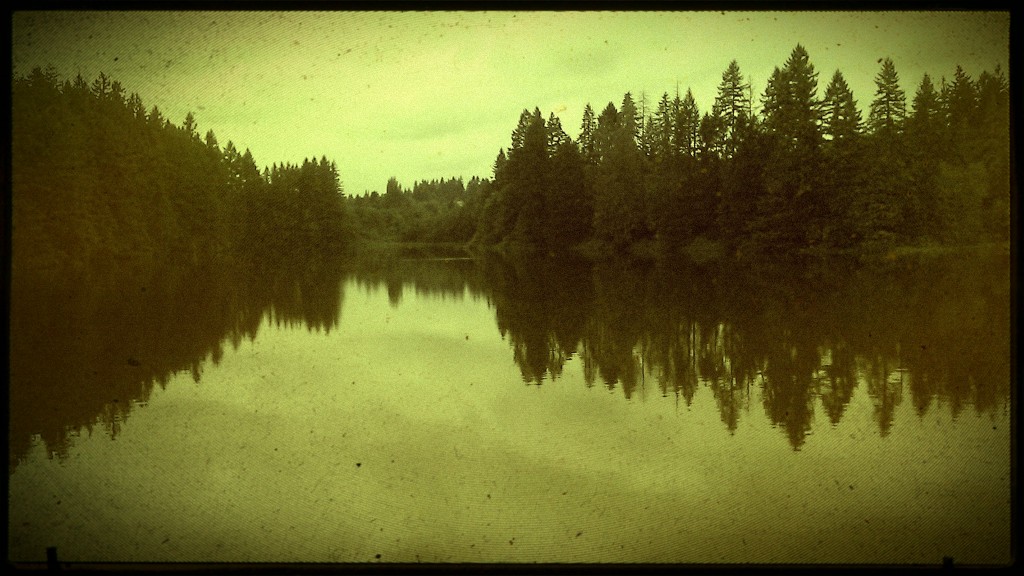 So that leaves us with just one more show on the run out west, then it is home, home on the Radar Range.  Don't worry – for the last show we had nothing but time to kill, so our merry little band of misfits got into some silly stuff.  I got a lot of it on video, so give me a few days, and I'll get it up on youtube for you.  In the meantime, do me a favor, and suggest this blog to a friend.
See you on the road!
---
---