Shinybass journal entry 09-07-15
Full circle, or running in circles?
Howdy, fine folks! I hope this finds you with decent tan lines (or at least some good campfire stories) from the Labor Day weekend. It's the last 'hurrah' for a lot of folks: the signaling of the end of Summer, and the last weekend to wear white, unless you are P-Diddy. When I was a wee lad, school used to start around this time for us, however, I think the local kids have been in for 2 weeks now. AND they meet the bus at 6:15. That's 6:15. We at least waited for the bus in the morning light, and not the sunrise. Wait until December, childrens. Maybe Santa will bring you glowsticks.
But I was there at one point, too. My humble upbringing in Virginia Beach was that of (seemingly) endless practices, whether for baseball and soccer (of which no amount of practice could help), or band practices, which were both before and after school. Nothing says 'nerd' like practicing 8-to-5's in the parking lot during first period in Junior High School. It really wasn't that bad, and in hindsight, it was good to be outside.
I've lived with the 'band nerd' label for a decent chunk of my life. Actually 'All-around-nerd' sort of sums it up. Oh, I seem the cool and stylish one now (not really), and honestly, just like everyone else, I suppose, junior high and high school were just one big awkward time. I dressed like a fool, didn't drive a decent car, and usually said all the wrong things, but somehow I made it through. I graduated with a sense of 'holy sh*t', and really had no direction. It seems some things never change.
I wasn't supposed to be on the road, I just ended up here. NOBODY says 'When I grow up, I want to spend half the year away from my family playing for half-appreciative crowds that really could care less what kind of crappy day the road brought and that it took an act of Congress to get to the show tonight.' Or maybe someone does. I dunno. I do know this : I've really let my uvula go to the dogs. (That's an obscure SNL reference. Two of you will get it.)
But since I am on the road – a lot – then I shall keep you abreast of the important issues, the issues that face a touring act from day to day. We ask questions like 'What fried food am I eating now?', or 'Will I see a permanently installed toilet again?', or 'Is this really meat?'. I kid. It's not all that bad. We can tell what kind of fried food we're eating.
In all seriousness, we do a lot of shows from glamorous to not-so, yet it doesn't make the shows any better or worse, just different. This week was a prime example. Shall we dive in to the slide show?
We started out the week in Ohio – literally in the middle of the Buckeye state – playing the Sweet Corn Festival. I've done my share of these things to know when to get 'hold of the namesake of the festival. For example – the Portland Beer Festival – win. The Evansville mud pie Festival – not so much. As advertised, the sweet corn was amazing. I was fascinated at the sweat shop they had going on to bring the corn to the masses. When I asked them how much they got paid, they just responded 'Aw shucks.'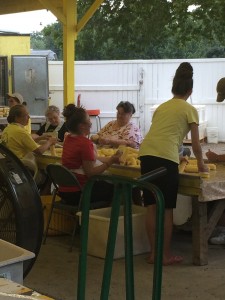 Catering is a big deal to those of us who can't eat at home every day, so we are grateful when the 'home cooked' stuff hits the table. ESPECIALLY when someone makes apple dumplings.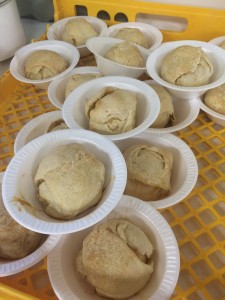 The town of Millersport is roughly on the same latitude as the small town where my Grandparents lived, so just drive a couple hundred miles East, and you'll find a very similar town, which had me a bit nostalgic. The houses looked the same, the backyard gardens the same. The apple dumplings were good, but only about 60% on the scale when compared to my Grandma's. Odd similarities, but welcome familiarities. And on a side note – Jeff and I watched a funnel cloud start to form in the distance as a huge storm passed by. Tell me, where else can we have so much fun?
The bus ambled into Rocky Mount, Virginia, (not to be confused with Rocky Road ice cream) for a show at The Harvester, a great listening room in downtown Rocky Mount. I managed a swim at the hotel in the morning, and was happy to be back in my home state again. Our food was provided by the Bootlegger Cafe, a great little restaurant across the street from the venue. And a four-faced clock. Yep. We're back on that again…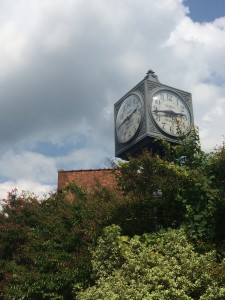 After some shopping at the downtown farmer's market (I'm a sucker for some Amish bread and apple butter), we ate (yet again) at Bootlegger's, then played a really fun 90-minute set to a capacity crowd. In the crowd were our friends from Joe Beans coffee, who may be what we call in the business 'enablers'…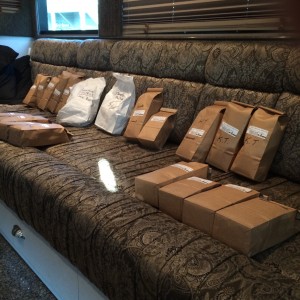 The next morning I arose to the very familiar surroundings of my hometown, Virginia Beach. When I saw this show hit the calendar a few months back, I honestly couldn't believe it. We've played behind Sheryl Crow before, so that side of it was cool, but here I was, now living far from home, and returning to the place that made me who I am. And this time it's not for a wedding, funeral, or family event. This time it's in front of 15,000 people.
I have always said you are right where you are supposed to be – at all times – good or bad. The morning of our show, a dear friend came to get me for breakfast. He and I were catching up as old friends do, and in walked a friend of our family that I haven't seen in over 20 years. It was surreal. And Virginia Beach isn't that small. It was supposed to happen.
After trying to walk off breakfast (to no avail), I got in touch with my Mom, and she and I and 2 of my three brothers had lunch at a great place called The Landing. I'm a shrimp and grits fan from way back, and they did it right. After a (too quick) visit, I had to get back to the oceanfront and get situated for the show.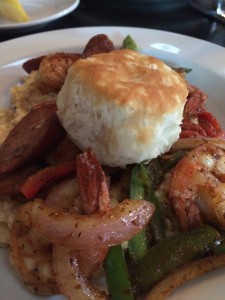 We were on at 7, which can sneak up on you rather quickly. Before I knew it, we played, it was over, and the place had swelled to over 15,000 people. The crowd did not disappoint, and according to social media, several of my classmates from high school were in attendance, too. The fade from day to night was beautiful, and by the end of our set, the night had become a perfect Virginia Beach evening.
With a midnight leave time, that meant I was able to see some friends and get a late dinner and some local beer. Midnight hit, our bus rolled toward Nashville, and I stayed in the jump seat long enough to see my old exit off 44, then I was off to bed.
I didn't expect (or want) much fanfare for this show – it's just another show, according to the calendar – however the doses of home were just enough. I had family and great friends side stage watching the show, perfect show weather, and great food. Going back to my earlier paragraphs, you can see that I don't need much to make me happy. One ironic thing, however. EVERY time I am near the ocean, I touch the water and feel the sand in my toes, no matter how cold or inconvenient. For some reason I did neither this trip. Did I revert to my days of living there and taking it for granted? Was I just too busy? I dunno. Either way, I hope you DON'T follow my lead and dip your toes as often as you can. You never know when you'll be back.
See you on the road!
---
---