Shinybass journal entry 09-10-12
Good morning!  I am at a quandary.  As I stare at the blank computer document that will eventually become my weekly journal, I am torn between the humble reporting of the weekly news and the pompous flamboyancy that our job can sometimes create and/or enable.  I read that 49er's great Jerry Rice used to say 'act like you have been in the end zone before'.  Andy and I tell each other to 'act like we've been somewhere' when we start misbehaving.  It really is hard though, to not get excited when someone tells you that in order to make a gig you have to fly a private charter plane.  This after playing a sold-out stadium in your hometown during a football game.  Then having to play for another town that night.  It's all mind-numbing, and takes a toll, but as hard and exhausting as Bon Jovi tried to make his life look in Wanted Dead or Alive , we really do get to experience a lot of electric moments, and as much as we do all this, the appreciation doesn't get lost.  I promise.
My dilemma is that in our business, especially where the social medias are concerned, there is a fine line between sharing and bragging.  As a musician/artist, we are hard pressed to find any of our colleagues that hasn't posted a picture saying 'We rocked this sold-out venue' or posted an update stating 'My record is number one' or 'Just did shots with Lindsay Lohan' or 'Just wrote a hit song'.  The fine line of doing and saying has become even more distorted, since it seems that if you aren't saying, then you aren't doing.
But here's the difference – and it is something that I need to embrace/sort out/abandon all together – most successful people aren't really talking about it.  How many hit songwriters are bragging about the hit song they just wrote?  Well, maybe one or two, so scratch that.  How many top session musicians are tweeting that they 'Just had a double scale session on Keith Urban's new record'?  Even in the world of big business – do you see a facebook update stating that 'I just merged two billion dollar companies, and my stock value just tripled!'. Never.
But the social medias are there to be, well, social.  Share the kid pictures, the food pictures, the daily lives and the Pinstagrams.  (I just made that up right now on 09-10-12 at 8:34 AM, and if anyone uses that app name, then I will sue, and I have all of you as witnesses).  But again, how much is sharing, and how much is bragging?  If a non-musician/entertainer gets backstage and shares, it almost seems cooler, somehow than if we do.  The musician-types I know can relate to this because we don't want (or sometimes very much want) to share music-career related vignettes, but I have a hundred stories that I can't share, just because I won't.  So as I type (and realize that I have jumped all over the social-bashing in the past, so no, don't label me crazy yet), I am torn.  Get ready – the previous 500 words are merely the set up that I will be bragging (slightly) about some of the things we experienced this week.  Shameful, yet, necessary, I know.
Our first show of the week was less-than glamorous (here's the humble part of the gig) – we played a club in Celina, OH that was next to a dairy farm and a corn field.  As you can imagine, there is no greater feeling than rocking a packed house, walking outside in to the thick summer night, and breathe in the freshly fertilized air.  Gotta love cow manure.  It was actually a really fun night because after our show, the club cleared, and the band played shuffleboard.  Rock stars, I know. I did manage to find a lighthouse on the way to the venue, however. In the middle of Ohio.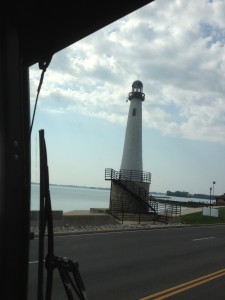 Day 2 found us in Indianapolis, Indiana at the famed 8 Seconds Saloon.  Again, huge turnout, and a great show for us.  As we were on site pretty much all day, we sort of ran out of things to do.  A $.99 frisbee was purchased at CVS, which provided about a dozen minutes of fun.  I had an extra guitar on the road, so I practiced for a while, but that lasted until the lunch sandwiches showed up.  I even ventured to the local supermarket to find something to read.  That didn't work out, either…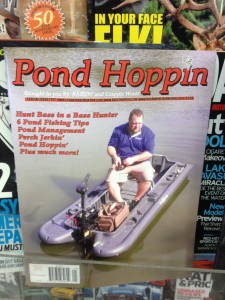 So it was off to Kansas City, land of BBQ and the 18th and Vine Jazz hub to play a festival called Y'allapalooza.  I can't make this up.  On the bill were Kix Brooks (who found on his dressing room door the words 'Kid tested, mother approved' I have NO idea how that got there…), Big and Rich, and Dierks Bentley.  I know some cats from all those crews, and seeing them all again makes for a fun afternoon. Tommy took the boredom reigns and snapped them a bit, purchasing a football and a basketball, which were both used extensively backstage.  In addition to familiar faces, my wife was in town visiting, so win-win for me.  Great catering, great people, and a fun, sunny show made for a great night, except that we had to leave immediately to make it to LP field in Nashville to load in and sound check for the Titans home opener.
6:30 came early for us, and the hour of basketball and football I played before the show the day before was creeping back to haunt me, mostly at my old-ass knees, but I wasn't doing any running today.  Not physically.  The 'hurry up and wait' theme was in full effect for the pre-game show, just running like crazy to get there, then wait.  Then go to breakfast, then hurried back to the stadium.  Then hurried for sound check, then wait for pregame.  It's all part of it, and there are worse problems to have.
The above middle picture is my view on game day.  Not shabby.  The other one is from the media box.  Not shabby, either.
We played pregame then one song to kick off halftime, and before halftime was over, we were in trucks on the way to the small airport in West Nashville, hopping a charter flight to Warsaw, Indiana.  Our bus hauled up there with our gear, and so we basically arrived, had about an hour to eat and freshen (more deodorant, please), play for 75 minutes, then hop back on the waiting plane to get back to Nashville.  We were giddy on the flight to the gig.  Exhausted yet in a good place on the flight home.  We set up the tables, drank beer, listened to Notorious B.I.G. and played spades for the ride home.  I told you we appreciated the opportunities we are afforded.
4 days, 5 shows, approx 125,000 people in front of us (according to KT).  So now I am home, safe and sound, and OK with the fact that I didn't get any air miles this trip.  I want to hear from you, and get your opinion on this whole bragging/updating thing.  I suppose if I just lived my life and didn't update anything I would still be living my life, right?  We lived our lives for a long time without having to get a certain number of 'likes' in order to deem an activity or picture truly special.  Is that era gone?  Are the days of having friends over to see pictures of the trip a thing of the past?  I hope not.  I really hope not.
See you on the road.
But in the spirit (and begging forgiveness for my boastful picture, but here's to you for keeping me humble).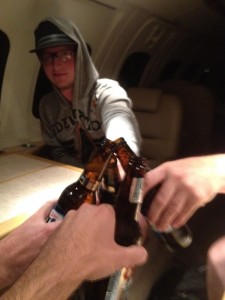 ---
---