Shinybass journal entry 09-14-11
Well, I got one…one.
Or, as my brother calls it, the $42 watermelon.  After careful planting, weeding (at first), watering, and nurturing, my little watermelon vines started to sprout.  I was tickled to death, as they say down South, and I started having visions of setting up long rows of picnic tables and checkered table cloths, with watermelons for the whole neighborhood filling the place settings, and spent husks littering the yard.  Instead what I got was a bunch of baseball-sized gourds with the bottoms rotted out and/or gnawed out by the woodland creatures that live in my yard.  This gardening thing really is relaxing – the stress is just zapped out of my body as I run around my yard throwing half-eaten tomatoes and cantaloupe rinds at the trees.  Next year I am going to grow BB's and shoot the damn squirrels that use my yard as the A #1 Buffett.
But my stress really isn't that high.  Even with a wedding to plan.  In case you missed it, yes, I am engaged.  Most people don't preserve 'the moment', but I decided to tell the world in my own little way that I am ready to have someone pick up after me.  I kid, honey…But seriously – I don't usually use this 'forum' to discuss personal stuff, but that one is pretty big, and I am pretty excited.  There is a nice video on youtube of the event, so check it out as you see fit.  OK – here's the link.  But where was I?  Ah yes – stress.  Not really that stressed.  Try not to get that way.  If I am, then hopefully my breathing takes over, and I work my way out of it. Whatever it is, I can get through.
Like a really awkward moment on stage.  OK, it wasn't really that uncomfortable.  I have come to expect such things from my friends, and especially my friend Jim.  When we visit, he just sort of has a knack of pulling off at least one moment a night that makes me cringe.  I love him, but he always seems to get me, one way or another.  Case-in-point: Chesapeake.  This past weekend we had a show for the first annual Freedom Fest.  We were extremely honored to headline the first one, and the fact that it was in VA allowed me to get some family time in, some beach time in, and some friend time in.  And after a full day, we blasted to the venue, where we played a great little set.  Until…
Before I say the 'until' part – here's the back story:  I couldn't make my 20-year HS reunion, so I was asked to send a picture in.  I decided to get sassy and send a 'before and after' picture.  The picture was then blown up and delivered to the reunion, now known as 'Cardboard Steve'.  Cardboard Steve was soon covered in kisses, hats, beads, and probably taken to the bathroom to be pissed on a few times.  I knew all that happened, so I got a chuckle.  I heard my likeness ended up at a friend's house – JIM'S HOUSE – for another time.  And what better time than the present…
So mid show, Jeff and Phil keep looking off into the crowd, like they see something, but they aren't really sure what it is.  Upon investigation (and a 'presentation' onstage) it turns out 'Cardboard Steve' has popped up again, but this time at my job.  So Phil placed it in front of my mic stand for the duration of the set, and the whole band had a wonderful laugh, as did I.  Chalk it up to Jim to nab me one more time.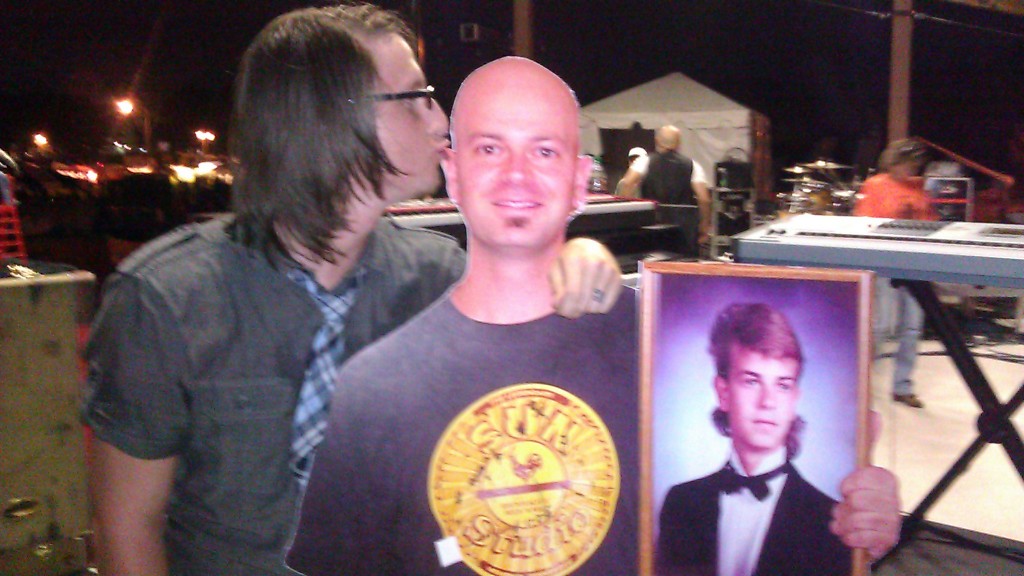 For those of you scoring at home, yes that is Andy having his way with my ear, and yes, I have a fine mullet going on.  Of course, in '88 it was cool.  '92, not so much.  My hair is much easier to take care of these days.
That's all for now – updates from the road on Twitter (@shinybass) if you need instant news, or you can check back here and I will have more dirt for you.  Speaking of dirt – we were in Jersey Sunday.  Not much to tell there, so fill in your own blanks.  I did see baby baboons, however, so the trip was a good one.
See you on the road!
---
---