Shinybass journal entry 09-16-13
Where the HELL have you been?
That is the resounding sentiment from across the interwebs as to my absence.  I guess things never really do change.  We jump on the things that are important to us, let other things slide, and who is the victim here?  In this case, it's me.  You are saying 'Wait! WE didn't get our journal entries!'  and probably want some sort of refund. Fine, send me your address, and I'll come over and mow or something.  I am truly the victim.  The victim of a circumstance, as my good friend Curly of the Three Stooges used to say.  Not really. My touring life (yes, the very thing I am supposed to be reporting) took over, as well as a few detours and much-needed time off in the middle of the fray.  Who can blame me for a little time away?
As I look through the pictures from the road, I am in a head spin trying to remember where we were, but more shocked by the number of miles I put behind me over the past few weeks. Last time I checked in, we were in Syracuse, which to me seems like years ago.  After glying home from Syracuse, we had a staggering 8 hours at home, and then we were once again on a bus headed West.  There's something odd about being on a bus for 3 days.  First, you are on a bus for three days.  Second, it's like a Twilight Zone episode because we drive for hours, yet somehow, at the 'normal' stopping time there is no stopping, and there is no show waiting for us at the end of the drive, just more highway.  Being out and stopping occasionally for driver sleep is exciting, especially on roads less- traveled.  Like Route 66.
As fate would have it, we were all over Rt. 66 on this trip, and I couldn't help thinking about the movie Cars, and how the quaint little towns of yesteryear dried up because of the destination and not the journey.  I tried to take in a lot of this journey, and the big windows on our land sub are good for that.  And with the magic of the iPhone, I managed to get some great shots – like this one from Texas.

And any rest area that has you on the lookout for rattlesnakes is pretty sweet.
With the warm Texas sun on our shoulders and a wide open map on the table, we were trying to figure out a good place to stop for a few hours of rest and food.  Drawing a straight line, we ran into Amarillo, TX (insert George Straight song reference here), home of the Big Texan – a 72oz steak.  Let's think about this.  4 1/2 pounds of meat that have to be downed in an hour (along with all the 'trimmings'), and then it's free. (Otherwise it's $72)  As we watched not one, but two people attempt this feat of gastrically epic proportions, we noticed they weren't really having fun doing it.  Seriously then – what's the point?
After small steaks (OK, half now, half for lunch steaks), we continued West, but soon realized that we were making better than expected time, so we had time for just about anything we wanted to do.  Only two of us had visited the Grand Canyon, so boom! in a few hours, we found ourselves next to a huge hole in the ground.  I was impressed.  It was cold and rainy, and there was an Elk warning out that day, but dammit, I was not to be swayed.  I have flown over the Grand Canyon so much I can almost name the donkeys, so to see it at ground level was another event I can cross off the list.
Breathtaking, inspiring, prayer-inducing, humbling.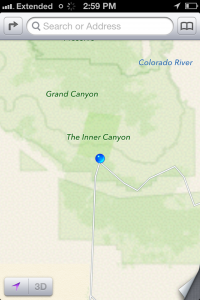 Did I mention that this place is amazing?
So back on the bus, kids, and make sure you have your field trip buddy.  Our next stop was Las Vegas for an overnight at Green Valley Resort, which is simply the best value in Vegas.  I enjoyed a long workout, excellent food, and some pool time before we had to split and head to Los Angeles, where we played a private function in the afternoon, with a show the next night in Bakersfield.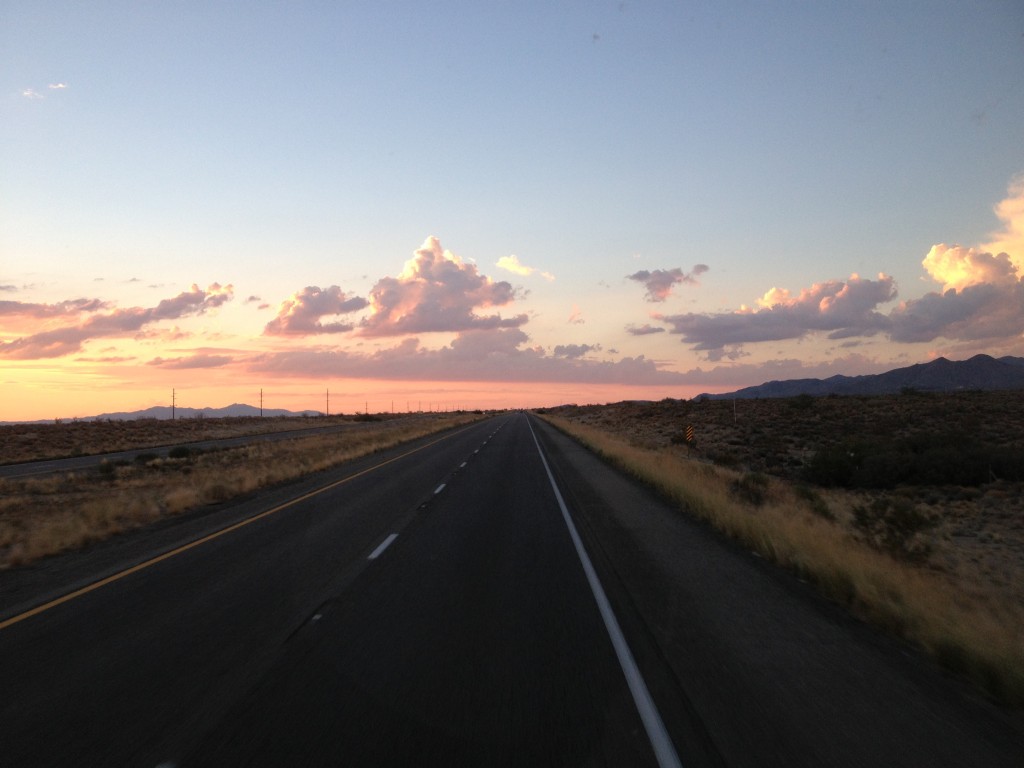 Buck Owen's Crystal Palace is a fine little venue, but sadly it's really not within walking distance of anything.  We were told there was a pawn shop a little walk down the road, so 3 miles later (through an industrial complex, past oil derricks, and evading the swooping vultures), we made it.  I found a few treasures within – some 78's from the 1920's – and KT (who always buys something from these places) found some musical toys, too.  That cab was a welcome sight when it was time to leave…The show that night was sold out and great time, with friends in town it made it even better.  And with a late leave time, we were able to hang and catch up before rolling on to San Diego,  where we played a casino that literally has flashed into my memory and disappeared. Not that it was a bad show – it was just one of a string – and the theater looked and sounded great.  And we had about 3 hours to sleep before catching a flight to Portland.
The rest of the boys headed home on the Cannonball Run, and Phil, Jeff, Tommy, and myself headed to Astoria, Oregon to play a cancer benefit show.  Again, another first for me – getting to spend some time in the sleepy town of Astoria, home of the Goonies and where Lewis and Clark first saw the Pacific.  Another 2 days in paradise, with beautiful weather (cold, hot, foggy, cold, hot, foggy, repeat), and an incredible view outside of our hotel room, with seals barking to boot.  I know it seems like a long way to travel, but if you EVER get the chance to see Astoria – make it happen!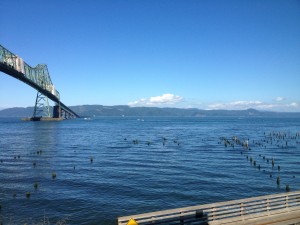 Can you beat this hotel room view?

I told you.
The people of Astoria are real, and nice everywhere we went.  The cancer benefit raised a lot of money, and our flights out of Portland were delayed, which meant the 4 of us had to sprint across the Minneapolis airport to make our connection, but we made it.  And the 78's made it unscathed.
I have tried, in a few words, to describe how this trip was such an incredible journey of balance : I had someplace to be along with no place to be, and I took advantage of all the scenery I could.  You need to remember the scenes of your life – and also live it.  I love taking pictures of everything, but there is also a time just to look and soak it all in.
I'll jump into the remaining shows of the next week I missed and events in the next entry, including my casting, rehearsing, and shooting of an episode of ABC's 'Nashville'.  In a nutshell – long, fun, crazy.  More on that later.  Until then….
See you on the road!!!!!
---
---