Shinybass journal entry 09-24-12
Monday's child has learned to tie his bootlace…
Days to me are lost. Calendar salesmen beware – I could could care less about the 'Days of the Week'.  If you use the 'Alternate Career Path's Sliding Scale of Time Perception', then you will realize that today is my Saturday.  My work week for the road begins somewhere around Wednesday at midnight, so if that is Monday at 8 AM, then adjust for wind speed and longitude, and today, right now is Saturday afternoon, and I should be in the park, on a boat (look at me!), or getting the grill fired up for a feast of regal proportions whilst the dogs run around my feet.  However, in the aforementioned Alternate Path, we know no days and weeks, only bus calls and showtimes, and we must take our holidays and rest when we can. Right now, however, this Saturday/Monday/Next year is not that time.  No rest for the woolly.
As you know, I am a bit of a work nut, just because I feel like I have to be.  I am not 24/7 – caffeinated and painting houses on some wired binge, but I am unlike the musician stereotype and I get up early and try to ask myself everyday 'What can I do to make it happen?' I think everyone should ask themselves this.  By saying 'It' I don't mean success, necessarily, but the the motivation behind your life.  For example, your bucket list.  How are you working on that today?  How about fixing up the house?  You've talked about it – how about finally deciding on a paint color?  Maybe you have a dog that needs adopting under your roof that was a flood victim of Hurricane Isaac and is currently being cared for by a certain bass player and his wife, but needs to find a permanent residence?  What – how did that get in there?  And how did this picture of Penny Lane show up in my blog, looking all cute in her 40lb, 2 year old sweet self?  And how can you adopt this sweet girl?  Just ask! We are only fostering…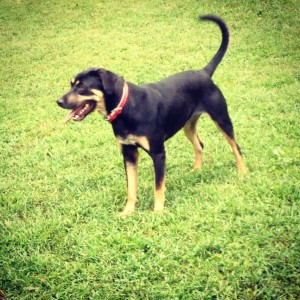 OK, back to the updating part…
When I climbed into my bunk on Thursday night, all seemed right in the touring world, until about 3:30 when I felt the bus stop, and heard the driver wake up the production manager saying 'Umm, we lost the two left wheels and we're scraping axles'.  That's never good.  I have been broken down before, and knowing that nothing was going to be handled until at least 7 AM, I went back to sleep.  Then there was the inevitable knock that we had to unpack the trailer and load it into a box truck.  Not usually the musicians' 'job', but we were on a skeleton crew since half of our entourage were on a fly date and I don't really buy into the whole 'not my job' thing.  I'll help whenever asked. So 4 of us jumped in and loaded gear on the side of a busy off ramp somewhere in Indiana. That was a fun way to start that day.  Pair it with 3 hours of standstill traffic in Chicago, and we arrived at our venue in Milwaukee somewhere around 5 PM for a 9PM show. Good times.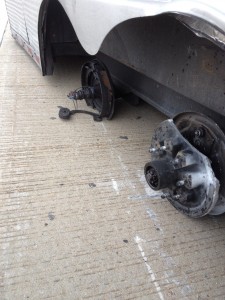 The best part of the whole adventure, however, was seeing the throngs of people waiting in line to get in.  I was amazed, and suddenly it hit me (again) that those people could care less what we did to get there that day, only that hard-earned money was being spent and we owed it to them to deliver.  And we did, in my humble opinion.  Huge show, tremendous crowd at The Rave (I didn't make it to the haunted basement), and quiet drinks at the Ambassador hotel were a nice finish to a long day.
We were off to Ohio for the next stop, which was a drastic change from the day before in that we were inside and cozy for the show the night before – this show was in the middle of a field while a cold rain drizzled down our bus windows.  I think it was around 50, maybe colder when we hit the stage.  Being stuck inside all day had me a little stir crazy, so in the 90 minutes I had at the hotel, I took a walk through town, and found the bike I want for Christmas, the truck I want for Christmas, and the bridge I would have never seen otherwise.
After the show we headed back south to LP Field, where we played for the Tennessee Titans again. The weather was wonderful, and it is always fun to see friends and fans out.  Yesterday we played with the legendary Del McCoury , and instead of asking for a picture with him (which he would have taken), I decided to go the creepy route while in the skybox yesterday and take the not-so-obvious picture.  I crack myself up sometimes….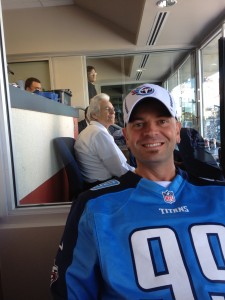 The lone shooter with the glasses two boxes over was scaring me, though….
Back to business…so what are you going to conquer today?  For me, I am in the middle of video and music craziness – I have recently entered into a relationship with a new musical software company, so I am hard at work editing and shooting and scoring, etc for some videos for that company, as well as videos for Phil, and also learning some new music for a fun stint this weekend with the Shawn and Hobby band.  I am crazy busy, but excited about the week ahead.
Thanks for checking in and seeing all the craziness is our lives.  I hope that your week is a great one, and that I can enjoy the rest of my Saturday.
See you on the road!!!
---
---