Shinybass journal entry 10-02-11
And the winner of the 'where the hell am I?' contest is…
Good day, and good morning!  And isn't it a looooovely morning?  If you live in Nashville it is.  The sun is out, currently burning off the morning dew and illuminating the glossy black coat of my loyal lab, who stands at the ready on a small knoll in my backyard.  At the ready for what, I am not sure.  It could be a squirrel, it could be a Duck treat.  It's so hard to tell, but slowly, as the boy and I spend some time together, I get it.  I never had a dog growing up, so maybe years of being without has caused me to get the bug.  Who knows.  We may or may not keep Diesel – he is a good boy, a happy boy, and full of love, which enriches any home.  And helping a stray is the way to go, so this one may be getting a monogrammed bed for Christmas this year.  I don't anything monogrammed.  See?  We DO treat our pets better than ourselves!
In not writing last week, I started thinking of my commitment to the written word, the therapy, the creativity, and the entertainment value of what this online journal means to me.  It means a lot.  It really does, and the beauty of it is that I can write about just about anything I want.  It is a 'touring' journal, so I realize that you, my ten or so loyal readers, like to read about my exploits on the road.  I also feel I have more to say than just 'hey we played here'.  So thinking all of this, and watching Andy Rooney's last piece on 60 minutes last night, I have decided to just keep it up, shows or no shows, and not feel the 'pressure' of writing about touring when I don't have shows going on.  So get ready for more commentary in the coming months, and if you don't want to read it, then, I won't be mad atcha.
So now – the touring part.  (Seems so anti-climatic now, doesn't it?) But it's not!  We played some fun, fun shows this week.  We jumped from Bethlehem, PA to Annapolis, MD to Massachusetts to Phoenix.  A tidy billion miles this trip.  The steelworks at Bethlehem have been transformed (wait for it) from the Blast Furnaces that once were the second largest steel producers in the world to a cultural and events center, with the massive industrial structures serving as a backdrop.  It looks like a battleship looming in the background.  A scene from the movie 'Transformers 2' was shot here (boom – how about that tie in), and the venue is a beautiful listening room.  Highly recommended to check out.
The next day, I only took two pictures.  I'll get to that in a minute, but walking the streets of Annapolis, I felt an amazing sense of history and I was truly amazed that our country's forefathers walked these same streets, and saw some of the same houses.  The State house served as our Nation's capital for a few months, and within its walls Washington resigned his commission and the Treaty of Paris was ratified here as well.  And with the small pubs dotting the neighborhood, I would imagine that Jefferson and Washington probably had a late night or two around those parts as well.  So here is my obligatory clock picture, taken across the street from the State House.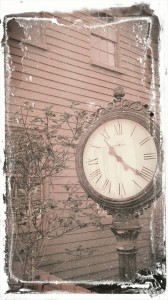 The other picture I took can be taken a few different ways, so I will be the reporter here, and you just make your own comments.  But I will say this – life and death are fatefully intertwined, and one doesn't happen without the other.  Plus, SOMEONE had to put this sign here, and instead of putting 'No Outlet' or 'No Turnaround', they had to put this…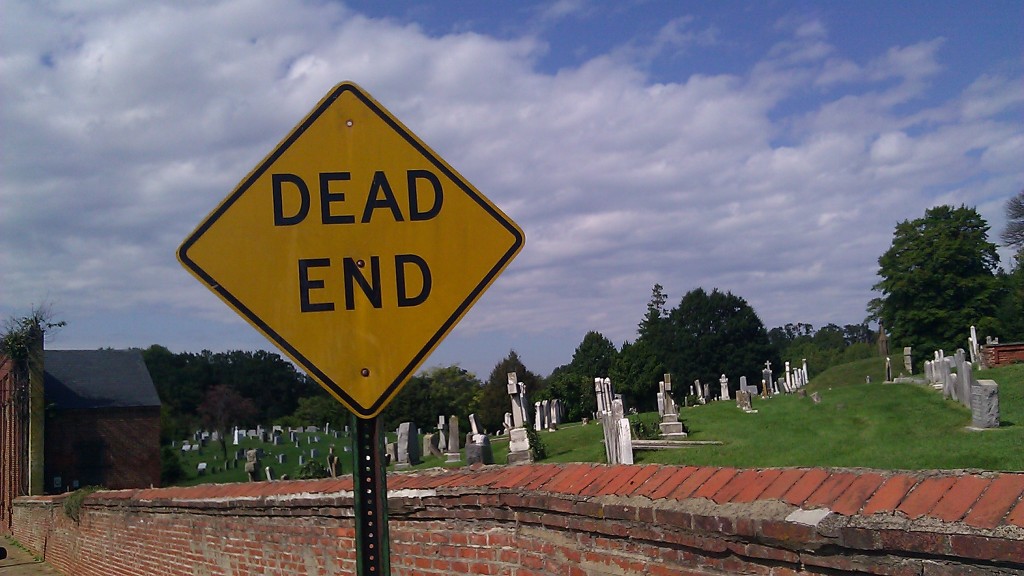 The next day found us in Topsfield, MA, home of the oldest agricultural fair in the country.  It started in 1818, with George Jones on the first bill.  We were told that our crowd was the largest ever at the Fair, so that is a nice feather after almost 200 years, right?  In case you missed it, I donned a shirt that read ' The Future Mrs. Vassar' for the closing bow.  I crack myself up sometimes.  But there was no time for such antics.  We had to get some sleep and haul our little butts to Jersey for a 4:45 curb call at the airport.  And of course, noone woke me, so I got up literally as the bus stops.  Talk about grab your gear and go.  Luckily, I made it to Phoenix with all my marbles, and the 3 hours of sleep on the flight were pretty much the best thing ever.
The private event in Phoenix was at a house overlooking Scottsdale.  No pictures I took can do it justice, but I did give it the old college try.  The party seemed like a success, and of course, another early lobby call awaited us for the flight home.  I can't complain.  Anytime someone wants to buy me a plane ticket so I can play my bass, I am truly humbled.  It's a great feeling.  A not-so-great feeling is being half-asleep, hungover, and realizing the zipper has broken on your suitcase.  I give you Brock, our drummer, curbside at PHX.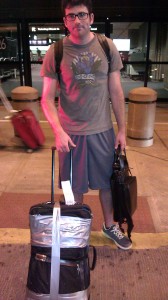 There's really not much to say after this, EXCEPT – enjoy your Monday.  It's the only one you get this week.
See you on the road!
---
---