Shinybass journal entry 10-05-14
Did you miss me? Well did you?
I certainly missed all of you. Hello again, my friends. It's been a wild, wild ride over the past few weeks. Usually I start my entries with some random thought (and most of you stop reading at about paragraph 2), but today, right now, my mind is a raging torrent, flooded with rivulets of thought cascading into a waterfall of creative alternatives. I am in the front lounge of the bus on the ride home as Gordon watches 'Coyote Ugly', which smells worse than my gig pants after 3 straight shows in August. I'm waiting for him to nod off so I can lower the volume (or throw the TV out the window) and get down to bwass tacks. (Anyone catch those references?)
As you may know, my wife and I had a beautiful baby boy. I'll leave all the mushy heartfelt stuff for my inner circle, but the joy that little boy has brought is immeasurable. He and Mom are both healthy, and I can't wait until he sees Daddy play. I said I wouldn't get mushy, but the sound of the word 'Dad' when tied to me is better than anything I've ever heard.
My gracious and fantastic boss gave me 'baby leave' from the road, and words can't express how much that meant to us. My dear friend Rich Ross subbed for me, and he fit in just fine with this group of gypsies. In honor of his help, I offer him a laurel and hearty handshake.
During my absence, I readied the house (and the world) for our little addition. This is our first child, and the pressure is pretty overwhelming as to what we (thought we) needed or had to have on hand. In the first few weeks, we have learned, is all we really need in the 'starter kit' is wipes, clothes, and diapers. Add a whole lot of spoiling, love, and patience, and that's about it. The rest figures itself out.
I can't help but hum 'Blazing Saddles' when I change the boy sometimes. He definitely wears a blazing saddle from time to time, and in addition to being able to swaddle in about 8 seconds, I can change the nastiest of diapers with the quickness of a ninja. Oh, the things we find out that we can do when pressed into dooty.
But the road is what you are here to enjoy, not the poop stories. And so ye shall have. Last week was my first 'official' week back, and we hit the Bluestone in Columbus, Joe's on Weed St. in Chicago, and a perfect outdoor show in Effngham, IL. The Bluestone is a former 100 year-old church that is now a premier music venue. Joe's is always a good time, and the show in Effingham was special for me. First, we played with Joe Nichols, and our former drummer Brock West is with Joe now, so it was great to see and hear him. We also met Mike Yager, the owner of Mid America Motorworks. He owns a ridiculous Corvette collection, and it was more than amazing talking with him.
This week we ambled up to Lynchburg, Virginia for Phil's annual golf tournament. The tournament raises money for the Miller Home for Girls in Lynchburg. The tournament is not only a great chance to catch up with friends and family, but it raises money and awareness for a great cause. We play an acoustic show after the day of golf, which is the most 'casual' show we will do all year. Say hi to Miles, who needs a home in Lynchburg. He's at the Humane Society, in case you are looking. His tail is magical. It makes me sleepy.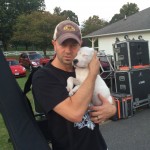 After a refreshing shower at the historic Craddock Terry hotel, the bus pointed toward Morgantown, WV for a show at Schmitt's in Morgantown, West Virginia. The crowd was crazy big, and it was a big 'ol sweaty rock show. I like the club shows from time to time to 'keep it real'. Theaters are awesome, but being right on top of people is pretty fun, too. The club is owned by, well, Schmitt, who was an NFL fullback for 5 years. And he's sort of a big guy.
The next morning I woke up in Scranton, PA. I watched the show 'The Office', but don't know it well enough to know the local references and landmarks. I did take in a really long walk downtown before we loaded in, and saw some of the local sights. There were a lot of bars and restaurants, which is refreshing for a downtown, which in other places, downtown rolls up the carpet at 5 PM.
The show was at Lackawanna College, at a beautiful theater built over 100 years ago. This show was an 'acoustic' show, and I've been using my new Breedlove Studio acoustic bass, which totally kicks ass. My DI is an Eden WTDI, for those of you scoring at home. For the layman, it's a bunch of electronic music stuff that makes me sound better than I really should. We saw a lot of friends out last night, and yes, Eric Cartman made an appearance.
So there's the week that was. I can't thank you all enough for the wonderful gifts you have given Henry. I really appreciate all of you, and as a proud Papa, I like sharing pictures in person as well. You guys are really good to me, so thank you.
So I am back in the (Blazing) saddle, and ready for another week of madness that we call the Phil Vassar tour. I hope we are in a city near you very soon. Our bus is slowing soon, so that must mean someone has to use the bathroom, or we are close to home. I hope it's the latter, because I am sure someone I know that weighs under 9 pounds has just used the bathroom, and needs some Daddy time.
See you on the road!!
---
---