Shinybass journal entry 10-16-16
Now is the winter of our discontent…
OK, it's not really winter. Heck, temperature-wise it's barely Autumn. And it surely ain't Richard III. It's that confusing in-between time. It's what Dr. Suess described as the 'Waiting Place'. Leaves are waiting for the cue to start turning. The country is waiting to see what is going to happen on Election Day, and the Cleveland Browns are waiting for a quarterback. But like the book says – NO! That's not for you!
'Somehow you'll escape
all that waiting and staying
You'll find the bright places
where Boom Bands are playing.'
Should I go back to Shakespeare? I just don't want you all to be waiting. Seems like there's a lot of that going on these days. What are you waiting on? Really? Life to pass you by? Your knees to give out? Someone to call for whatever reason? What happened to making it happen for yourself? We spend more time trying to line everything up perfectly, but guess what? It's never going to be perfect. The winds may be more favorable, but it's never perfect. Even the best sailing days can be marred by getting stuck on a sandbar. (Yep – that was me…) So write that poem, finish painting the guest room, and for the love of Pete, get the garage cleaned out. (Honey, I know. I know…)
So now that we've had a healthy dose of caffeine and direction, let's talk about some important things, like music. I was back on the bus with PV this week, and somehow we only managed to play in 3 states in 4 days. The gigs were markedly different, but all had their own highlights.
Day one was spent in Hiawassee, Georgia, at an adventure park of sorts. It's a massive venue situated on a beautiful lake with a campground on one side, and the attractions on the other. We were on site all day, which can get a little old, but I managed to take some good walks, and found some lost gems, like this old bus behind the campground museum. It seems that the walks on this run were loaded with great finds.You gotta get out and look around once in a while.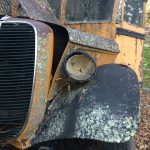 The next day I woke up on a golf course. Not a bad way to wake up, really. The event was the Phil Vassar golf tournament to benefit the Miller Home for Girls in Lynchburg, VA. Phil has raised a lot of money over the years for the home, and it's always great to see the wonderful folks of Lynchburg come out and support the cause. I ducked out of the two rounds of golf this year, opting instead to drive an hour up to Charlottesville and see family. I saying hello to my brother's family and spending some time with big bro was well worth it. We play an acoustic set at the awards ceremony, which was a lot of fun, since we never really know what we are going to try and play. I just hope it's close to the same key. Here's is Jake in his want ad for Farmers Only.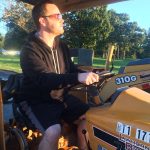 A special shout out goes to the Craddock Terry Hotel in Lynchburg for always being so good to us, and making us feel like family. If you EVER get through town, treat yourself to this historic hotel.
The next morning we rolled into Hopewell, Virginia, home of the beautiful Beacon Theater. The theater is amazing, and the fine folks who run the joint always take great care of us. The legendary Steve Bassett joined us onstage for a couple of songs, including the Virginia State Song 'Sweet Virginia Breeze'. I was missing our friend Robbin Thompson, who we lost to cancer last year. These are the sounds of my childhood, and for anyone that grew up in Tidewater in the 70's and 80's, they know exactly what I am talking about. My friend Chris Kohlmann of Kohlmann Bassworks made the trip up to see the show, bringing with him a couple of great instruments. Thanks for letting me check them out for the show!
The next day we abled into another favorite town – Annapolis, MD. I friggin' love history, and this town is steeped in it. I took a few walks around the town, going down some streets I hadn't visited in my last 5 trips there. I think I found my new favorite house – an old fire station. I was awfully tempted to knock on the door and ask to look around.
After my walks, I went back to the Ram's Head Live to check out the Saturday 'matinee' show with Bronze Radio Return, a CT-based band that killed it. They are a great bunch, well-rehearsed, and the songs are finely crafted. You may have noticed I wore one of their shirts for our show that night. Gotta keep gas in the indie band's tank – buy merch! We had such a great time at Ram's Head as we always do. We saw great friends, had a lot of laughs, and had a fantastic day.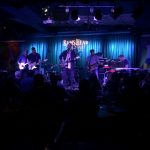 And now, we get back home. Are we waiting for anything? NO! We have lots of things to do (and so do you). I have a nursery to put together. And some names to pick out. And some more songs to work on. And some videos to plan. And then I head out to Bass Player Live in Los Angeles to hang with some of the biggest and baddest bass players on the planet.
Here are some gentle reminders to get you moving and hopefully organized. First, Christmas is only a short time away. GO BUY PRESENTS NOW. Second, Thanksgiving is coming soon, too. Round up your recipes now. Third, my birthday is coming up. GO BUY PRESENTS NOW. (See what I did there?)
Seriously, whatever it is you are going to do, want to do, or are dreaming of doing, just get on it. Time is so precious and short. We take a lot of it for granted. And also take some time for yourself. Like on a walk. You never know what you'll find…
'Oh, the places you'll go! There is fun to be done!
There are points to be scored. There are games to be won.
And the magical things you can do with that ball
will make you the winning-est winner of all.
Fame! You'll be as famous as famous can be,
with the whole wide world watching you win on TV…'
See you on the road!
---
---