Shinybass journal entry 10-31-11
Well happy, happy, Halloween!
You know, last year we had one kid come to the house for candy.  And technically, he really didn't even come to the house.  We had to chase him down yelling "Hey!  Free Candy!" Granted NOT what an 8-year old wants to hear on any night, and just inherently wrong.  Maybe if I moved my late-model windowless white Ford van around back it wouldn't be so bad.  I joke – child abduction is no laughing matter, but remember, parents, to educate your kids on stranger danger.  So now you know.  And knowing is half the battle!
So I guess that Halloween just isn't that important in my area.  Or maybe just on my street.  It seems that my house is one of two with the porch lights on, so if I were 8 (or a parent), I would miss my street as well.  When I was a lad, dressed as a football player or a hobo (which I think is a lost costume, isn't it?  Are the days of the hobo stowed away in an empty freight car over?) I never really had a sweet tooth, however, I knew that getting loot on Halloween wasn't so much about the candy, as it was, well about the candy.  When you are little, the whole world is big, so the adventure of trick-or-treating can be a bit overwhelming.  Fortunately, my area was an easily-navigable system of streets, so to work out the maximum candy strategy didn't take long.  We knew that we could rack up in just 2 short streets, and then as I got older, we would venture across the street with the center median (still within the framework of the 'parental consent zone'), if we really wanted to get more candy.  Below you can see the street map of my old neighborhood – with perfect streets for being a kid.  I was on Geranium Crescent, in the middle of the action.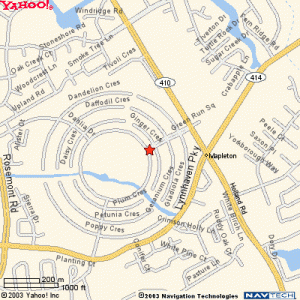 After we got home, sometimes my older brother would go out again, to hit streets that he could visit, but I wasn't allowed to (yet), and while he was gone, Mom would inspect my candy as I poured it on the table.  I'll never forget the guy who gave us 5 pennies taped together.  Heck, put that in the stock market at a measly 7%, and today I would have $0.47, which is not enough to buy a candy bar.  Some investments just aren't worth it.
To celebrate Halloween in a musical way, the Phil Vassar bus headed to Raleigh to play the City Limits bar.  Yikes.  Yikes for several reasons.  First, I was there last year with Bucky, and we really didn't have much fun.  I was hoping to be pleasantly surprised this year, but alas, I was not.  For whatever reason, it just wasn't fun.  It just sort of happens like that sometimes.  The bright spot of the day was being able to spend the bulk of the afternoon with my Dad.
After lunch, we hit some great local businesses, just killing time before I had to hit sound check.  We found a great art gallery with a piece that needs to be in my back yard. And that is an army helmet as the body of the tank.  Awfully clever.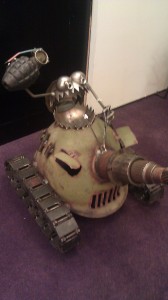 After the word that sound check was turned into a line check, my Dad had a little surprise for me.  We hit a classic car dealership in Wake Forest, where we spend an hour perusing various classics.  My favorite of the day was a '54 Bel Air 4 door, which was pretty reasonably priced, but not for me since I don't have a garage (yet).  Next year! I thought I looked pretty good in the car, if I do say so myself. Here she is, and if you are thinking of a wedding present, then hit me up, and I'll get you the number of the dealership.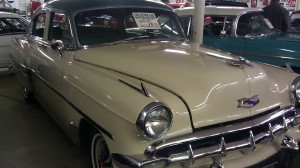 Tomorrow marks my return to the Opry, which I am pretty excited about.  I have said it before, but as a 'rock' guy, I am humbled and grateful to play the Opry, and when it is at the Ryman, it is 10 times better.  It's the first one of the 'winter' season at the Ryman, so it should be a huge event.  We are playing with Rascal Flatts and Rodney Atkins, but it's Little Jimmy I'm looking forward to seeing.  I love that man!
Please be safe this Halloween.  Remember there are kids everywhere dressed as pirates and Etrade babies, so drive slowly, and be on the lookout for middle aged men yelling 'Free Candy'.  It may be me. OK, probably not.  I'll be watching MNF.
See you on the road!
---
---