Shinybass Journal Entry 11-11-13
Let me welcome everybody to the Wild Wild West…
I have a confession to make: California Love by Tupac and Dr. Dre is one of my favorite songs. From the old school vocoder part to the lyrics to the groove (which is the best part of that song), I have to listen all the way through whenever it comes on. It was in my head all week. I don't know if that's a good thing or bad thing, but I am still not sick of the song, which is the sign of a good one.
We flew out to California for a few shows this past week, and this was one of those less-than-glamorous trips. My musician friends will totally understand the schedule, and for you casual music listeners, allow me to offer some insight into our little world.
Money runs the show. It determines many factors in the scheme of a tour, from the quality of catering to the modes of transportation. Being based out of Nashville, it is fiscally ignorant to drive a bus cross-country for 2 days (with a grumpy band on board), play the shows, and ride back. Some people insist on having their bus all the time, and, well, good for them. We appreciate the comforts of our rolling 'home', however, we make do when needed. So this time we opted to fly and rent SUV's for the trip. We really don't carry a lot of gear, and having 2 cars meant more flexibility.
Day one, we landed at LAX (I think – it seems like 6 days ago) and drove up to Bakersfield. Of course we landed at 5PM, which meant the 405 and 101 were a parking lot, so we decided to eat and let traffic cool off. I 'Yelped' a diner, and we were totally shocked upon our arrival. It was the Horseless Carriage inside of the Galpin Ford Dealership – the largest dealer in the country for the past 24 years. The food was remarkably good, and they offer just about anything there. Another 'spot' I can put on my list.
We arrived at the hotel late, skipped Karaoke night, and slept very well. And of course because of the time change we were up at 6AM. We were playing at Buck Owen's Crystal Palace (which was next door to the hotel), so we didn't have far to travel, which is nice. After breakfast, Phil, Jeff and I visited the radio station KUZZ to be guests on the Steve and Geoff show. (Ironic, eh?) After load-in that afternoon, I slipped away and found a couple pawnshops downtown in search of treasure. I promise I didn't bring any new guitars home, dear.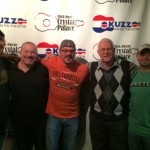 The staff at the Palace is always tops, and our show was pretty fun. And the fact that I could walk 300 feet to my room is always great. The next day we were in Thousand Oaks. If you are in (or around) the Thousand Oaks area, try the Lucky Dog Café. Wow. Insanely great food, and the patio is dog-friendly. Win win!
We played a beer-soaked and very loud show at Borderline that night. I had been having some serious problems with my contacts this trip, so I only wore one so I could see, but my eyes looked as if I had been hanging with the horn section in the parking lot between sets. I saw pictures with fans afterward, and I sincerely apologize for my Cheech and Chong impression. (They are doing much better now, thank you). After a great night's sleep in my own room (I won the coin toss), I conned Jeff and Jake to join me down in LA for an event at SIR called Bass Player Live, hosted by Bass Player magazine. It's essentially a bunch of bass players trying new gear, hearing clinics, and being able to be up close and personal with some of the industry's best and brightest players. Jake stayed with the car. Jeff and I had a blast. We also found yet another 'spot': a burger place off Sunset called 'Stout'. Jeff swears it was the best hamburger he had ever eaten. Mine was pretty kick ass as well.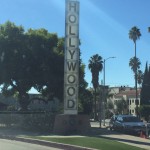 Bass Player Live was a rare treat in that I caught up with several old friends, played some new gear, and I was able to meet a true legend: Chuck Rainey. Chuck is a wonderful human being, which makes him being such a great bass player even better in my book. He was gracious enough to take a picture with us, and we exchanged some words in private. He made this whole trip worthwhile. (On a side note – Jeff was shaking so badly, the picture HE took of us was blurry!) Thanks to Craig at Seymour Duncan for letting us come play for the afternoon.
After leaving the friendly avenues of Los Angeles, we headed to Fresno for a night off. The drive was easy enough, and through some pretty country – until we drove through the haze that is the farming area. Wow. Cow shit or smog. Hmmmmm… Dinner that night was at Westwoods BBQ & Spice Co., and we dined with the owner. The burnt tips were exceptional, as were the mushroom fries. Who would have thought that we would fine so many great places to eat on this trip?
We drove to Fremont for the last show of the run. Again, an uneventful trip, and we were able to take advantage of the local offerings at a roadside stand – I opted for the chili pistachios. I would rather shop at the roadside places than the big box stores any day.
The Saddle Rack is a massive venue/bar in an industrial part of town, and it has been a stop on just about every country act's tour for years. It was packed for our show, and although I prefer the theater shows, this run of club dates were a fun change of pace. Where's that bus again…?
Our lobby call was a dreadful 4AM (after a midnight arrival at the hotel), and after returning rental vehicles and a relatively painless TSA screening, we were on our way home. I am actually writing this from the airplane (it is Monday, right? I gotta get this done!). I am amazed at the process that is air travel. Watching people is a great pastime – especially on planes (slowly looks around to make sure no one is reading over my shoulder), and it's amazing how many people genuinely hate to fly. I look around and see people nervously drumming their fingers, huffing at fellow passengers, and some advertise that they are popping pills to get through this 3 hour flight. If I had my own plane, I would fly every day. I really don't mind flying at all. We have the process pretty much down at this point, so the check-in to getting our instruments on board is a breeze.
The one thing I haven't figured out is how to maximize my comfort on the plane. I can only really sleep against the window (which makes those red-eye flights on other airlines simply dreadful), and with Southwest, I can usually snag one. (We fly SWA for 98% of our legs during the year – sometimes as many as 50 round trip flights), but then there is the convenience of the aisle. I can often be found milling about in the galley, simply because I hate to sit still. So a long flight sort of does me in. I want to stretch, but then if I want to sleep, no dice. I've tried a neck pillow with mixed results. I've tried the Skymall inflatable tray-top pillow, and that didn't work, either. I suppose I'll just have to work a little harder and buy my own plane.
But either way, I will be home in a few short hours to see my family, and that is the best part of the trip. I am thankful for technology in that I can Facetime and receive pictures from home daily. It's a far cry from when my folks had me, and my Dad received a telegram that I was born while he was out at sea.
So the family time will be short, but the cold front hasn't hit Nashville yet, so I'll be outside if you need me. Probably raking leaves. Thanks for checking in on me. I realize this entry is a little longer than normal, but with a long flight, what else am I supposed to do? I guess I can walk around and smack my bandmates in the head. Again…
See you on the road! (Or in the sky!)
---
---