Shinybass journal entry 11-20-16
Editors note –I wrote this pre-holiday, and in my 'outbox' it sat. So catch up here, then you'll get more soon.
I've been away lately. Not on purpose, but mostly because I can't figure out which of my family members or friends are the most politically charged. This election was a doozie, for sure. Craziest ever? I dunno – craziest because we have the instant information. And a LOT of issues to deal with. I am a part-time student of history, and the insults traded between Jefferson and Adams were pretty awful, even by today's standards. Adam's Federalists wrote 'Are you prepared to see your dwellings in flames… female chastity violated… children writhing on the pike? GREAT GOD OF COMPASSION AND JUSTICE, SHIELD MY COUNTRY FROM DESTRUCTION."' Sound familiar?
I stay pretty even as far as the political climate, and have for a long time. I wish there were a party for us 'Middle dwellers'. The best way to ride a motorcycle is to stay right in the middle – upright and looking forward. When it's time to turn, we lean left, we lean right. Then we get back to middle ground. That, in my humble opinion, is the way to run the show. But what do I know? I'm just a dumb bass player.
We're here for music – you get enough rhetoric from other sources. I want you to visit here to relax, catch up and unwind. Since it's been a few weeks since I've said hello, so let me run back a few shows…
We played a really great festival in Florida a couple weeks ago, called Country Flo. Trace Adkins, Thomas Rhett, Tracy Lawrence, and Phil were the bigger names on the bill. I'll take Florida in late October for a show any day. The best part of the day (Besides the smoothie bar backstage), was the fact that 5 Nashville bass players were under one roof. We geeked out a little and Travis (Thomas Rhett) and myself took some fun pictures, one of which you can see here.
We then flew to Dallas for a private event for Folds of Honor , a tremendous organization helping families of vets go to school. We've helped Folds for a few years now, and it's always one of those events that turns on the waterworks.
Our next show was in Paducah, Kentucky for a telethon benefitting people with special needs. We shared the bill with our friends Steve Hornbeak and Lauren Alaina. It's great to see old friends and it's for a great cause. I loved walking around downtown, and with fall finally upon us, snapped some decent pictures.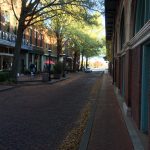 Which brings us up to this run – the turning point. When we left Nashville, it was 85. Upon our return – 45. I might have under packed a little. Like forgot a beanie for my bald head kind of under packed. I was saved by kindness, however. I'll explain shortly. The first show was at a great club in Overland Park, Kansas, just outside of Kansas City. Wonderful club, packed room, and guess what? We debuted the new record! 6 years in the making, it's pretty cool that it's finally out.
We then went further west to the Grizzly Rose, which never lets us down. Big crowds, great food (sweet potato fries with marshmallow sauce!) and let's not forget the shrimp. (If you know, then you know). I was sad not to see Louise Dudley, a very kind fan I've known for a while, who lost her battle with cancer this year. I'd like to think she was at the show. My head was saved by some friends who brought us swag from Snooze – a breakfast cafe. The beanie was fully appreciated the next day.
We finished our week with a trip to Lincoln, Nebraska, home of the Huskers and a remarkable number of downtown bars. We played the Bourbon theater, a fantastic rock room, and the house was packed. I didn't get out as much as I would have liked, but I did manage to get in a decent walk in the brisk Nebraska air. Some days I wish I had some serious funds, because I see historical or funky old buildings that need some love and a caring owner. So if anyone wants to be a silent partner…
So we're off. Not our rockers (OK maybe), but off for the upcoming Thanksgiving holiday. I hope you all take some time and put up with the family and make the effort to get to your people. Don't take these times for granted. It's worth the headache and effort, I promise. If you can't get home, then find some friends and have a meal together. Or volunteer on Thanksgiving at the local shelter. No one should be alone in the holiday season.
So that's the news of the weeks that were. I can't stress enough how important you and your voice are, so if you are frustrated with something, then call your congressman. Don't burn things. Write a letter, not graffiti. And if you need to talk, I'm here. I promise we'll all be OK.
Off to write. And record. And film. That's my time 'off' until we get up to Milwaukee at the end of the month. Be safe, be nice, and I will…
See you on the road!
---
---