Shinybass Journal Entry 11-21-14
It's a crazy life…
At times it is really important to sit back and take stock in what one has. The spiritual inventory needs to be looked over (probably more so) than the physical one. It's pretty kick ass to look around and appreciate the things we have – food, shelter, a car, a TV, a fancy computer, etc.. – and then think of all the things our grandparents DIDN'T have. It boggles the mind to think what has come down the pipe in the past 50 years. But 'things' aside (which are really easy to focus on and not set aside), it is also important to think about the people in your life. They also carry you through the hard times, lift you higher in the good, and no matter what 'things' you have, they are still there. I'm just trying to remind you of such before the Black Friday BS and you get too caught up in the buying frenzy. They love you for you – not the shiny new i-something you buy.
Being on the road with our new addition is bittersweet. (I wonder where I get the ideas on loving the people in your life…?)  I love the fact that I can FaceTime with the boy on a whim, and just the thought of that is pretty amazing. I also love that friends of Phil ask about him (and shower him with the best outfits from around the country) and I get to show off his pictures. It's hard to be away, without question, but people – yes, YOU people – keep spirits high. Not only because we talk about Henry, but because you come out to the shows and make my time away from home worthwhile. So thank you for that.
Last we left off, we were in California, enjoying sunshine and smog. Then we flew home for a grand total of about 20 minutes. In that 20 minutes, the bottom fell out and Mother Nature reared her colder side. We had an in-town show on Wednesday night at the Loveless Barn (behind the infamous Loveless Cafe) and performed for a charity event for the Shalom Foundation. We were then off to all points Northeast. Well, we had a day off in-between, which meant shopping for Daddy and getting caught up on emails. The next morning I awoke in Medford, MA, situated a few miles from Boston proper. There's some history in Medford: Amelia Earhart lived here at one point, and Paul Revere stopped at a house in downtown Medford to announce the Beatles were on their way. (The house is still standing). We went into Boston for lunch with a friend, and took a tour of his office. I've seen Boston Commons, but not from 19 floors up. Amazing. AND that night my boy and I were given matching Bruins gear. Win win!
The next day I woke up in Annapolis, MD. It was a brisk day, but a sunny, happy one. Annapolis is my kind of place. It has tons of history, great food, and the small shops and cafès that line the streets are just my pace. I walked the town at dusk, when the wind dies down, and the sun is easing down through the 200-year old trees guarding the cobblestone streets. Maybe I was born too late…
I mentioned shopping a few days earlier. I bought some new shoes, and I didn't want to just throw the old ones away, so I conducted a little social experiment. I put the shoes on the sidewalk with this sign. It took about 3 hours, but someone finally wanted a broken-in pair of Vans. Hope they fit.
Sunday morning we awoke in Wilmington, DE, the tax-free home of most of your credit card companies. You know, these companies that are flush with our cash should think about giving just a little more back to the Wilmington community. Just a pinch. We found a spot open for brunch, then set up and sound checked in the historic World Café theater. There has been a structure in that location with the name 'Queen's since the 1970's. The current theater was built in 1921, originally as a vaudeville and silent movie theater. It closed its doors in 1959, and was renovated 50 years later to its present glory. They left the rough facade, which I think is amazing. It was GREAT place to play a show.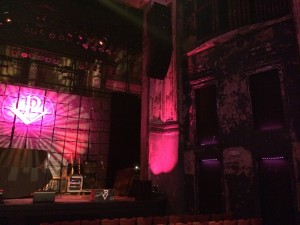 AND since you don't read this journal for your health, and MAYBE you want some insight into the crazy backstage antics that go on 'round these parts, I offer you this gem. This is about as crazy as it gets. That's Jeff in the bathroom. That's 250lbs of monitors in front of the door. I know, we should probably slow down. Next we'll be prank calling for pizzas and short sheeting the bunks.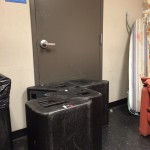 So there is the week that was. Well, on the road at least. I arrived home at 3PM, and my Dad had just flown in to see his Grandson. We have a rich history of watching Pittsburgh games, and I was able to land 2 tickets to the Titans/Steelers. Then we looked at the thermometer. The game played out very nicely whislt we enjoyed from the couch. So with family in town, I was away from the computer (and this journal) until now. Which is why you have a little Friday reading instead of Monday. And there may be more on Monday, too!
Speaking of, did you know that you can sign up for an email update on this blog? That way you don't have to check back every other day. You'll get a fancy email saying something like 'Terrible pictures and senseless drivel ahead!'. Just in case you needed more junk in your trunk. Or inbox. Or something.
To my upstate NY friends – hang in there. I'm sending tauntans. For the rest of you – count your blessings, and enjoy the weekend!
See you on the road!
---
---