Shinybass journal entry 12-03-15
It's that time of year again…
No, not the Christmas season. Well, I suppose technically it is. I mean, if the insane amount of toy commercials is any indication, then yes, Virginia, it's Christmas. Or maybe I should stop watching so much Sprout. I don't mind really. One day maybe I'll get off my caboose and write a kid's show. I'd like to think I could fool the kids into learning something, but my boy Henry is getting wise to my trickery. He's 14 months old now, and has already figured out that I cannot control the lights by pointing. He has spotted my other hand on the light switch. Smart kid, that boy of mine.
The aforementioned time of year is always one of great joy, anticipation, disappointment, sadness, reflection, and most of all, thanks. (Are you SURE you aren't talking about Christmas, Steve?) No, no – in a few days I will celebrate my birthday. I'll be 137 for those of you scoring at home. That's why I have so much appreciation for history.
The emotions run all over the place around birthday time for me, because I am always torn as to what I want to do to celebrate. I've been fortunate (and sometimes less than excited) about spending my birthday in exotic locations like Vegas or Toledo, and let's be honest : what do we really want for our birthday? One year, my Mom took me to dinner and a jazz club. That was pretty badass. One year I was in a roadhouse dive bar in Mississippi. That was not badass. A couple years ago I was in Vegas. Again, not as badass. One year, my bride-to-be completely surprised me with dinner with friends, and another year my little brother was also sneaky and had a surprise party. Both badass. They aren't all blowouts, you see, but hat's how we make it to see the next birthday.
And when I mention sadness, it's not because of my birthday, or getting older. It's that the day after my birthday is when John Lennon was shot, and that is always a depressing day.
But fear not, my friends, for this year will be a happy and joyous birthday, for any year we have a birthday is a good one, right? No need to send presents, but if you do feel so inclined, there is this sweet auction going on right now…
But to read this journal is not to look ahead, but to look back, at the glorious days of, well, last week, when we played music, left a trail of hotel towels in our wake, and eventually made it back home. That's pretty much how every entry could read (and some days should read), but this one will be slightly more detailed, since I've been away for a few weeks.
First – Dallas. We've been to Dallas a few times, and it's always a good time and a good show. Knowing my penchant for history, you can probably figure out that I needed to visit Dealey Plaza. What's unique about this trip is that we visited it twice in 2 days, with the second visit coming on the anniversary of Kennedy's assassination. That was pretty sobering. There were a lot of people walking around and trying to form their own hypothesis as to what really happened that sad day.
A few items to point out: first, the funny. Here's a sign letting people know exactly where they are. As if…
Second, if you are in Dallas and the hunger hits, you must visit The Market Diner. We had breakfast there 2 days in a row. Banana Nut Bread French toast. That's all I'm gonna say.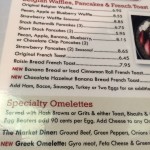 Our show was at a fine theater in an area seeing some resurgence. Our friend Tom, formerly of Fast N' Loud (Discovery Channel) and now at Misfit Garage joined us on stage at the end of the night for his version of 'Piano Man'. Let's just say the kids aren't allowed to hear this one. A great night indeed.
We left town with our JFK DVD's and as much Texas hospitality as one band can take, and pointed our bus home. It was vacation time. The Cook family turkey was going to be consumed in Corolla, NC, on the Outer Banks, with all the Cook brothers in attendance, along with spouses, kids, and Grandma. To say we had fun is an overwhelming understatement. One of my highlights: Henry saw the ocean for the first time. He thought it was amazing, and I was amazed just watching him be amazed. Words like fearless, sandy, excited, explorer, and greatness come to mind to describe his week.
Corolla is also home to a small herd of wild horses, descendants of Spanish horses that swam to shore after a shipwreck, and have been on the beaches ever since. So remarkably cool.
The plane touched down on Saturday, and a couple short days later, we were back on stage, this time in the historic Ryman Auditorium for a double dip of the Grand Ol' Opry. Holly Williams, Riders in the Sky, A Thousand Horses, and Dierks Bentley were some of the 'weight' on the bill as well. It's always an honor to play the Mother Church, and great to see old friends backstage.
So now you are caught up on what's been going on. What have I learned in the past few weeks? First, the Dallas In N Out burgers are just as good as the California ones. Oswald really didn't do it, but he was the patsy. Third, the effort and trouble to see family and friends is always worth it. Just suck it up and make it happen, even if it seems like a huge pain. Go make this Christmas one of the best ones ever.
Thanks for your patience in my posts, and I look forward to seeing all of you in the weeks to come and in the coming year!
See you on the road!
---
---