Shinybass journal entry 12-09-13
I'm simple.  Somewhat.
Greetings and salutations from Nashtucky.  I may have to drop the 'tucky' part from Nashville, since a recent article stated that Nashville has become the new celebrity hangout.  We've been enjoying our quaint little small town feel for years now, and ever since Justin Timberlake announced he was thinking about a move here, my wife has been spending a LOT of time at the Green Hills Starbucks.  It's OK – while she's down there, I'm at Corner Music checking out the latest bass gear. We both win! I kid – she's not staking JT – I call him that because I met him once and we are tight. Like not even close.  I would love to sit in on a rehearsal for his band – they are world-class.  I have to give it to JT, he's an extremely talented performer.  And seems like he likes to laugh.  I can appreciate that.
I hope that the Thanksgiving holiday was good to you this year.  With our family plans falling through, we attended a 'misfit' Thanksgiving, which is a bunch of touring professionals who get together at a dear friend's house and drink old brown liquor and eat until the buttons pop.  Just what the Pilgrims had in mind, right?  'Merica! In our industry, which is like a family, it's nice to have that outlet, since many of us have to work during most major holidays, and can't get home like 'normal folk'.  With that being said, thanks to Kyle for having us over again, and for letting us eat and drink ourselves gluttonous.
So forgive me for missing last Monday's journal entry.  I was off the road, and whereas you may like to hear of the turkey salad leftovers, I enjoy my family and private time as much as you.  I decided it best to jump back online when we get back on the road.  And jump back we did.  4 shows scheduled in Northern areas, which always makes for a great time in early December.  As the band lumbered onto the bus with more cold-weather clothes than the hunting section at Cabela's, we were greeted by JDawg and an atomic cough.  He said he had been sick for the past few days. This is not good.
When you live in a submarine, everything is pretty much there for everyone to see and experience.  Your personal life, your emotions, and your illnesses.  We live in a metal rectangle that doesn't get a lot of fresh air, and without fail, if one person is sick, it's a pretty good bet the rest will be as well.  I think before we even hit the Ohio border, Brock caught the bug.  And remember, we were our for 4 days.
The first two days were in Milwaukee at the Potawanami casino in Milwaukee for two sold out shows.  I love staying in the same spot for two days, it allows us to stretch our legs a bit, and the stress level drops as well.  I was able to get in an (indoor) run, and spend some time tweaking gear and checking out some new things.  The show at the Northern Lights Theater was fantastic, but then afterwards, we shook things up by sitting in at the open mic night at the Fire Pit Bar in the casino.  Phil came over and knocked out a song, then JDawg, Brock, and myself stayed behind and played with Burn, all of whom are great players and great guys.  Big thanks Rob and the rest of the group for letting us make a lot of noise.
Day two I felt pretty good, although it was as cold as can be outside, and I ended up sleeping on the bus the night before.  We had a traditionally wonderful lunch at the Calderone Club with our dear friend Gino, and I was able to shed a small fraction of the calories with a workout that afternoon.  The second show at the casino was better than the first, and we all celebrated back at the Calderone Club, where we drank red wine and ate gourmet pizza.  Almost all of us.  Brock wasn't feeling well.  At all.  Yep, the bug got him.
We left for Madison, WI, where JDawg was feeling a bit better, I hadn't been hit (yet), and Brock couldn't move.  We had a bucket next to him during the shows in case he got sick.  It was that bad.  We were on our own for lunch, and I happened to see a super-hip rusted metal/neon sign that said 'Tacos'.  I like tacos.  We braved the 0 degree temps and walked a few blocks to a little slice of heaven.  If you are in Madison, please go by this place – and tell them we sent you.  Amazing food!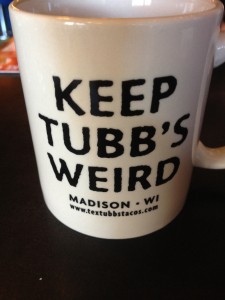 With tacos in my belly, we went in for soundcheck. I noticed I had been coughing and sneezing a little, however, I thought with enough water and Vitamin C, surely I would not be the next victim.  I was sorely mistaken.  We readied for the show, and I felt my throat get tighter and tighter as showtime neared, with my voice all but worthless (more so than usual) by showtime.  It was all could do to get any notes out.  The fine folks in Madison know how to throw down, that's for sure.  There was a crazy raucous crowd that night, and as sick as Brock was, I was becoming, and Jdawg had battled, we gave it our all.  You brave the cold to be there, and we, well, brave the cold.
The next day in Medina OH was the 7th, a day which will live in infamy. That's right – my birthday.  I was sick as a dog and slept until 12:30.  If you know me, you know that is about 5 hours past when I usually wake up.  I felt awful.  And being that it was my birthday, sort of made it a downer.  I was trying to make the best of it, really.  All I wanted, seriously ALL I wanted when I woke up were pancakes. That's it.  I get to catering, and they have tacos.  I couldn't do tacos again.  Just wasn't going to happen.  So I bundled up, and set out for pancakes.  As fate would have it, there was a little Mom & Pop diner that served breakfast all day about 2/10ths of a mile away.  Bam.  Happy, full belly, and happy boy. I told you I was simple.  As we get older, we like more of the little victories.  This was one of those.
I managed to get through the show, with an awful voice, sneezing, and blowing my nose between songs.  That makes for a fun night.  No big birthday shots or after-show celebrations for this kid – happiness is a warm bunk.  I was Nyquil'd up and out before we hit the city limit sign.  I didn't wake up until we were back in Nashville, and my Sunday was spent all most entirely on the couch. It turned out to be a happy birthday, for the simple fact that I was home, and I have someone special to take care of me.
So the final count from the bus was at least 5 of 9 were hit with some form of the bug.  I think every one is feeling a bit better, although I am not over it quite yet.  I'll knock it out soon enough, and be back in business soon.  We only have one more show this year as a full band, and that's at the Franklin Theater in Franklin, TN.  It will be my first time at The Franklin, so I am very excited for this special engagement.  Then it's Festivus, and BOOM! New Year!
Thanks to everyone who made this touring year special, and for all the birthday wishes.  I sincerely appreciate everyone who logs on to this little journal, and for making my job the best one in the world.
See you on the road!
---
---