Shinybass journal entry 12-10-12
42.
It's funny where the signs originate.  Some pray to the heavens, waiting on a lightning bolt to hit as a sign of what to do, where to go, or how to handle a situation.  I received a text.  It was from my little brother that said something to the effect of 'Happy Birthday – 42 is the answer to the meaning of life'. And sure enough, in the Hitchhiker's Guide to the Galaxy 42 is the answer to the meaning of life.  And when you hit 42 – it's the odd 'do over of 40'.  40 is a milestone for many reasons – half your life is over, you are supposed to have _____ done by 40, etc.  41 hits, and realize you still haven't made good on your promises to you, and you need a little more time.  Then 42 hits.  It's like the last year of the 'grace period'.  It's a sexy even number (because the odd numbers just don't sit well with us, for some reason – nobody says they are going to do something by age 37), and once you hit 43, well, that just sounds old. So 42 is the answer.  A last chance, if you would.
A birthday like mine that sits on the tail end of the year is interesting.  There's a month to go in this year, so still time to make good on a resolution.  It's also the holiday season, which screws everyone up come gift-giving time.  It also falls on Pearl Harbor Day, which I like because of my penchant for history. I suppose a summer birthday would be fun because of the outdoor party scene, but I like where mine rests – like I have a choice – and to celebrate with a 'day that will live in infamy' is just OK with me.
As touring fate would have it, there was a cancellation in our schedule on Dec.7, which meant we would be shuffled off to Las Vegas for a night off on my birthday – tell him what he's won! It's a free birthday trip to Vegas!  Believe me, the appreciation level was not lost.  I have had my share of drunken barn dances in Vegas, and so I thought maybe for my day I would do something a little out of the ordinary. More on that later. Because it is so wonderfully anti-climactic and ridiculous that it has to wait, otherwise you would close your browser window now.
The first night of the run took us to Alexandria, Virginia, where I was able to see not one, not two, but three old friends that night.  One was my little brother's best man, the other my oldest brother's best man, and another was a fellow musician who has been threatening to hang for a few years if we ever got close enough.  Lunch at the Union Street Public House was insanely good.  I believe that would be one of my haunts if I lived near old town. The show was a lot of fun, and the feral cats kept a close vigil on the bus.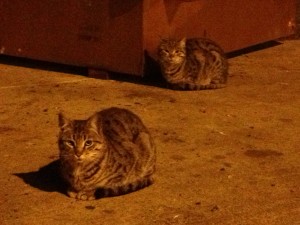 The bus then headed north through the chilly morning air, and as I awoke and found my phone, I was very happy to see this image: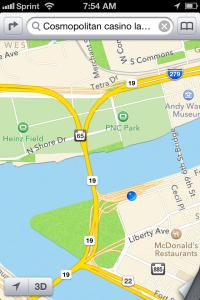 Which meant the bus was in 'dahntahn' Pittsburgh.  (And you can tell I was also researching the Cosmo hotel in Vegas…), which meant I was in familiar surroundings.  Since we were so close, I decided to take a freezing walk down to the water, I snapped a great picture of the block house from Ft. Pitt, built in 1764.  That's old. Like me.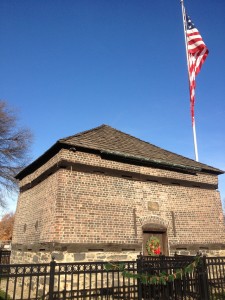 No trip to Pittsburgh would be complete without a visit to Eat-N-Park, which is a staple 'round these parts.  I was in charge of finding one, so I had the tour bus creep into the Squirrel Hill District, which was a funny sight.  An hour later the poor driver came and picked us up, and we were big time.  We then crossed the river and eased into Homestead, home of the Homestead Grays, and the location of the evening's show – the Carnegie Library and Music Hall.  Built in 1898, the facility was exceptional, sporting a library, gym, and a pool.  For the first time in my life, I ran on a wooden platform above the gym. Good times.
And as an added bonus, my Uncle came to the show, and well, we ate at Eat N Park for dinner.  Twice in one day. I guess I was getting my fill.  Regardless, time with family is important and good, and I was excited that he could see the show and hang on the bus for a little while as well. We hit the hotel for a shower, then at the wonderfully early time of 4AM, we were at the airport for a direct (translation – 5 hour) flight to Las Vegas.  I slept the whole way.  Well, almost the whole way.  There was a pretty hole in the ground…
So back to the story of what to do for my birthday.  I have been to a lot of great spots in Vegas, and outside of town.  There is one trip that has always fascinated me, and Jeff and I decided to just jump in and go for it.  We rented a car and headed to Area 51.
Area 51 is an anomaly.  There is a base there.  There are planes that fly in and out, and rumors swirl about what really goes on there.  I am not sure of the alien remains, but I am sure that the stealth technology we have now was developed or tested in the area.  Well, I'm not really sure.  I just like to imagine, which is part of the mystique.  So Jeff and I drove a little rental car about 150 miles into the middle of nowhere to see the infamous black (now white) mailbox, eat at the Little A'Le' Inn, and see if we could find the back gate to the base.  Well, we were successful on all three accounts.  The last was trippy – a 5 miles dirt road, a 2 mile blacktop, then bang – guard shack at the foot of a mountain range.  All very hush hush.
We didn't find any aliens. Or did we?
An no, that middle picture is not the guard station.  Area 51 isn't even called that, and officially isn't there.  Sort of like my common sense to want to make a 6 hour round trip into the desert. But I can now say I was there. Another one off the list.
So it was birthday time – which can mean anything in Vegas.  Unfortunately, returning the rental car took 2 hours – a snail's pace when time moves so fast in Vegas, but I made it back to meet the boys for dinner (a $42 buffet???), and make the show Absinthe, which was a fun show, with pretty incredible stunts and raunchy humor.  Great way to start the night.  The rest of the night was a blur of table games, blue drinks, Mardi Gras beads, and more blue drinks.  And I forgot my aspirin.
The show was a corporate function, so we were done relatively early.  I was able to change my plane ticket and take the red eye home, which put me back at my house at 10 AM rather than 7 PM last night. I was able to celebrate my first birthday as a husband in fine style, and it was totally worth missing a few hours of sleep.
Thank you to everyone for all the wonderful birthday wishes and presents.  You made my birthday very special.
So next on the plate?  Figuring out what to do for the next year of my grace period life.  Actually, life has no grace period.  It's now or never, folks. Get busy on that list.  I am writing a new one…
See you on the road!
---
---