Shinybass journal entry 3-29-11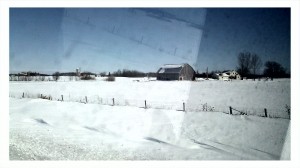 There it is.  The last bit of winter.  I am calling it now – yes, I know as I type this, there are metric tons of snow being dumped on various parts of this great land of ours –  but spring is here.  I mean, it is, right?  It was 85 when we left Nashville, then I wake up somewhere in the farmland of Wisconsin, and this is what greets my sleepy eyes. A calming postcard landscape.  Ahh.  Makes me want to either go back to bed or get more coffee and appreciate the fact that I am inside.  I love the snow – I really, really do – but for some reason, on this trip I mispacked (if that is a word), so the warmer clothes were left in Nashville. I did manage to repack a little and leave the shorts and bathing suit at home.  (That is not a lie – I just assumed the rest of the country was enjoying summer-like temps).
This week was one of firsts.  First, I wasn't scheduled to be on this trip.  Phil was doing a run of acoustic shows, and well, they had all the instruments covered.  Not liking to stay at home (especially when there is money to be made), I volunteered to help out and sell merch.  I have never 'slung cotton' before, so I jumped in with both hands and both feet and got crusty with the people.  I am always up for learning new things, so this was a way to say 'OK, I've done that'.  BUT I brought my bass along (just in case, of course).  I managed to sneak on stage a few times, and the second show in Warsaw found me playing the whole show, except for the first song.
Another first for me were the venues.  I had never played these places before, and so now, strangely enough, I JUST crossed Green Bay off the list.  I have maybe been in the suburbs, but never seen Lambeau, and after the last Super Bowl, didn't really care to see Green Bay, but I wore my Steelers hat with pride.  I did manage a wonderfully sloppy cheeseburger with grilled onions at Al's.  Family owned and operated since 1934, I was happy to be included in the tradition of making that the first stop in Green Bay.  Like the bus wasn't even in park yet, and the band was inside and ordering.
But let's back up one day – to Cleveland.  We were at the House of Blues, which are always great venues.  This one is the heart of downtown, an area I haven't visited since about 2001.  Last time I was there, we stayed about a block from where the HOB is now located, so I knew a couple of little spots already.  I snapped a couple of tourist pictures, trying to get all artsy on you.
In not being on stage the whole time, I learned a few things.  First, Now I know how an Excel spreadsheet works, and the ways of the merch count.  This way, if I am ever in business for myself, then I can handle it.  Second, I realized that my place in a venue is with an instrument in hand.  I was a caged animal having to listen to Phil instead of play with him.  And let me tell you how cool the boss is – he sort of just let me jump in wherever to play.  The last night of the run, I played pretty much the entire second show.  Now, the first night of the show, I was sort of glad I didn't play, because I had the video camera in hand.  Everything happens for a reason, and my 'reason' was to capture this little nugget from the concert :
This was actually pretty damn funny when it went down, and in watching it again, I find myself laughing out loud, just because Phil loses it then regains his composure. Good stuff.
Here are a couple of parting shots from the weekend – the theaters were fantastic, the food was great, and the people were even better. I really can't wait to get to Florida to play the shows this week. Full band, full production. Come on, smoke machines!
See you on the road!
---
---