Shinybass journal entry 9-19-11
I cannot drink more than you – I'll admit it…
Good, happy, slappy Monday to you!  It is time for more musings and general nonsense from America's kid sweetheart – me – and the weekly damage report from the road.  This week the only thing I lost or broke was a T-shirt I picked up at Dartmouth.  I thought that wrestling Gordon our production manager was a good idea, and well, in his patented 'hockey move' I found my shirt over my head and the collar ripped up.  That will teach me – to find bigger friends or smaller people to pick fights with.
Our week started in Covington, KY, which is just over the river from Cincinnati.  It was a USO benefit with Joe Nichols and Hunter Hayes.  Hunter is a talented young man.  We have played a few shows with him recently, and he can play.  It's refreshing.  The show was a little odd, just in the fact that the theater stage had to have three bands on it, so space was at a premium.  We made it work, though.  We always do.
As you may or may not know, I am a bit of a wandering minstrel, so once the gear is set up, I am off and up out, trying to find little gems in each town where we play.  Covington has some old structures, and I found my obligatory clock in which to pretend I am in the early 1900's. The other picture is from the Rapture. OK, it's just a solarized cell phone picture of the Mother of God Church. If you have a few minutes, check out the inside of this gem. It is one of the most beautiful churches I have ever seen.
Day 2 of this run found us in Lexington, KY, which is a great little town with rich history and richer neighborhoods.  In another walkabout, we hit this upscale historical area just off the main drag, and it was pretty much perfect.  Walking distance to everything, and the houses were a great mix of old and new.  And they have a dozen bars and pizza joints right there.  This is what we call in the business 'heaven'.  (Or trouble if you are fresh out of food rehab).  I managed to curb my appetite for beverage and eats until the next night in Columbus.  More on that in a sec, but enjoy these gems, including the old Lexington courthouse.
And now for the dirt.  The last show of the run, we were with 3 Doors Down and Sammy (frickin') Hagar in Columbus, OH for a sold-out arena show.  I love the big shows, but as Phil pointed out, it turns into Groundhog Day after a while, in the fact that all the stadiums look the same, and the schedule doesn't change, etc.  It becomes a very regimented existence, and the 'clockwork' of the day can drive you crazy.  A few years back, when we toured with Dierks, it was the same way.  That's why we love the theaters.  Every show has a different feel, a different look, and whereas the argument could be made about filling seats, I would rather play theaters for the rest of my life than a year of a stadium tour and that's it.
But on with the show.  Drinking.  That seemed to be the underlying theme for the night, especially after we met Sammy (who for some reason has a huge stash of Cabo Wabo tequila with him), and the fact that we all needed a little release to send the week out in grand fashion.  And for the record, Sammy is that down-to-earth, and has his shit together.  For someone worth 100 million, he sure doesn't act like it.  Nice. As. Can. Be.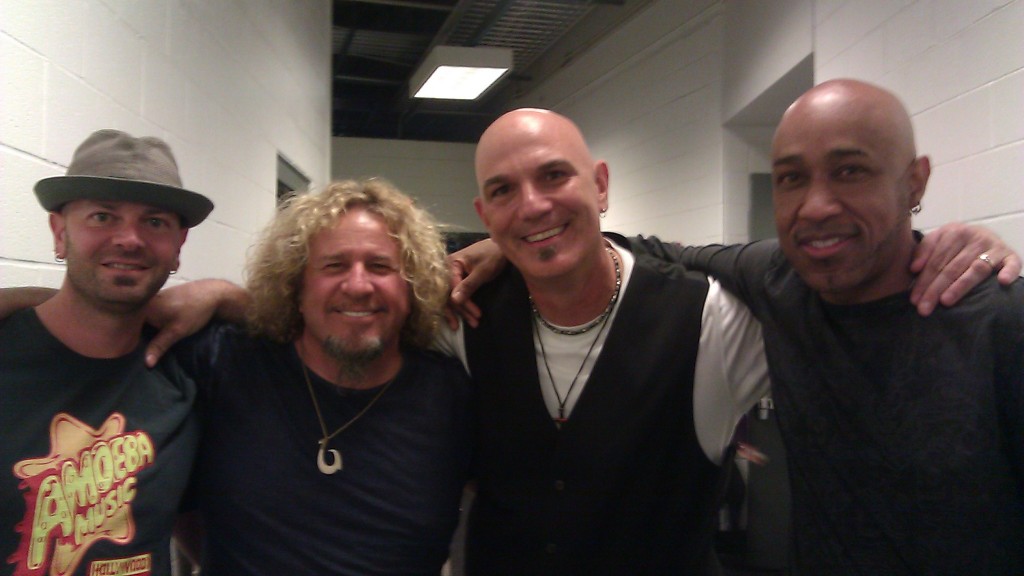 This shot was taken while 3 Doors were 'playing'.  Smiles all around as we hung with Vic, far right, who used to be in the Bus Boys, played on tracks for Dre and 2Pac, and has been with Sammy for years.  Not too shabby.  Fast foward an hour, and we found ourselves onstage at the 'bar' where Sammy's people were serving up lots of drinks as The Red Rocker ran through all the hits, and keeping the crowd on its feet for 75 minutes.  Not bad for a 64-year-old.
The shot on the left is one I like to call 'Inside the Confetti Cannon'.  The second is just plain wrong.  Notice Vic jamming on the left down stage.  Best bar in town that night.  Sammy can probably claim that everywhere he plays.
So what do you all have going on this week?  We are officially in football season, which pretty much kicks ass, although I am thinking the time away from the game has hurt some folks.  I am getting a lot of catch up work done this week, and harboring yet another lost puppy.  This one is a full-blooded black lab we have named Diesel.  Diesel is less than a year old, and has found my bed rather comfortable.  Check back in a few to see if we are his 'forever home'.
And in case you missed this – we had a little fun in Oregon a few weeks ago!
Feel free to drop me a line anytime! See you on the road!
---
---