Shinybass tour journal 12-29-12
This is it.  Make no mistake where you are…
As I check out my Target $1 desk calendar (yes, I am still paper in a digital world), I see that my next journal entry will not happen until 2013.  That number just seems wrong to me.  Like Buck Rodgers wrong.  We were supposed to be on Mars by now, right?  We were supposed to be able to talk into our wrist devices, and have flying cars and have handheld communicators that could access any information anywhere, and oh…yea, ahhh, I guess we made it.  We have low-level orbiting spacecraft, stealth fighters, and a heck, even cars that run on electricity!  OK, actually, if you want to grind my gears, then get me talking about electric cars.  We've had the technology for almost 200 years (!), but hmmm, big oil just won't let it happen, will they?  I saw an electric car in a museum out in Reno that was built in 1912 and had a range of 100 miles.  What's the range of an electric car today?  That's right – 100 miles.  Maybe one day we can actually make strides that have nothing to do with money.  Eh, scratch that. It ain't gonna happen.
Being the last 'episode' of the year of the apocalypse, it seems only natural to explore the options of a 'year in review'.  Well, here at shinybass headquarters, we are in the business of looking ahead, not looking back, unless it is to revisit a lesson learned.  Like hug more, think before you speak, and make sure you are spending enough time with that puppy dog.  My dog got a new chewy bone for Christmas, and decided to bury it in the backyard.  I've heard rumors of dogs doing this, but I've never witnessed it.  We'll see if it blooms in the Spring. But being a student of history, I appreciate the past, but we must learn and move forward.  Our memories and years' past should just serve as park benches on which to rest, then keep moving down the path.  You don't want to live on a bench.  Or even sleep on one.
But if I had to look back, I would have to thank you all for visiting this site, week after week, as I roam all over the blue/green planet and report on my findings.  Some things that I have found – good people all over the country, all facing the same fears, the same problems, regardless of political parties and background.  We all want a better country, a little more money in our pockets and more money back in our communities, not going overseas.  We'd like safe streets, our Armed Forces to come home, and for the Steelers to keep winning.  I SWEAR that's from the rest of the country, and not me…
However this whole crazy life pans out for you – just be happy and love each other.  That's really all we can do.  However that happens for you, is your spot.
On to the touring side of life.  The Phil Vassar entourage had one remaining stop for the year, up in Wabash, Indiana for a CraigMorgan/Phil Vassar Christmas show.  First, I must say that the Craig Morgan camp is top-notch.  Craig is a great guy, and his band are a lot of fun.  His guitar player, Travis, found himself in a pickle preshow as someone may or may not have stolen his clothes while he was in the shower, and may or may not have left him with just his shoes, socks, and a tie, and may or may not have done this during meet and greet.  We may or may not have been bored.
The town of Wabash is a fine little area, with the small downtown and old renovated buildings we are starting to see everywhere.  I found not one, not two, but 3 four-faced clocks for your cold-weather enjoyment.  The downtown is like a big antique mall, which actually contained one of the best antique stores I have ever experienced.  Think American Pickers- quality items without the exorbitant prices.  Another fun fact – Wabash was the first electrically-lighted city in the world! Who woulda thunk it?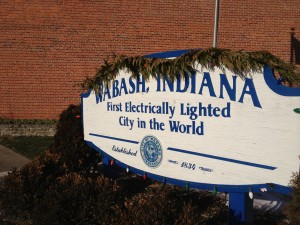 Our last Christmas show was loose, fun, and had more laughs than all the others combined.  We were in the spirit, and honestly a little giddy about being on break for the Christmas holiday.  After my night ended, I was in the hotel for all of 3 hours (Funny how you shoot straight out of bed when the alarm goes off at 2:45 AM), then drove 2 hours to the Indy airport, flying not one, but 2 legs on the crap airlines known as Air Tran, and ended up in Missouri for an In-law Christmas.  We made it unscathed, and I managed to sneak a daybreak picture in during final approach.  Shhh….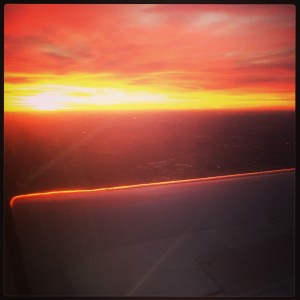 So now we head into the final stretches – the year, the gigs, the football season, the fiscal cliff… it's all right there.  We play one more Titans game, which is this Sunday where it promises to be a chilly 38 degrees at game time.  Bring your long johns and come rock with us one more time as we cheer on the Titans.  This season has been exceptional, and I am really thankful for the chance to play for our home team.  We are already booking gigs for early next year, including Chicago in January, so get ready – next year promises to be crazier than the last.  Because that's how it's supposed to be.
Enjoy the rest of the year, and sort out your resolutions.  I hope to see you all in 2013.  Have a safe New Year's Eve.  Buckle up and don't run with scissors.
See you on the road!
---
---