Shinybass journal entry 01-28-14
Ahh, the typewriter factory…
Happy Tuesday, my some (OK, mostly) cold, some hot friends!  I am once again back in the creative lab, spinning deliriously in my office chair, only pressing one key at a time to compose this sentence. The coffee has kicked in!  Fine, I'm not spinning in place, but the thoughts in my head are moving at a furious pace, even as I type this before the sun rises on this sleepy slice of Nashville suburbia.  Last night I returned from the NAMM show out in Anaheim.  NAMM is a big ol' flash and fancy, rock and roll and celebrity infused musical gear showcase where companies show off the latest gear in a dizzying and dazzling array of clever booth setups, themes, and guest artists.  For us lowly musician types, we can sample the latest gear offerings, and catch glimpses of the other players that we aspire to become.  The event is held at the convention center, and I spent a mind-numbing 5 days out in the warm California sun.  I mean, um, honey, it was cold and uneventful and I had no fun at all.  Shhh….Don't tell my wife it was 80 degrees every day and that Johnny Depp played one of the events.
In classic Southwest Airlines style, we flew through somewhere to get somewhere, so the layover du jour was in Vegas.  I saw some Nashville friends in the airport during the layover, and unintentionally sat on the side of the plane as to see the Grand Canyon, Lake Mead, and my favorite local decoration – the Wheel of Fortune water tank.
Upon arrival in Anaheim, I walked the floor of the massive trade show, which gets more and more impressive every year.  I have been to NAMM for a dozen years or so, although I hadn't been out here for 5 years.  I am asked by a lot of first-time NAMM attendees what to expect and what to do.  I tell them have a plan, and have fun.  That's pretty much it.  I work with several companies, and it's always fun to see what kind of new 'toys' they have, but also to see what the rest of the world is inventing and producing.  I have decided not to give you a complete play-by play, but several highlights from the show.
First, the show happened to fall on the same weekend as the Grammys, which meant that there were more celebrity and top-call musicians floating around.  I saw players from all genres of music, from Death Metal to 80's hair bands.  At one point, I was in a very confined space with Lita Ford, members of Poison, Night Ranger, and Orianthi.  And I left my hairspray at home…I saw Leland Sklar a few times, Tal Wilkenfield playing with Steve Ferrone, and the extraordinary Victor Wooten.  I received a text from my buddy that he was near Stevie Wonder.  Well, that doesn't suck.  I missed out on that.  I was happy for him, but really the best part of the show was that I had some great friends in the area, and that JDawg joined me for the trip.
So here are some highlights in picture-type form.
If you look closely in the first picture, you'll see I found my four-faced clock.  Or maybe it found me.
Here are a couple of sweet guitars – one is the Bootsy Collins model, the other just a sweet relic'd custom job.  Neither one made it home with me.
The table on the left is a scant $1700, and the keyboard on the right will probably be on the road with us next year.  Heaven help the crew on that one…
I was a total gas to see my dear friend Jeff Brown at the Ludwig drums booth signing autographs.  Another friend, Matt Billingslea was in the 2 o'clock slot.  Glad to see Nashville represented.
It wasn't all humans at the show – I loved the headphones on this little one.  The lady in the middle is MJ, who winds the custom pickups at Seymour Duncan, which means she's taken care of Eddie Van Halen, Steve Miller, Joe Walsh, Sting – you know, lightweights. She also winds them for J Dawg and myself.  She's pretty much a legend in the gear world.
And these pictures just speak for themselves.
And I assume the last picture is that of a real company.  My malware tracker isn't up to date, so I ain't looking for it on the interwebs.  Y'all let me know how it turns out.
So here's the 'Look at Me' portion of the show.  My friend at Sandberg Guitars comes up to me and says 'I made you famous!'.  I was included on the video loop for their show booth.  Sweet, right?  Except they had Phil's name as 'Jimmy Vassar'.  Dang race car drivers! They changed it immediately, however, it was great for a laugh.  Of course, I just have a 'corrected' shot to maintain some form of dignity.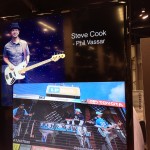 After seeing all kinds of musicians walking around the show, I only made one gherm move, and made an effort to shake Sinbad's hand.  That was it.  OK, and I hung out with Dug Pinnick for a little while.  I was already there, so technically, he was hanging out with me.  I think.  Or not.
So here's some behind-the-scenes scoop.  The show is a blast.  It brings out every musician in the LA area, as well as from around the world.  But the lobbies of the Hilton and Marriott are filled up after the show, and rock until the early morning with guys who couldn't get into the show.  This is what I call the 'shit show'.  It seems that most guys were 'show ready' – full makeup, stage clothing, etc, and the girls were dressed as if they were cocktailing at the Clermont in Atlanta.  There are very loud bands playing, and the place is downright packed.  The $7 beers are well worth it, though.  Not.
The real action is at the 'parties'.  Various manufacturers host parties for the dealers and select others at various hotspots around the area, and you just never know who will be performing.  At the Reverend guitars party, Reeves Gabrels played, as well as Earl Slick and Pete Anderson.  Across town, 65 amps had a larger affair, with Steven Tyler, Marylin Manson, Alice Cooper, and Johnny Depp (yes, on guitar!).  I didn't make that one, so don't get too jealous.
I don't have some sort of amazing whiz-bang ending to this entry.  We had a tremendous time, did everything I needed to do, and found another 20 or so guitars I feel that I will need yet not own over the next year.  In perfect rock star fashion, I got home, took my wife to dinner, then went grocery shopping.  I did find this little gem waiting, because, well, everyone needs their own personal watermelon.  (Humming ' Personal Jesus'….)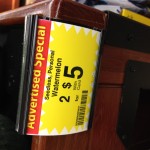 So that's it.  Back to the grind of this crazy life.  I would like to thank everyone at NAMM for taking time to talk, show, interact, and play.  And here's my buddy Chris, doing what he does.  Enjoy!
See you on the road!
---
---