Shinybass journal entry 02-06-12
Well, that was fun…
Good morning! My day started late today – it hit 8 AM before my eyes opened. That is sleeping in for me, because I just can't let the hours slip away. I missed my first sunrise at home in a few weeks, but I suspect it's because my body needed some recovery. It's OK – the clouds have covered the sleepy streets of Nashville this morning, and Monday is once again getting a bad rap for being right where it's supposed to be. I don't know how touring musicians can hate Mondays – it's our Saturday. Maybe that's why I am so forgetful of birthdays. My calendar is shifted by a few days. Now if I can only figure out which way the shift lies…
Last week I typed that I was itching to go play some shows. As my Mother pointed out, about an hour after I posted that, the phone rings. It was the folks from Luke Bryan's camp asking if I can help out and sub for their bass player for a run through the Midwest. I said yep, and a day later had a bunch of music to learn and a bag to pack. I am not a 'chart guy', which means generally staring down at the floor during a show, and whereas nobody paid to see me, I feel that in giving them the best 'show' I can, then they get their money's worth as well. Drummers can get away with using charts, but for us, go up three rows, and you can see the stage, then our secret is out. No, I was going to memorize these 60 minutes. So I was off to work.
As I prepared for the trip (which had me leaving on my fiancee's birthday – ouch), I crazily over packed. On Phil's bus, I can show up with a nail file and I have enough clothes and gear stashed on the bus to make a weekend's worth of shows work. Going in blind to a new bus, it looked like I was moving in. And sadly, I was still under prepared. I have in-ear molds (which is what we use to hear what we are playing), but they are in the production trailer on Phil's tour, so I had to sort of improvise with older molds and a system that didn't really work. Honestly, I only heard the show from the second night, but that's not through any fault of any of Luke's crew. They are top-notch, and Ed who runs monitor world is one of the best I've worked with. I think the gnomes were after me this run. I had ear problems, wireless problems, and on the last night – bass problems, so it just didn't stop. But again – the sellout crowds could give a shit. We were there to bring it.
Day one was in Oklahoma City at the Chesapeake Energy Center, which holds a 16,000, and I think every seat was filled when we hit. No problem, Steve, just jump in and play and act like you've been there for years. Did I mention we didn't get a rehearsal? Oh yeah – good stuff. So I found a quiet spot in the arena, plugged in and practiced. You can run a show with the tape 100 times, but it's not the same until you get into the actual sweaty, loud, energy-filled venue. So while the boys were at the gym, I was hard at work. Well, I did take a minute to snap a picture from inside the room – which happened to be the press conference area for the Oklahoma Thunder.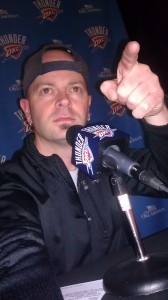 So before you have a chance to blink – BAM! It's showtime, and you are in front of an awful lot of people.  Things went great – except for the end of the show, when it was evident that no one briefed me on the locations or timing of the 'cryo' (smoke) at the end of the set.  Needless to say, I was standing there with a huge plume of smoke blasting between my legs, and the violin player laughing uncontrollably at me.  It was a fine way to end the night.  After the post show debriefing,  I ambled off with two guys from the band to a local watering hole to celebrate with a few of the 200-plus varieties of beers this place had to offer.  I was just happy the first show was under my fingers, and I was ready for the next night.
Day 2 found us in Jonesboro, Arkansas, which on this cold and wet day wasn't much to look at.  I did get to Target to pick up some things that I forgot (again, when you jump on a new bus…), and after a brief visit to the football equipment facility, I headed to the gym to play basketball.  It seems that both the Aldean and Bryan camps are fierce competitors, and basketball is huge with these guys.  In the 3 days I was out, I played three days in a row for about 2 hours at a time.  All three days, we had a player go down with an injury as well.  They play hard out there.  Jason Aldean's steel player broke his foot on my first day.  Our drummer hyper-extended his knee on day 2, and the promoter had to be checked out by the doctor for the U of Illinois basketball team on day three.  Crazy stuff.
After talking with the runner that day, he hooked me up with an ASU football jersey.  Very kind of him, indeed, and the attendance record for this night was shattered again, previously set by Garth Brooks.  To say the energy level was high at this show was an understatement.  And I didn't screw up the songs too badly.
So day three in Illinois was even better than the first two.  I was getting to know the guys, the crew, and the other bands and everyone was cool.  Catering was great, and the hang was good all the way around.  Of course all of this is just temporary, since James would be coming back to reclaim his bass spot next week.  The crowd was the biggest of the week, and the Blind Pig in downtown Champaign was a fine place to have a post-show wrap up.  Our runner was driving a university shuttle, which struck me as funny as we get picked up at the bar.
So I must say be careful what you wish for.  As I type this I am thinking that my wish was granted  last week, so I will keep up with the positive thoughts.  And just as I type this, the sun just started poking through the windows at the house.  Hmm…maybe I am in the right place.  Like I have always said, you are right where you are supposed to be.  Last week I was able to help out a bunch of friends with some shows, and I am thankful.  Tonight I am playing with more friends in town, singing a tune or two.  (Cover your ears).  So here's to your positive push this week, whatever you may be doing.
And for you die-hard country fans, I will leave you with a shot from the 'B' stage of the tour.  Ladies, you can thank me later.  The End.  Literally.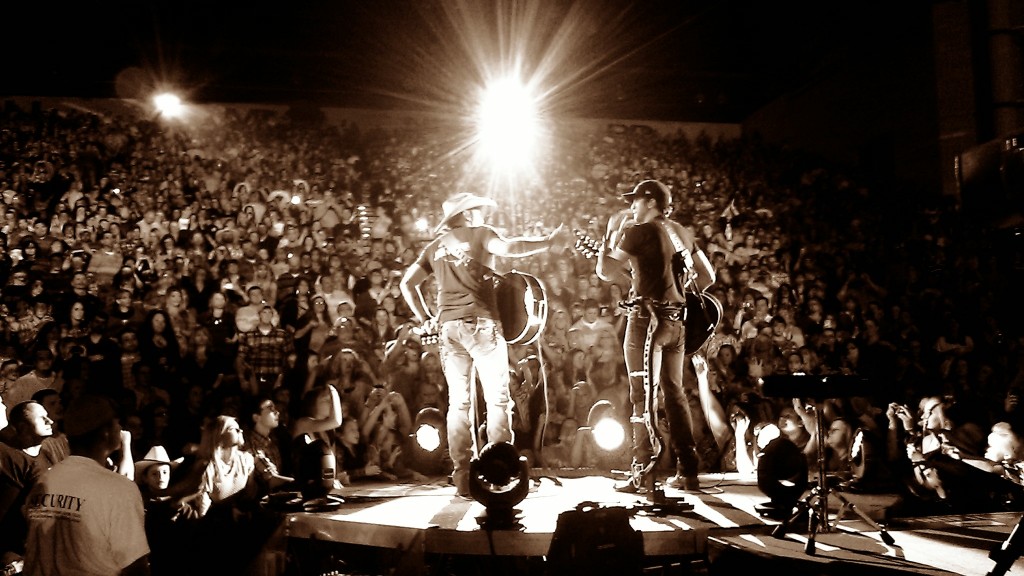 See you on the road!
---
---