Shinybass journal entry 02-18-13
Go on, straddle that line…
Last week marked my 101st post via my new WordPress site, and we didn't have a cake or anything.  So today we'll celebrate the 102nd post with a free handful of sprinkles to the first 10 people to come knock on my door.  OK, scratch that, I am all out of sprinkles.  But I will respond to every single message, and imagine if you would that if it were an actual letter, that I included sprinkles in the envelope.  Of course, in this day and age, it would be mistaken for a chemical attack, and I would be hauled off to confectioner's prison or something…
I have found the last 101 episodes of the shinybass journal soothing – daunting at times, tardy on occasion, tawdry most other times, and always a great release.  I can't always say what I really want to say, since that would be in poor taste, and probably get me in trouble with more than one lobby group.  I will say this – I don't like drawing lines – political, economic, or crayon.  The first two are never cut-and-dried, and the third, well, I never keep them straight.  The journal is a bit outside, and mostly the inner workings of my right to left to back to front brain, not really informative.  But don't tell anyone.
But the wheels of the bus (and my mind) keep turning, churning up asphalt and bringing loud noises and happiness across the land.  All the while I try to find the little bits of towns and places you (nor I) wouldn't normally see.  Think of me as your oddball tour guide. And thankfully I am happy to bring the sights, sounds, and sometimes smells of these towns to you.  Again, a win/win.  Maybe in my next life I will be a tour guide, or a staff writer for a travel magazine.  But for now, and always, actually – I have noises to make in strange towns.  And Bristol, well, you don't get much more strange…
Bristol is a town straddling the TN/VA border – and when I say straddling – it's split right in two.  State St splits downtown in half, and it seems the sunny side of the street is on the Virginia side.  Call me biased…Here you can stand in two states at once, as long as you don't get hit by traffic, then I guess you will be laying in two states at once.  I am not really sure how an accident would work if your car was struck in the middle of the street – or if you were struck.  Random question – would it be the percentage of car/body parts in that state that determines who has jurisdiction? So if I were hit when taking this picture, who would get the body?  I know, sick and disturbed, but questions that need to be asked sometimes…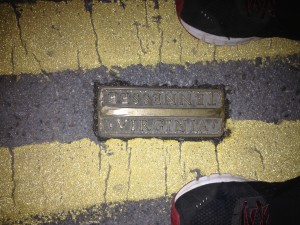 Bristol was always one of those bypass towns, until now.   I have been by it literally hundreds of times, but haven't stopped until now.  It's nestled just south of moonshine country, and sadly, meth has crept in and had its way with some of the locals.  We took a mile-long walk from downtown to visit a store, and it was a bit sketchy – in the daytime.  I did like the town's signage, the train station, and the Paramount Theater where we performed was beautiful.  The people at the venue were extremely nice, and they baked us Valentine's Day cupcakes, so I can't really complain…
And speaking of Valentine's Day – yes, it was in fact the 14th, and the first Valentine's Day as a married man, and yes, I was away from my bride.  You know I am not a fan of the Hallmark Holiday, but for those who care about the pomp and circumstance, I couldn't help but think that I don't have it so badly.  There are thousands of soldiers in a desert that would love to be home for any holiday – not just this one.  So before you start bitchin' – think.
Our show was sold out, and the opening act, High Valley, was great as usual.  I love theater shows.  1000-2000 people in a room is just the right amount to stay intimate, and we still have plenty of room to run.  Plus the theaters aren't nearly as hot as the festival stages.  Again, I'm getting spoiled.
And then there is this week.  We are still in the middle of the house reno, so my fingers are in a constant shade of some type of paint, and the hammers have lived on the kitchen counter.  I may have stirred the pasta with a screwdriver last night.  Soon this will all be behind us, and we (hopefully) look back at a job well done.  And then we'll have you all over for sprinkles. And pasta.
I hope all of your Valentine's Day wishes came true, and that you are planning your next year's celebrations so you don't get caught unprepared.  Or maybe you do – that's how White Castle makes all the big bucks.  And speaking of, if you happen to be in Vegas this week- we are going to be spending a little time at the Silverton for a show.  Bring your rolls of nickels! It's on!
See you on the road!
---
---