Shinybass journal entry 02-25-13
I guess everyone needs a hobby…
Good morning!  I start off this shinybass entry on a somber note.  I did not win any Oscars last night.  I know, hard to believe.  I don't think I registered with the 'Academy' in time for my short film entitled 'The Long, Long Road', a story of a group of wandering misfits, traveling the globe in search of truth, justice, and comfortable, bug-free hotel accommodations.  I think it would be a hit, but again, it has yet to be written, filmed, scored, cast, and distributed.  Other than that, it's done.  OK, I am not in the movie business, but if I were, I would change a few things.  Like the cliches.  I suppose the bad guy has to be killed twice in every movie, and that the good guy always wins, and right before the huge climax the main characters share that moment of reflection or 'The Kiss'.  Ah, Hollywood.  If it were only that simple.
But life isn't a movie, even when the movie is based on true stories, because usually the true story isn't true, and Hollywood covers their asses with the words 'based on actual events'.  What if we used that in everyday life?  'Where's your TPS report? Well, my story is based on actual events.  There was, in fact, a TPS report, and I was assigned to write it.  Other than that…Sadly, with a little fact-checking, our legends are grounded in some event that happened, but the facts are usually ballooned or stretched and molded to suit the public.  No one wants to hear that Lincoln was hated in his day.  No one wants to hear that the Spartans in 300 were helped by a few thousand other warriors.  And no one wants to believe that ET couldn't come back and save the actor who played Elliot from a life of relative obscurity.  Ah well, we hold these truths to be self-evident.
But the stories will never change, nor the cliches, including the ones of the weary touring musician.  Picture one – going.  Picture 2 – coming back.  Fascinating, isn't it?  Actually, it really was…
We had a two night stay in Las Vegas this past week, which stepping back and looking at everything, I realize that I was only outside for about 15 minutes in 36 hours.  Seriously – we got off the plane, shuttled to the hotel, and I was either eating, gambling, drinking, playing, or sleeping.  I worked out in the afternoon, which accounted for 30 seconds of outside time because I had to walk around the back of the hotel to get to the fitness center.  Then after sound check, I was on the phone for the other 14:30 outside.  That was it.  For an outdoors kind of person, this scares the crap out of me.  I like being outdoors, but damn you, Vegas,  you make it so easy to stay inside, where the buffets are plentiful and the ice cream beckons to your inner child.  Well, I showed restraint.  Jefe, not so mucho.  Decisions, decisions.
Maybe we're getting old.  Maybe we're getting wise.  Maybe we were just tired, but none of us went out in Vegas after our show.  Sad?  I dunno, our last trip to Vegas ended up in massive headaches the next day, so maybe we subconsciously skipped this one, then we'll hit it hard next go-round.  Maybe our inner Mormon was checking in for the next night's city – Salt Lake.
Phil was hired to play a private event for an Elk hunting and conservation group, which meant there was a lot of camo in the Convention Center and big trucks lining the surrounding blocks.  After a sound check and a few city blocks of exploration, I found the landmarks we've all been waiting for : The clocks and the cathedral.
They were playing the massive pipe organ when we arrived, which was literally shaking the floors of the church.  It sounded so good.  No choir this go-round, but that's OK.  I racked up my sightseeing points for the afternoon, and I was looking forward to a little dinner and relaxation before the show.
That didn't really happen, since with the convention in town (along with a dance team convention), the local eateries were totally packed, so we basically had to eat and run to the venue.  Then blast out a show and get to bed.  6AM lobby calls are not fun, but they are better than 5 AM lobby calls.  But our slumber was interrupted by a drunk pulling the hotel fire alarm at midnight, which tends to get the most positive reactions from the guests, especially since it was 25 outside.  So after running a dozen and a half flights of stairs to get the blood moving, we settled in for a few hours' sleep so we could head East.  But not before a fine photo op with an Elk.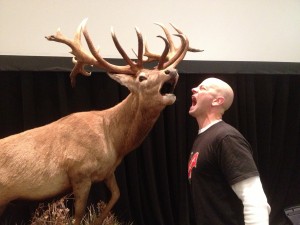 So with our wagons pointed back East, we headed into the sun to be reunited with our own beds and loved ones.  As soon as I touched down, my contractor met me at the house where we applied grout to the new travertine, and then film a showcase at the Listening Room Cafe in Nashville.  For a rare Saturday night off I was completely content to be in bed at 10:30.  I finally managed a little non-fire alarm related sleep.
And I am assuming Brock did as well…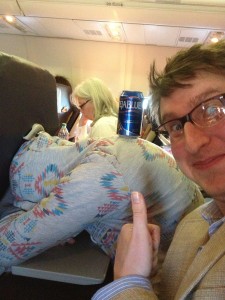 So enjoy the week ahead.  This week in Nashville is CRS, or Country Radio Seminar, where a bunch of industry folks get together and talk about, you guessed it, country radio.  A lot of artists are in town this week, because we sort of need radio to keep moving forward in our careers, and so there are a lot of showcases happening this week, and ours in no exception.  We are playing at Past Perfect in Nashville on Wednesday for a little acoustic show.  There are other acts on the bill, and the whole thing kicks off at 6.  If you are coming down, then be warned we are only playing a few songs, but we will play the new single 'Love is Alive', which I think is a great song.
Keep the questions and comments coming, I love to answer random questions about our lives on the road and the shows ahead.  It's going to be a hell of a year.  Get ready for the ride.
See you on the road!
---
---