Shinybass journal entry 02-28-14
Well, we're two months in…
The end of February signals three events : That warmer weather is ahead, college basketball is about to get more coverage than Olympic ice skating, and that the leap year kids have nothing to look forward to.  Are any of you leap year kids?  I'm curious as to your Snuffleupagus-type birthday and how you celebrate.  Since your birthday only exists in fables and bad romantic comedies, do you feel a bit slighted by everyone else enjoying free brownie sundaes at Ryan's or relieved that you have 1/4 of the hassle and eventual let down of the anticlimactic 4-year wait? Or, conversely, do you party like a rock star that's been pent up for 4 years?  I suppose if you budget correctly, 4 years' worth of savings could equal a hell of a night.  Or the right amount of bail money.
A few weeks ago, I made the announcement that my wife and I are expecting.  As some of you parents know, this is a crazy, uncertain, (and did I say crazy?) time.  The announcement was met with much love and praise, and for that, I am thankful.  One of you said 'I can't wait to read the blog on this!'.  It ain't that kind of blog, lady… just playing.  I am sure as things get going I'll be goo goo Dad.  I do leak some very deep and (formerly) private things on here, however, I think the music/touring blog will stay a music/touring blog with the occasional question on which way the diaper attaches.  Again, thank you all for the love and support.  Everything is going swimmingly.
Back to February.  It is generally a slow touring month, but as soon as I jumped back home from NAMM, it seems I haven't stopped.  Can't stop.  Won't stop.  This past week was no exception.   We started with a Monday flight to Vegas on Monday the 18th.  We played the House of Blues at Mandalay Bay, and I saw my buddy Pete Rose again.  The HOB's are my favorite venues (no offense to The Nick) and to have the hotel connected to the venue is a blessing.  It was the $18 French Toast I could have done without.  The trend in Vegas is that food prices have gone up as people are not at the tables – so if you haven't been in a while, be prepared for a $16 hamburger.  Sinatra would be pissed…
We were in our Music City zip codes for all of 20-something hours, then hopped on the bus to conquer the Midwest.  First stop – Emmetsburg, IA, which was close the middle of nowhere – at least that's what it said on my map.  And I suppose this here Polar Vortex swirled here as well, because it was cold, like Klondike cold with more white than Studio 54 is the late 70's.  Inside the show was rockin' and the nice folks at the Wild Rose Casino were a joy to see again.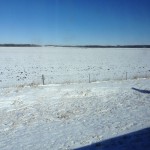 The next night we were further north in Walker, Minnesota.  Oh yah, oh sure.  We missed the Polar Plunge that morning.  (I wouldn't say I missed it, Bob…) but I was OK with that.  This was our 3rd casino show (of 4 for the week), and aside from Mandalay Bay (where I ran a 5k for my workout thank you), I don't think anyone up there knew where a gym was located.  That's the hard part of what we do – they stuff you at the buffet with no outlet. And casinos have figured it all out.  Don't be fooled by the hype.  The ones that offer all these free beverages or drinks from the bar – it's not joke.  They are either killing you slowly with all you can serve yourself soft drinks and taking you a nickel at a time, or getting you liquored up and taking your money faster as you get more bold.  I just ruined that bus trip to Evansville, didn't I?  Just be careful, that's all.
For the 4th casino, we played a Sunday afternoon show in Clinton, IA.  When we see '3PM' start on the day sheet, it can be a little disheartening.  We were all pleasantly surprised when the crowd was drinking and getting crazy on a Sunday afternoon.  I suppose being snowed in has an up side.  We beat feet for home, since some of us had to fly to Houston the next morning.  Or so we thought.
We boarded our non-stop flight with dreams of actually getting sleep and relaxing in a non-moving bed for a couple hours before showtime.  After we were settled, the flight was canceled due to maintenance issues, and two of us went on another airline, and two of us on a later flight.  We arrived in balmy Houston around 3 something.  (Below you can see my sketch of a sleeping Gordon) I got in a quick workout, a decent meal, then we headed to the venue and met up with Cassadee Pope and Gloriana.  All great people, and the show was short and sweet.  Then finally, at some point the next afternoon, I was finally home.
We log a lot of miles.  Lots.  More things happen out on the road than I let on – the bus heaters sometimes go out, or we do have a flat tire.  Schedules get completely screwed up, and technical problems happen just about every day.  We sometimes don't get a lot of sleep, and it's hard to get good cell service to call loved ones from remote locations.  But somehow, it all works, and we honesty wouldn't want it any other way.  Well, to borrow Taylor Swift's jet for a few shows would be nice, however, we are again very lucky to play where we play, do what we do, and see you fine folks.
So this weekend – OFF.  That's right. Domestic, normal, suburbia duties abound.  Hell, I went to my first HOA meeting last night.  As it turns out, there is nothing in the by-laws that won't let me install a zip line to the mailbox.  I've got my next project mapped out.  As I leave you  – I leave you with two things – first – the Jackson 5's special water fountains I spotted in the airport.  Second – this simple sign says it all.  Welcome life.  We can't do this over. Enjoy your week!
See you on the roof!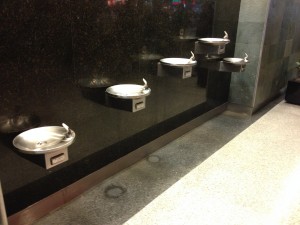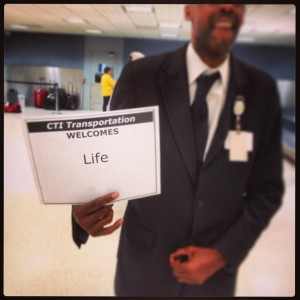 ---
---