Shinybass journal entry 03-10-14
Juuuuust a bit outside…..
Today we're trying something a little out of the ordinary. I say 'we', however, 'I' am currently at a comfortable cruising altitude of 37,000 feet over the high desert on an Easterly heading, with the final destination being Nashtucky, TN.   Generally I awake bright and early on a Monday (or Tuesday, Wednesday, etc…) to get this party started.  Today I decided to test this whole 'time management' thing and get the words rattling in my gourd out early. Plus, it was an early lobby call this morning, and with Daylight Savings combined with my week of time zone changes, it's technically last week sometime.
This week we had a series of fly dates.  That means we are at the mercy of other peoples' schedules, bad days, and inevitably their bad attitudes.  TSA folks have a shit job.  They really do.  They can tell us 100 times to remove everything from everywhere, and without fail someone will ignore the instructions.  And it's probably me.  I just started carrying a laptop again on the road, so guess who had to get 'rechecked'?  This guy.  But aside from that, I think that nothing is worse than dealing with a flight passenger.  First of all, there are many more rules than if we were to simply hop in a car and go.  We, as 'Mericans, don't like to be stripped of our freedoms and inalienable rights, and by golly, when we can't bring a water bottle anywhere we damn where please, then it gets testy.  And people don't like to fly because they aren't in control.  And then there's the sense of entitlement.  I could go on, but I'll stop there.  And to go on a tangent… there's flying etiquette.  The armrest should be treated as a sacred burial ground, only to be traversed and used with expressed written consent from the other passengers.  And in-flight outfit choices, whereas not uncomfortable for other passengers, should be taken into consideration as well.  The respect level goes up immensely between passengers who aren't wearing stolen hotel robes (spotted in the airport this morning) or full pajamas and slippers (also spotted).  This isn't Wal-Mart people.  Have some respect for yourselves.  It's sad that the days of dressing up to travel have gone the way of Buddy Jewell, but pajamas don't count as 'pants'.
So with our 6-digit Southwest reservation number in hand, we were all set to jump out to almost-the-West-coast Vegas to start our touring week.  That was at noon on Tuesday.  At 9:30 Tuesday morning, my wife and I heard our baby's heartbeat.  Yep.  I heard it, recorded it, then an hour later was on the non-stop to the desert.  Such is my life, I suppose.  The questions have been coming from seemingly everywhere: How can I have a baby and tour? Well, how do the traveling salesmen do it?  Or the military?  Or the flight attendants?  They just do.  And we'll do what we have to do. 
But I had a treat waiting for me in Vegas.  It was March 4, which also happened to be my oldest brother's birthday.  As fate would have it, my brother was also in town for a convention.  We had been scheming for weeks on what we wanted to get into when we got to town.  2 Cook boys loose on the streets of Vegas is a scary thought.  Or so we thought. 
A little back story – you know of my penchant for exploration, and I am also a foodie, two traits I share with my brother.  He saw some places on the Travel Channel he wanted to check out, so I was down with whatever.  He was scheduled into town around 8, which meant that he I should have been sipping fine Merlot and enjoying a ridiculously overpriced steak around 9 PM. 
I was holding out for the meal, since I hadn't really eaten since Nashville.  As Mother Nature's cold fingers had a firm grip on air traffic, the flight was delayed, and our steak dinner turned into a slice of pizza at 10:45.  One of the stops on his list was Minus 5, an ice bar kept at, well, 5 below zero.  Everything inside is made of ice, from the bar to the booths, including the glasses.  $80 later, and we were inside. Yes, I paid $40 each for 2 drink tickets, a coat and gloves.  We walked in to a room that was about the size of 3 Fotomat booths, and to say we were disappointed was an understatement.  The place was virtually empty, save the 6 dudes huddling together trying to figure out their next move, as we would soon be doing.  I can see this place being cool if a) you had a group of people, b) you had an unlimited expense account, and c) if you brought your own gloves and hat.  My bald head was freezing ( I was offered to buy a hat for $20 more dollars…),and my gloves smelled of feet.  Remember the glasses are made of ice, so every time my hand was near my mouth to hoist said frozen glass, I smelled old shoe.  That makes for a fun time as well.  Avoid this one, folks.  Lesson learned.
So we pounded our obligatory drinks with fraternity-like quickness and rolled out for the next spot.  I decided to take the reins, and we headed for the House of Blues' Foundation Room.  It's not crazily exclusive on a Tuesday, however, since we just played Mandalay Bay 2 weeks ago, they remembered who I thought I was.  My brother's eyes did widen as I gave him the tour of the joint.  It's a fantastic vibe room, with private drinking areas, and a view of the strip like no other.  It's a celebrity hang as well, just for the exclusive and privacy factor.  And yes, they have $400 bottles of liquor if you like.  As we sunk into the plush red couches with our whiskey drinks, we both realized how extremely tired we were.   With all the travel and lack of sleep, we both could have called it a night after the pizza, but we pressed on for what I called a series of disappointments.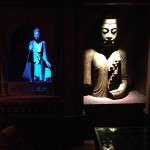 But was it?  I was with my brother. In Vegas.  On his birthday.  And since he was in town for a convention, and I for a gig, well, someone else was paying for us to be out there.  So it was far from a let down.  It was magnificent to be afforded the opportunity to hang with him, and it's all about the time spent, not the things we did or didn't do.
For our musical event  du jour, we played a corporate show at the Bellagio (which has a chocolate fountain in close proximity to the fitness center – go figure), and it was a lot of fun.  We had a runner that day, so I was able to get to the arts district and do a quick vintage guitar and antiques sweep.  I came up empty.  But again, just getting away from the strip was a good thing for me as well.  After dinner I took a walk, and happened to see the parade of racing team trucks rolling down the Vegas Strip. Pretty badass.  Sometimes it pays to get out of the hotel room, right?
The next day we had a day off in Scottsdale, AZ, with a show on Thursday at the Talking Stick resort.  J Dawg and I were afforded a unique opportunity, so we left the Bellagio at 4:30 in the morning to catch the first flight out.  We grabbed a rental car and drove over to Maryville, which is the home of the Milwaukee Brewers Spring Training facility.  Our friend met us and we were given a behind-the-scenes tour of, well, everything at the facility.  The only thing we didn't see was the dugout.  Everything else was wide open to us, which was pretty cool.  We met Hank, a (formerly) stray dog that was found at the facility then adopted by the team.  Hank has since become a media darling, and he even has his own jersey. 
We were walked up to the press box to spend some time with Hall of Famer Bob Uecker, who was incredibly wonderful.  He was engaging, friendly, and genuine.  Easily the top 'casual celebrity' encounter I've ever had.  I'd love to play around of gold with him and hear more stories.  Eh- now I'm getting greedy.
In the 5th inning I had a performance of sorts.  I was in the sausage race.  Yep.  #2, Polish sausage at your service, sir.  First of all, yes, the outfit is uncomfortable and hot.  Second, I came in dead last. Third, I was racing kids half my age! Video to follow soon.  To say that Jeff and I had the total experience that day is an understatement.  Thank you Alex, for making it happen, my friend.
Talking Stick resort is a very nice resort, with a top-notch golf course and a buffet that really is well done. (And we've seen one or two)  I especially enjoyed breakfasts outside on the patio with Coltrane on my Pandora and the mountains as my scenery.  I realized just how pent up I have been this past winter, and now, we've finally turned the weather corner.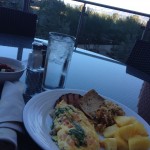 Our show that night was raucous and made even more special by the sold out crowd.  I had to sadly turn away friends' ticket requests, just because we simply couldn't get them in.  I hate that, but I suppose it's a good problem to have.  I look forward to getting back to Scottsdale, hopefully sooner than later.
I woke up early the next morning to go for a run and enjoy the cool Arizona morning.  I had been seeing signs for wild horses all over, but didn't see any on the reservation.  That morning, with the sun coming up, I spotted three of them in the brush, and it was like seeing whales breech.  It's not a big deal to the locals, but for us tourists, seeing wild horses with mountains as a backdrop, well, it's special.
And for the final show of the week, we were at the Santa Fe, which is a Station Casino, back in Las Vegas.  With the flight, delay in transportation, and an 8PM show, there wasn't much time for anything except a sound check and a quick nap before the show.  Once again the crowd came out in full force, and there was a never-ending supply of requests from the audience on little napkins, of which Phil obligated most.  That keeps us on our toes as well.
So that gets you up to speed on the week that was.  What did I learn this week?  I learned that taking a little walk – any little distance – leaves open the chance to see something cool, something moving, and something great.  I learned that flying is not all that bad if you have enough snacks in your bag, and that I need to buy a place in Scottsdale for the winter. 
The coming weeks are full of musical projects for me, from tracking to writing to video work, so look for the fruits of all that labor soon.  I'm looking forward to being home for a little bit, since my self-imposed deadlines are coming up.  I really did pack as much as I could into this past week, and I couldn't have done it alone.  Once again I must give a shout out to the Milwaukee Brewers, the Gold Canyon Candle company, Mr. Bob Uecker, and to all the amazing fans that made this week special. 
See you on the road!  
---
---