Shinybass journal entry 04-12-15
Go West, young man…
Howdy from the front lounge of the speeding white bullet bus! Some of you know may know this, some of you don't, but Phil purchased this bus from the estate of George Jones after he passed. It's an extremely comfortable ride. George didn't ride in it – it was his band's bus – but we know George was here from time to time hanging out. We like to think he's watching from time to time. The bus was a bit busy this week, for the West Coast was on our horizon.
When the calendar says anything about being in California and there are no flight plans being tossed around, well, I start to hunker down for a long haul. Then, somewhere along the line, I get smart and look up airline options. It turns out Southwest (the ONLY airline, as far as I am concerned) flew into Ontario, CA, a scant 4 miles from our venue and hotel. Score!
I could have hopped on the bus Monday and trekked with the boys for 2+ days. I'm not 'above' it by any stretch of the imagination. I've done a lot of cross-country, excruciatingly long runs in the past, so it's not the travel that scares me, it's the time away, and try to figure out if I can be doing anything more productive in that time. As fate would have it, we had to take our little boy to the doctor, and the Tuesday I would have been on the bus would have been much worse if Momma had to do all it solo. (and on a side note – the boy is just fine. Cute as ever, too.)
So my alarm rings at 4AM, and I am at BNA with just a backpack and ready to nap, which I did for both legs of my flight to Ontario. My cabbie may have thought I was a little odd when I rolled down the windows and sucked in all the warm air during the ride to meet the bus. The 63 degree sunny morning was just what the doctor ordered to get my head in a great place. I met up with the boys, and we proceeded to the venue, which was a few blocks from the hotel.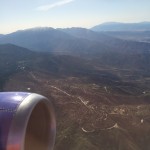 As much as we dread a long California ride out, conversely our fans can't wait for us to get out to the land of water shortages and sunshine. Because we are only on the West Coast a few times a year, the masses gravitate and drive pretty decent ways to see us. The crowd was insane at Toby Keith's, and we can't thank you all enough for making us feel so welcome.
The next show was a scant 100 miles away in Oxnard, CA, so the bus trip was one of the easy ones. The day before our good friend Scott from Yamaha guitars came out, and he was out in Oxnard as well, this time with new presents for Jeff and Phil. It seems they were getting some new guitar love, and they were pretty stoked. I would be as well! The crowd was as crazy as the night before, and again, California, thanks for making our trip worthwhile.
The next day we woke up at Country Thunder, a massive festival in the middle of the desert. It's been a few years since we have played Country Thunder, and we were excited to be back. One of the fun parts of touring and playing these bigger, multi-bill shows is seeing other Nashville musicians. Blake Shelton was the headliner, so seeing his band was great. Even with all the crazy success, none of them let any of it go to their heads, and are as sweet as pie.
Another prominent guitar company, Fender, had a customized AirStream trailer set up in the VIP area. Like hornets to sugar water, all the musicians magically found their way over, which isn't really a BAD thing, is it? (Honey, I am NOT bringing home another bass…) I learned a lot about Fender and their company, and made some new friends in the process. And now I may have to get an AirStream.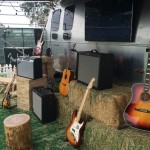 Playing for some 40,000 people is a bit of a rush, and with our 6:30-7:30 time slot, we got the best of both worlds, being able to see the crowd at first, then nothing as the sun went down and the rock and roll lights come up. Phil was on his game as usual, and the band sounded great, feeding off all that wonderful reciprocal energy that the big shows produce. We couldn't stay for Mr. Shelton, for this here 1700 mile ride home had to happen, and sooner the better. We can't thank the fine folks at Country Thunder enough for a tremendous day, and for you, the fan for making our shows night after night.
So while you are watching your Sunday evening stories, we will still be on the bus, trucking right along toward our happy little homes in Nashville. We've been on historic Route 66 for a little bit, but at some point I want to get on the REAL Rt. 66 and follow the path less traveled. Maybe even in an old AirStream. I wonder why…
Enjoy the weeks to come. Spring has finally sprung, and the grass and veggies need love. And we can all finally get off those Vitamin D supplements. So get outside, get to a minor league baseball game, and get to those outdoor projects. We got things to do! Turn that TV off and do 'em!
On a side note, I must extend a special thank you to Scott and Yamaha Guitars for taking such great care of the boys.
Soooooooo next week we are on the East Coast, so hopefully a bunch of my 'peoples' will make the jump to our shows. I'm really excited about the weeks ahead with some great shows in great places. We are also hard at work on the new record, so hopefully I will have some news about that soon as well. Until then…
See you on the road!
---
---