Shinybass journal entry 04-28-14
Well, here we are once again. Since updating you on our baby progress and my album progress and my lawn and garden progress are probably getting a bit redundant and fatigued, I thought I would go back through some old post pictures and re-post some fun ones. I literally have thousands of pictures from the road (Hey Apple – a little more cloud storage here, please!), and where these are some of my favorites, these aren't ALL of my favorites, but they have some fun stories attached, so maybe this will encourage you to get out and take the same kinds of shots and see some of this beautiful country. Or you can just look at mine and pretend you were there.
Again, these are in no 'favorite' order, but remember that life is a journey – there are a thousand more pictures to come. Let me know if any of these hit home.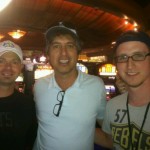 Mr. Ray Romano – yep – we ghermed him in a California casino before sound check at the $5 slot machines. He was gracious (and losing).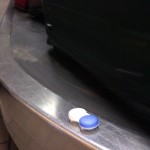 Umm, airport luggage turnstile, not sure if the owner would be able to see on the way home. Glad it wasn't unders.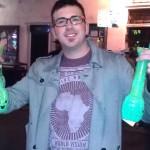 Here's our little Brock, with two Tropical Isle Hand Grenades. It was his first time on Bourbon Street. I am glad I was there for his first, and hopefully it's not his last.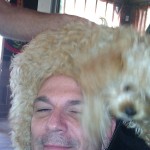 Here's the Dawg, with a dog. We were experimenting with a new line of living hair weave products. Fail. Especially the clean-up portion.
These four are pretty special to me. My Pittsburgh roots run deep, and I have a love for the city that goes back to early childhood. We were given some amazing access during one of our Pittsburgh trips, and so here is the proof. From the dugout, I called for the lefty. I was actually ordering a pizza, and the bullpen answered, but took it all in stride. In the batting cages, I snagged a quick shot with the bat of the 'Pittsburgh Kid', Neil Walker. I hope it didn't jinx him. The next is of me and the boys 'Throwing the Z'. We were told this picture ended up on the locker room wall. On July 4, a day after the Pirates experience, we played outside of Heinz field, with the locker room serving as our dressing room. 2 major Pittsburgh sports 'backstage' experiences in 2 days. And family in town to boot? Damn right it was a good day.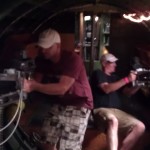 In my constant quest for all things WWII, J Dawg and I hit the Pam Springs air museum, and were treated to not only incredible information and stories from WWII vets, we were able to shoot down some enemy fighters in the process.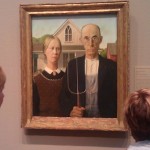 Another 'nerdy' thing I do is seek out art museums, especially ones where classic or very old portraits hang. Behold – 'Merica. (Extra points if you know the artist)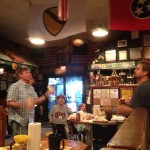 Ever had a 'throwed roll'? If you have been to Lambert's you have. This one was in Alabama. Can you name the other locations?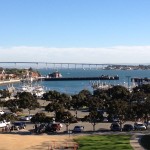 Ahh, San Diego. Enough said.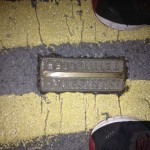 2 states at once? More like 4 if you include state of confusion and state of drunkenness. Fine, just 3.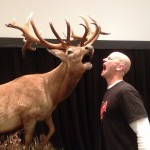 Poor Elk. Seriously. I'm just not a hunter.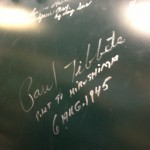 Paul Tibbetts was here. Pretty important piece of history here. He was the pilot of the Enola Gay. And if you don't know what that is, shame on you.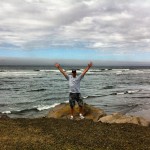 This is where Lewis and Clark first saw the Pacific Ocean. Actually it was a hill about 300 yards from this spot, but they realized there were no frozen drinks or women up there, so they made their way to this spot, which they soon dubbed 'Club Scurvy'.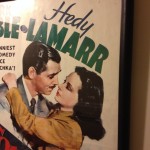 THAT'S HEDLEY! (From the green room bathroom of a theater in CT).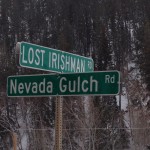 And who doesn't need a good Lost Irishman in their lives? If it's not a drink, it should be.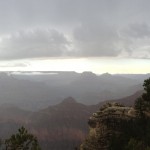 And isn't it a GRAND Canyon?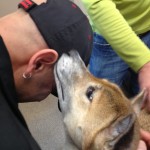 I was kissed by a dingo. Not a bad afternoon in Columbus at the Zoo.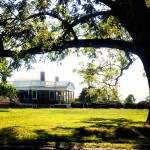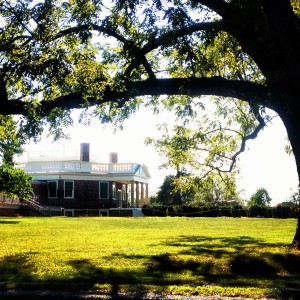 Poplar Forest, where Thomas Jefferson spent his summers. As if Monticello wasn't bad ass enough.
Here's a small 'celebrity wall' for you. I shot some videos for my friend Billy Ray Cyrus, discussed Tennessee living with Charlie Daniels, and played some football tunes with another dear friend Steve Cropper. Oh, the places you will go…
Bonus points if you can name the location of this underground eatery…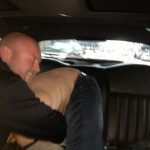 And this is why we can't have nice things. Tommy Garris doing his best WWE impression with our friend Charlie in the back of a limo. You wonder what goes on behind the tinted glass – well, Milwaukee – here it is.
So there's a little bit of where I've been and what I've been up to for the past few years. I may dip even further into the archives soon and fish out more lost gems, but for now, this is what you get. Tomorrow night (4/29) we're on the Opry, so tune in to WSM for the broadcast, then it's off to all points Midwest. Hope to see you at a show soon!
See you on the road!
---
---