Shinybass journal entry 05-02-11
Oh crap! Rent's due!
Good morning, friends.  What an amazing turn of events in the past 72 hours. (Or whenever all this went down).  We know that an enemy of the U.S. is no longer breathing, and this is a good thing for a lot of people.  It brings closure to 9/11 for some, and I am glad that he was found.  The sad truth is that they have been grooming fanatics this whole time to eventually replace him.  I have the utmost faith in our intelligence community to bring all enemies of the U.S. to justice.  It will be interesting to see what happens at Gitmo with the detainees in the coming months/years.
But onward and upward.  We have many things to talk about.  Like this past weekend.  (I know – important stuff!) But it does all sort of tie in – we have the freedom to stage crazy-ass drunken music festivals because of our country's beliefs and laws.  I would like to think that Thomas Jefferson would be happy to see his nation celebrating in this fashion.  He would probably think it was hell on earth, compared to what he knew, but after a brief explanation of a 'Daisy Duke' contest, I am sure TJ would be right there in the mix.
This past weekend found the Phil Vassar entourage in Live Oak, FL, which is a little spot in the middle of nowhere, just south of Georgia, and about an hour from Jacksonville.  This was a, um, rural setting, situated on 800+ acres, with camping and from what we gathered, a 4-day drunk fest.  There were tricked out golf carts everywhere, and I would imagine the campgrounds got a little crazy.  I didn't hear anyone talk about the storms that plowed through the South, so I imagine it was business as usual.
This was our first big festival-type show of the year.  It was nice.  I say nice for a few reasons – it was not stressful at all – the band and Phil were all in a great mood, and the folks who ran the show were great.  The only downside were the gnats, but they have to eat too, right?  We were on the bill with Joe Diffie, Daryl Worley, and Ronnie Dunn.  All in all it was a stress-free and EGO free show.  Too too often you get 'big timed' by certain bands or artists, and that just makes for a bad day.  I can't name past-recipients of the 'We're cooler than you' club, but let's just say that one hit doesn't make you The Beatles.  And walk your happy ass to your bus, chickie – don't have them back it up 40 feet 'cause you don't want to walk it.  These people…
But I digress.  Our 75 minute set was perfect.  We went on just as the sun was going down (a great indicator that you are playing with a successful artist – I have been on first at these things, and playing for empty seats at noon SUCKS).  The weather was perfect, and my bass sounded really nice, which always helps.  I am playing a new axe full time on this gig, and I have been really happy with it.  I think it also looks cool as hell, which is more important, right?  And speaking of looks, I have taken it upon myself to be the 'hat' guy again.  I like the pork pies I have been coming across, so I am going to run with it for a little while.  Again, like you care…
There was a bunch of video footage shot from this weekend, which I will be editing and posting later, but because I had the video camera in one hand, I only took one still picture.  This fine gentleman was working security at the back gate.  I can't tell you how 'safe' we all felt since 'LC' was on the job.  I am only calling him out because at one point I walked by him, our tour manager walked by him, then Phil was behind us, and he asked Phil for his pass.  Not trying to be funny, but trying to be a hard ass.  No bueno.  So here's to you LC, for the only hiccup in an otherwise fantastic day!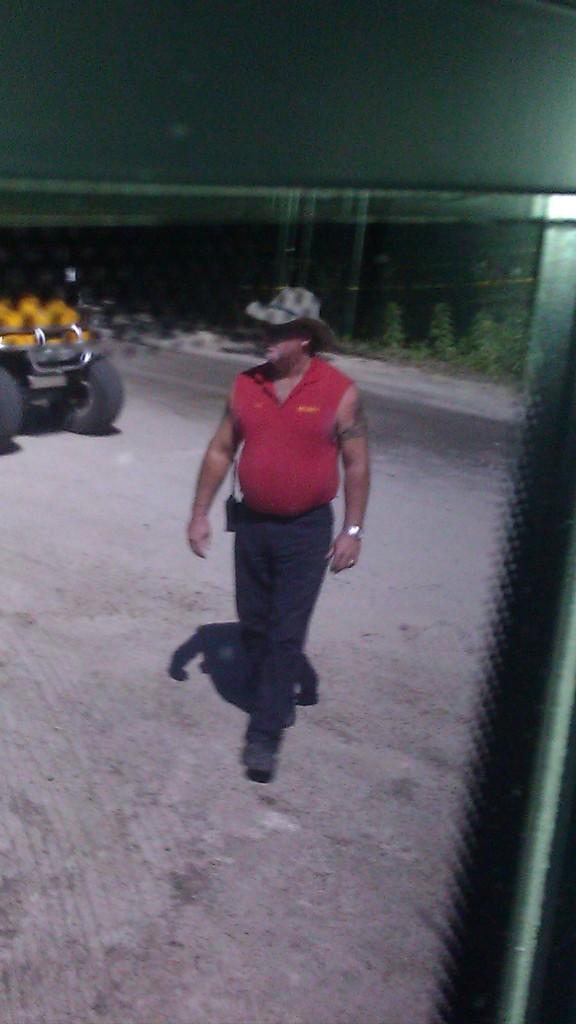 That was our weekend.  One very pleasant show, and a great way to kick off the spring/summer festival season.  For those of you wondering, here are a few tidbits of info of what is happening in the coming months with Phil.  First of all, Phil's new single 'Let's Get Together' will be hitting airwaves in about 3 weeks.  You can download it for free here up until CMA Fest.  Speaking of, we are scheduled to play at 10AM on Friday, June 10.  This is one day I love to play early, because it will be hot out there.  We are booking out after the show to head for more shows out of town, so wave if you are out that early!  With the new song comes a new video, which we should be shooting very soon as well.  I will show you pictures and behind-the-scenes footage as it all happens.  And keep checking Phil's site for tour dates.  Many, many shows are being added.  I hope my veggies can water themselves…
See you on the road!
---
---