Shinybass journal entry 05-21-12
Wait, the beer's free?
Good morning!  2 cups of coffee in, dog's walked, Pittsburgh Pirates score checked, and now I'm ready to rock.  I was up a little earlier than usual this morning, and I am pretty sure this is my favorite time of year for mornings. Not too cold out, not too hot yet, and at 6:45, the sun is up, yet the neighborhood is quiet.  Although chilly mornings with a few inches of snow on the ground are pretty nice, too.  I guess I am just a sucker for quiet.  Especially since I make (sometimes awful) noises for a living.
And in the continuing character study that I have become, I took this past week off and went to 3, count them 3 live shows.  I never get out to shows during my down time.  I like being a newlywed recluse on my off days, but in an attempt to continue to evolve, I tried to get out of the house this week.  Of course, all 3 shows were free and had VIP perks, so that can sway most folk to get off the couch.
I say 'free', but there is always a price.  Rarely do you get free anything and there is not some 'unforseen cost' to the evening.  The first show of the week was at the Exit/In, where old friends Sister Hazel were playing.  My wife and I were accompanied by Jeff Brown, an amazing drummer I have known forever.  We were on the 'list', and the VIP area was in the back of the room. While waiting for the show to start, I bought our party a few beverages to get us started.  Then another friend came in and said 'Hey what's that beer tub doing in the corner?' Curses! Free beer in the VIP?  I knew better, but there goes Steve just making it rain in the club! There's my dummy tax for the night.  Great show, the SH boys are awesome, and I am looking forward to playing with them in August down in Alabama.
The next show I took in was with my good friend, Ed Toth, who is a drummer extraordinaire, and a great conversationalist.  Ed is now playing with The Doobie Brothers, but made his name in Vertical Horizon (which the hihat fill on 'Everything You Want' rivals the coolness of the snare drum fill on 'Never Tear Us Apart' by INXS, but that's a whole other discussion).  Ed took me to see Three Dog Night, which was my first time seeing the band.  It was a fantastic time-traveling voyage, and I'm glad I went.  I cut out shortly before the encore, and headed back to my truck, which was parked on Front Street.  I parked in a spot that has always been questionable, and although I have never seen any windshields adorned with citations, I suppose the threat is always looming.  I was not so lucky on this night, and walked out to find a $50 ticket on my car.  So much for 'free show'.  I figure that downtown parking is $10, and I have parked there at least 4 times, so I call it a wash.  It goes back to the city rather than Central Parking, and maybe they can replace the damn streetlamp that is out across the street.  Then I shall write my name on it.  Either way, I still paid a dummy tax…
On Saturday I headed to the metropolis that is known as Cookeville, TN to see Colt Ford.  This place was about as crazy as they come.  It was a biker bar out in the middle of nowhere (literally), that has camping and food and homemade libations.  I guess they do this sort of thing on a weekly basis, which is a little scary.  The turnout was better than I thought it would be, and the band rocked.  The only unforeseen cost of this ride was the losing Powerball ticket I purchased for my driver that evening.  Needless to say, we didn't win, even though unlike most of the world, I wouldn't quit my job if I won.  My bunk sheets would just have a higher cotton count.  And Colt Ford is a great person.  Nice as can be.
So there.  3 shows in a week that weren't mine.  And what did I learn?  Well, that you can be 300 lbs and still rock the house.  I learned that if the parking spot is too good, it's probably not legal, and that getting out and interacting with folks is so much better than staying at home.  OK, I didn't really learn anything this week.  I knew all this.  Sort of like the information we all have.  We know a lot of information, it's what we do with it that changes the world.  So from now on, it's legal parking, and the money I save will go to lottery tickets, and after I win, I will have a free parking lot in downtown Nashville.  But only for musicians.  Aww prairie sh*t. Everybody.
On tap for this week – I am not really sure.  I know there are some shows coming up in Nashville, Kentucky, and in Pittsburgh, but I am waiting to see exactly how many I will be playing.  It's all good, though  – I promise to take more pictures this week.  If you are missing the picture content from the road, I will leave you with J Dawg and Phil's new puppy.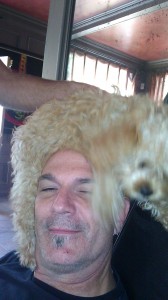 See you on the road!
---
---