Shinybass journal entry 05-26-11
It was the best of times, it was the…you know the rest.
Good morning, and welcome to a bittersweet journal entry.  I try and maintain a light-hearted mood here, but with recent events in Missouri, Alabama, and the flooding in the Delta, it's a tough time.  The hit on Joplin was overwhelming, and, much like the folks here in Nashville last year, I strongly believe that the good folks affected will pull through this and rebuild stronger that before.  It will not be overnight, but it seems that the initial response has been huge.  On a sad note, I am hoping that missing persons are found – at this point I am hoping somehow still alive – however, if the worst is realized, then closure for the families is best.  I can't imagine the thought of just not knowing.
So I get the bad out of the way first – that way we can end on a happy note.  But as I type I am reminded that Memorial Day is on Monday, which not only means that the best war movies will be shown (with the exception of Pearl Harbor), and that we should reflect for a moment on the men and women who have given their lives to keep our borders and world safer for our children.  Our soldiers give up a lot to take care of us, so remember one word this Monday – respect.
Now we get to the happy.  Or at least for me.  Phil Vassar and company (that would be me) were in Baltimore on Saturday for the 136th running of the Preakness.  Holy shit.  What a day.  I mean, we walked off the bus early in the morning, before the hustle and bustle started, and it was a nice, serene coffee-drinking kind of morning.  They had our bus by the horse barns, so to me walking around checking out the competing horses was pretty amazing.  Our escort also took us by the 'money' horses – Animal Kingdom, Shackleford (the eventual winner), and my long shot – King Congie.  We saw famous trainers and the security, as you can imagine, was pretty tight.  Win this race, and that horse gets fat stud fees!
On the other side of the barns had a much different vibe.  We sauntered over, and lo and behold, the Budweiser Clydesdales were hanging out.  Well, in their stalls, but one of the trainers was nice enough to pull out Chico, one of the biggest ones, for us to love on.  He was a sweet horse, and it was a great way to start the day.  Not only were the horses in tow, but the Dalmatian that rides on the Bud wagon was there, too.  His name was Brewer, and, well, let's just say we hit it off.  He was about to end up a bus dog.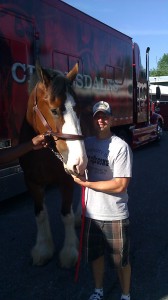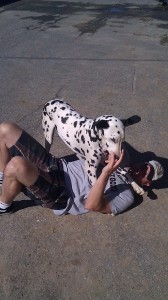 I'm quite sure this is a picture Budweiser doesn't want you to see…
We were playing with Puddle of Mudd on one stage, and on the other stage were Train and Bruno Mars.  In between were 50,000 drunk, disorderly, half-naked and sunburned partiers.  Then there was the VIP.  I swear it looked like a PSA for the 'Stay in School' campaign, as the $575 a ticket area was much more 'high-falootin' than the infield.  (Think music festival vs. country club).  We had white couches, free snacks, and free wine – not to mention we could stand railside and watch the ponies run.  It felt good to be the king.  At least for a minute.  And speaking of ponies – yes, I won, but with a catch.  I boxed 4 horses, meaning that they could finish in any order, but because the odds were so favorable on those horses, I actually lost money on a winning ticket.  Yikes…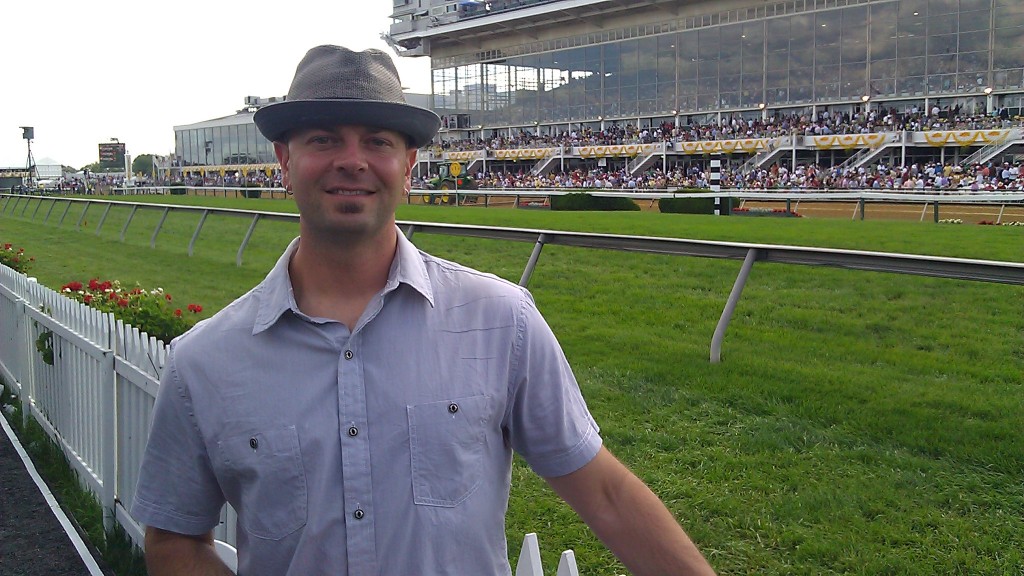 So after the 'under card' races, we were escorted to yet another, even MORE-high falootin' area known as the corporate village.  I had a couple family members and a good friend in tow, so along with the rest of the band and the guys from Puddle of Mudd, we had quite the entourage.  We proceeded to the finish area, and were able to stand in front of the folks who dropped $1000 a ticket to be there.  Ahh well… After the race, the winning horse was paraded right on front of us, and I happened to run into a fellow musician, who was auditioning me for my next gig.  He says you just have to know one lick, and you work 3 times a year.  Sold!
If you click on the track picture, you can see the jockeys, which is kind of like a hide and seek game since these guys are so little.  But they are fearless!  After I said goodbye to everyone, I headed back to the bus for our 8 PM leave time.  It was 7:50, and I looked around the corner, only to see the winner's party about 50 feet from our bus.  That's where all the TV personalities were and the haves and wanna be's were milling about.  I opted for an Italian sub and my bunk.  It was a very full day – and my bed was a welcome sight.  All in all, one of the best days I have had on this planet.  Without a doubt.
So the summer seems like it is creeping up on us, but I am going to be ready.  I am hitting the gym hard for the next month (yes to impress someone), and hopefully my tomatoes will decide to start popping as well.  CMA fest is just around the corner, and we have a show in Norfolk for Harborfest on June 12, which is just about as hometown as I have been in a long time.  If you are in the Tidewater area, please come out and say hi.  It's a free show.  And it's on the water.  And it's free.
Thanks again to everyone who reads this week after week, and remember to call your local radio station and request Phil's new single.  It's called 'Let's Get Together' for those of you scoring at home.
See you on the road!
---
---