Shinybass journal entry 06-09-14
Another light week…
I wish that were the case. I mean, vacations are nice. Time off the road is nice, too. Time off the road can lead to more time off the road, which leads to less income (if you are a touring player), and then less income means less electricity. Now I sound like a TV commercial. But even on vacations I can't just sit still. I have a hard time just laying in a hammock. I'll need a book. If I'm on the beach, I need a ball. If I'm on a lake, I want a kayak. Call me restless, whatever, but to sit and do nothing drives me nuts. But don't get me wrong – napping under a Banyan tree is an activity, albeit one that requires less motion. But I suppose that's why I don't take many naps. Lack of motion.
And I realize that naps will be welcome once our little bundle of joy shows up. I get that. However, in the meantime, it seems that I am tackling a Seattle Slew of projects (did you see how current-eventy I just became? If not, here's your recap : The Belmont was this weekend, and the favorite, California Chrome, is the great-grandson of the Triple Crown Winner, Seattle Slew. There you go.) And there's no time for horsing around. No more horse references. I swear. I'll saddle those up and crop them out, just as soon as I trot my ass through the pouring reins.
When our touring week is slow, you may think that's a vacation time. Well, if you learned anything from the past 5 minutes, it is that I can't sit still. And that goes for days off. I usually bore you with talk of landscape and vegetable gardens past, but alas, this time, just once, I shall let you peer into the kaleidoscope and see how many ways my image is cut, pulled, and spun. Ready?
To fully understand the notion of a day off, one must have a day on. Our one day on last week was spent in Warsaw, IN. Our show was a fun affair on the shores of Winona Lake (leave it alone), and our opening act was the lovely and talented Kristi Lee Cook. I like to eat, this you know. I don't like to eat at chain restaurants, if I can help it. Catering is always a crap shoot in this business, and well. I'll just let the picture speak. And I will say only nice things. I will only say nice things…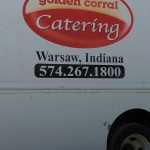 Many, many times folks are doing just about anything to get backstage at a concert. Of course, they want to meet their favorite stars, and be part of the mystique and almost famous of the fabled post-show parties. Many times people beg, borrow, and steal for an all-access pass. I am pretty sure in the past county commissioner seats and building contracts have been awarded for back stage passes.  Well, ladies and gentlemen, I will give you a rare glimpse into the rock and roll lifestyle that is the back stage area. No waiting for the port-a-lets.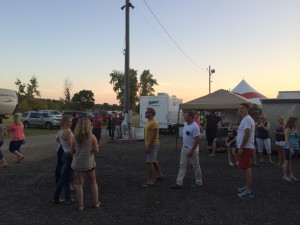 Theeeere you go. (And on a side note, why is J-Dawg so, well, confused?
So the bus rolls, we get dropped off, and we go about our merry lives for a little while, then the bus picks us up again. This time 'round, our 'in-between' days would be about a 9 day stretch while Phil and Jdawg played some shows in Europe. Of course the rest of the country world was in Nashville for CMA Fest, and not playing a show for the first time in 8 years was a bit odd, however, I was OK with no challenging the crowds this time. And we're pretty much in on the days off – 6 months pregnant and 2 AM on Lower Broadway is never a good mix – but that doesn't mean I stayed away. I did live vicariously through the Twitters and such, and the reports on the local news were interesting.
But there was work to be done. I spent the day Monday editing video and writing for the magazine. Tuesday I wrote more video treatments and edited a bunch of music . I spent Wednesday on the other side of the camera – running down 3 product demos for Premier Guitar as well. I spent Thursday shooting video. Thursday night we watched the CMA Fest recap on the news, and there was a blurb about a Ford TriMotor plane that was flying out of Lebanon on a tour stop. The entire week I was home, I practiced 15 songs for a show with Pat McGee for Sunday in Atlanta. If I had a spare hour, I was running music. My brain was hurting. I needed fresh air. I was able to take a nice 30 minute flight on the 1929 Ford, and it was fantastic. Saturday I was at 3rd and Lindsley at 1PM interviewing Oz Noy for the magazine (with the always awesome Perry Bean), and 3 hours later, I was in a car on the way to Atlanta. Busy much?
As crazy as it sounds, it's all fun for me. The editing I am doing is for a new web TV show called 'Players Din', hosted by my friend Jeff Brown. I shot and edited the first episode, and I hope we have 100 of these. The stuff I do for Premier Guitar is always fun, so shooting 2 separate spots for them this week was great. And of course, the airplane ride…if you know me, then…
As a musician, I like to be challenged. At a game of rochambeau, not so much. In learning the songs for Pat McGee, I loved that it stretched me into a new genre – yet a familiar one. Pat is very much in the Sister Hazel/Dave Matthews/Edwin McCain school, and it lines up to where I left off with King Konga. Pat's songs are great, and a blast to play, and his guitar player Patrick made it very easy to settle in as well. Seeing fans of Pat singing along to his favorites made me slightly nostalgic, if only for a moment. I had to concentrate on not screwing anything up.
I was able to see my little brother and my niece in Atlanta for a little bit before the show, so that was worth the trip. And after our sweaty 90-minute set, Ed Toth (good friend and drummer) and I drove back to the 'Ville, where I was home around 10 PM on a Sunday. Today was extremely relaxing, and dammit – I think I earned it. And it's back to the grind and back to the shows this week. But not without keeping something in the back pocket to take with me. (Or you).
Playing with Pat was really fun. It forced me to get out of my usual familiar box, and that is what keeps us fresh. Lesson one – break out of your routine every now and then. Pat is on his way to Los Angeles to track his 10th record, this time with the biggest studio players in the world. Not only is that a product of his tenacity and dreams, but also his perseverance. If you quit, you can't win. My band quit. We didn't win. He is still plowing ahead, even after personnel changes and record deals that have come and gone. Lesson 2 – Don't give up.
If I were to lump in another lesson here, it would be to just stay positive, even in the face of adversity, nay – ESPECIALLY when faced with adversity. Don't worry 'bout a thing. Cause every little ting, gonna be all right. This, I promise. I hope you all had a great time at CMA Fest, and now I can go out again and enjoy my city once again. Until I'm back on the bus, which is this weekend. Hope to see you all out!
See you on the road!
---
---