Shinybass journal entry 06-24-14
From being a puppet to emperor. Just like that…
How's your FIFA World Cup bracket looking? Yea, um… about that. I don't really know much about it, and whereas I appreciate the rampant patriotism during the World Cup, I think it's funny how many soccer 'experts' pop up during this time. Hey, I played soccer when I was 8 also, pal. I know what a corner kick entails, and that a red card means blackjack. Don't try and 'learn me none', Scooter, or I'll take that scarf and string you up until FOOTBALL season. I'm just playing – I think it's great that we 'Mericans actually follow soccer or futbol for a few weeks every year, and with the USA-Portugal match being the highest rated TV soccer match ever, it just shows us that there are a lot of Portuguese in the US.
But I digress. Let's talk about 'road life' for a moment. So as you know, we truck around the country, occasionally playing right notes in front of people who may or may not have paid money to hear or see us. We travel mostly by bus, but sometimes we fly. Rule #1 on the bus: no #2. That's right, folks – a million dollar bus, and we can't satisfy one of nature's most basic callings. Keep that in your back pocket for half a second. As we travel all over, and I mean ALL over, there are places we play that have little or no cell service. Not a big deal, but it is nice to pass the downtime calling loved ones or checking soccer scores. THEN let's say a festival is in the middle of nowhere, and the only facilities are port-a-johns backstage (roasting the summertime heat). THEN let's say there's little or no cell service AND there's just a port-a-john as our only option. Well, now it's just downright mean. As spoiled as this sounds, all we ask is for a permanently installed toilet that is semi-climate controlled. So if you are thinking of hosting a show or a festival, please take care of your acts. And your act.
Am I bitter at the touring life? Absolutely not. When people say 'I don't think I can handle all that travel', that's just one part of the 'life'. Taking away bathroom privileges, THAT is the part no one talks about. And here I am. Talking. About. Poo. But there is an upside to the touring life: long hours, long rides, days away from home, and just about all the BBQ you can eat. And I will do it as long as I am able. Yep, toilets be damned.
Our first show was in Marinette, Wisconsin, a fine little town bordering Michigan and home to a long-running country music festival. I've played the festival twice before, and in the 8 years since I started playing there, the food has remained amazing, the cell service terrible, and the portable toilet backstage – well, let's just say it hasn't moved, either. The home made food is pretty amazing, and the bread pudding was a delight. I had a few hours to kill in the early afternoon, so I went over to the Marinette museum, where a very nice tour guide took me through the museum, and I learned an awful lot about ice cutting and logging. And I found a typewriter I really would have liked to bring home with me. And on the way – goslings. Lots of them.
After my stroll down history lane, we hit lunch at the Blue Bike Burrito, which was great, and strolled a few blocks to Joe's Cheese House. Joe's has been in business since 1918, and the guy behind the counter did waaaay too man drugs in the 60's. He was certifiable, and admitted it. He was very nice, and directed us to some great local cheese and maple syrup. And my inner Steeler cringed at trying this on, but I do it for the fans…
Showtime hit and it was a little cold, but with the lights and the energy, we didn't seem to mind. We played with our old friends Sawyer Brown, so it was great to see those cats again. And did I mention the bread pudding? Since the entire bus was freezing off stage, we were actually happy to leave the upper reaches of Wisconsin and head to the middle of Iowa. And I can't believe I just typed that last sentence.
Montezuma, Iowa, pop. 1200. The sleepy town square had some decent businesses, and I spied a cafe on the corner that seemed like a decent enough place. Jefferson and I hit it, and where the service was slow, and the food not that great, the coffee WAS $.93. I can appreciate small town America for this. When the boys decided to follow our lead, they were met with less luck. The cafe ran out of eggs. And biscuits. And the pancakes weren't cooked in the middle. No bueno, as they say in the FIFA offices.
We didn't have a hotel this particular day, so we did an awful lot of milling about, walking the small town and eating. I did manage a decent little workout, and it was kinda cool to watch the crowd swell from sparse to downright packed in the town square. Estimates were between 5 and 6,000 people came out to see the show. For the first day of summer, it truly felt like it – I could literally feel the heat from the front row (and smell the sweat as well). That's what this thing is all about. Hot summer shows with lots of people and lots of sweat.
As I stated before, one of the downsides of touring are the long hours, and a bus ride home from Iowa is no short task. But we have a great bus, and the time passes pretty quickly once we start talking. And sometimes the scenery ain't so Midwestern-y bad.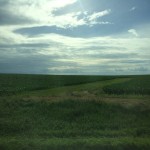 So summer is officially here. Get out – that's my only advice for you fine folks. Get out and do something, anything outside. Leave your pets at home, and not in the car, and remember the children in the back seat. Recycle, conserve water, and shop locally rather than big box stores. And visit the farmer's market. I think that's all the good advice I have for this week. I'm sure I'll come up with more for you soon.
See you on the road!!
---
---