Shinybass journal entry 07-10-11
Has anyone seen my pants?
The life I have chosen is a strange one.  I get up in the morning, and I am not in the same town I went to sleep in.  This in itself is odd, but there's more.  Some nights I come face to face with 10, maybe 15,000 people, yet don't know any of them.  I am sometimes forced to eat food that has enjoyed some of its existense under a heat lamp, I have no windows where I sleep, and although my road family is one that I didn't choose, somehow we become very close, and these people that were strangers just 6 months ago are people I would rather spend my time with.  My job usually means I arrive somewhere at 9AM, wait to do anything work-related until noon to 2 PM, then don't actually perform until 8 or 9 that night.  Yet, somehow, I am busier than hell.  How is that possible?
I guess that was a rhetorical question, because there is no good answer.  Each day is unique for us, with different things to do and see in each town, and there is always a gym with my name on it somewhere.  I like the text from Phil that says 'Wanna hit the Y?'  It gets me off my ass, and we both realize how important working out is for our job and our sanity.  I really didn't like working out until about 3 years ago.  Now I love it.  Oh, there are plenty of days I don't want to be in there, but when I leave, I feel a lot better than when I arrived.  Along with gym time, there are vast numbers of city streets to explore, and we usually counter our workouts very effectively with eating.  Lots. Like this wonderful tray of temptation from the Calderone Club in Milwaukee.  Goodness gracious.  And just underneath that on the sweet ladder of belly fat was my July 4th treat.  Not quite as festive.
But you don't really care about my desserts, do you?  You want the dirt, the dish, the scuttlebutt, as it were.  Well, I can honestly say that Summerfest in Milwaukee was like no other festival I have ever seen.  I was warned of this festival when I came on board.  I was told it's incredible.  And it is/was.  I have some footage form the show that I can't wait to edit for you all.  It's pretty incredible.  Mind-blowing, really.  It is of me trying to hit a hole-in-one on an island.  You'll see how my left arm is too close to my body on the follow-through, and how I am too far over the ball.  That was for everyone who WILL be critiquing my golf swing.  Seriously, the crowd was 15,000 strong, easy, and we had the time of our lives.  Thank you to all who were there.
Funny thing about that show is that I snapped a picture in downtown Milwaukee, then this past week, snapped one in Bloomsburg, PA, where we had a private show for the radio station.  I didn't play that night, since it was for about 30 people, but what struck me is that these two clocks have stood for decades, one in a small town, one in a metropolis, watching people come and go, seeing music, fads, and hemlines change, and their job has been the same.  And they couldn't care if we played for 1 or 100,000 people.  They just do what they do.  I have always had a fascination with clocks, especially old ones, because of the wide range of people that may have used that bit of knowledge at one time or another. It could have been the worker trying to make a bus who needed another minnute, or a homeless person praying time would hurry up so the bustle of downtown would settle and he could sleep.  Time and what we do with it means so many things to so many people.
But when we have time on the road, we generally use it for nonsense.  I won't lie.  I mean, take 10 grown folks and put them in a tin box for hours on end, well, you would get a little punchy, too.  As we blow off steam, we get creative, whether it be with this 'basketball' shot Andy was trying to come up with, or Phil and J-Dawg busking on the street for fun.  If we weren't all crazy, we would go insane.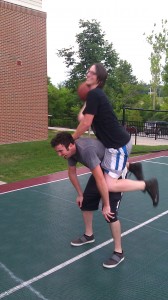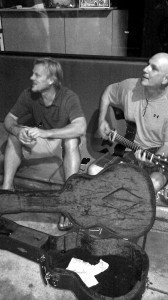 From our shows last week in Wisconsin to our last show of the run in Butler, PA, we have been really putting some miles on the bus, and enjoying ourselves along the way.  I didn't get the hole-in-one, by the way.  I did manage to score a Pittsburgh sticker from a new fan last night – Faith?  Please don't hate me if I got your name wrong.  I really dig the sticker and it was very nice of you to read this and think of me.  It will adorn my bass case, so thank you.  Which brings me to my next point.  We get some very nice things from you all – baked treats and coffee, etc, and sometimes the crew gets some, and sometimes they don't so…next time, instead of bringing the band things (we are pretty spoiled), how about you bring the crew a little something?  And by crew, I mean our sound, light, production and driving engineers – KT, Quiz, Dude, and Gordon.  They are the engine, we are merely the flashy chrome.  If you need some ideas, hit me up.
Thanks for your patience in your having to wait a week for this entry.  I do try and sneak a little personal time in as well, so bear with me as I try to balance writing and getting my house back in order and tend to this garden.  And on the garden front, one cantaloupe didn't make it.  In lieu of flowers, please send more cantaloupe.  And as for my pants statement at the top of this entry – I managed to leave my suitcase on the bus when we got off the road this morning.  At least it postponed my laundry for one more day…
See you on the road!
---
---