Shinybass journal entry 07-16-12
That Night Train is a mean wine…
Lots of folks take business trips for work.  For those not used to it, the thought of going somewhere and having to take care of business then fly back home is more of a pain than anything else.  If you don't travel that much, there is some anxiety involved, because at times being in a strange city or unfamiliar surroundings can start you off behind the 8-ball.  Of course, in our profession, all we do is travel, and when in a new place, as you know, I embrace the challenge of learning a new town, and the X-factor of not knowing exactly where I am at first is intriguing.  Sometimes I don't know where I am even after spending all day there, but that's another story.  I suppose I am just encouraging you to not be scared of the unknown, and getting on a plane and going somewhere is not a scary thing.
But I hear that just about every time I get on a plane.  Inherently I am sitting close to someone who has never been on a plane, or is flying cross-country for the first time, and they are scared to death.  In our modern age 'cross-country' doesn't carry as much weight as it once did, and the world as a whole has become a much smaller place.  Yet, at our core, we are still creatures, just a few DNA helices  above primates (insert debate here), and generally enjoy our routines and our familiar surroundings.  Break us out of those, then we are uncomfortable.  No need for that, though.  We are adaptable, enjoy the doorknob-turning freedom of opposable  thumbs, and should be excited when we can get on a plane and see new things.
Like Craven, SK.  Being my first visit to Saskatchewan, I was pretty excited to cross another Canadian province off the list.  The flights were not bad, just a quick jump to Denver then North to Regina.  I learned Regina is the capital of SK, and a quaint little town known for rhyming with a part of female anatomy. When I inquired at the front desk for some things to do or see in Regina, the clerk responded with 'We have a casino and a mall across the street.'
My inside voice 'Hmmm, well, I was thinking of expanding my brain, not shrinking it, so…' (Outside voice)' How about this museum?  Is is walking distance?'
Desk clerk ' Ooooh wow.  Um it's about a 30 minute walk, I wouldn't do it – maybe a cab or something. It's awfully far.'
'How far?'
'About a mile'
(Inside voice) 'It takes 30 minutes to walk a mile? How long are these Canadian miles?  And I can see that nickel slots are more important to your local economy that if I walked to your museum, so thank you…
(Outside voice) – Thank you.
So J Dawg and I sauntered the toilsome mile, which was not even a mile and not a bad walk at all. Upon our arrival, we found one of the most interesting and well-laid out museums either of us had attended, and I learned an awful lot about the province, and the natural and native history of the area.  Really cool stuff, and worth the not-so-long walk.  And I was able to see a moose.
Just across a well-manicured park from the museum is a lake with the Parliament building hugging its scenic shoreline.  Although we didn't get inside, it was celebrating its 100-year anniversary, and was pretty against a sunny Canadian morning. Plus it gave me the first chance to mess with my new panoramic iPhone app.  Forgive the first run, but it is a 180 view of where I was standing.

Then it was off to Craven for the festival.  We were playing with Neil McCoy, Eric Church, and Emerson Drive, and fighting rain all day.  the 40,000+ people out there didn't seem to mind, even though we got lucky and the sun came out during our show.  Backing up a few hours, we watched Neil, who was awesome as always, and the drive in to Craven (pop. 300) was beautiful.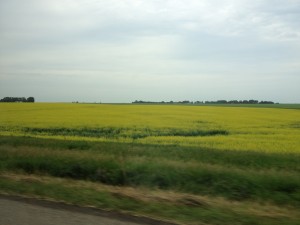 After our 90 minute show, things got a little interesting.  There was a VIP tent set up behind the backstage trailers, and lo and behold, they had some backline gear set up.  After  a few minutes of debate, we decided to get up and play a bunch of drunken cover songs.  For like an hour and a half.  We ran the gamut from Journey, Beatles to Eric Clapton.  The next day we figured we knew about 85% of 70% of the songs. The rest was smoke and mirrors.  The place was packed, and being able to let loose was a great.  But the night wasn't over.  We made our way to the Beer Garden, where we played yet again, this time after many more glasses of wine, and we only played one song.  It was 1:30 AM, however, and remember that we got off the main stage at 9:30, so we were at it for a while.  After finally arriving back at the hotel around 3, we had a 4:30 lobby call.  Yep. 4:30.
Flying hungover is not fun.  Flying hungover with almost no sleep is even worse.  Some people are afraid of flying cross country.  I am afraid of flying internationally with the 80% chance that I will be sick on the person next to me.  Not a good day.  But, as I arrived in Nashville, my beautiful wife greeted me with a quart of Gatorade, and we headed to The Pharmacy in East Nashville for a huge Cheeseburger. Ahhh the little things.  (and on a side note, we rallied and still made it out that night  –  we don't get a Saturday off very often)
So now, fully recovered, it's back to business.  I have some Pirate baseball to watch, an overgrown yard and dead garden to attend to, and that little thing called life that needs my attention.  Not that mine isn't crazy good, but it can always be better, can't it? Hope you all have a great week conquering your goals, booking your flights, and taking your aspirin before you try to get to bed.
See you on the road!
– Steve
---
---