Shinybass Journal Entry 08-01-11
I'll take 'Places I've Never Been for $100, Alex'
Good evening. Monday morning found me on the bus headed back to Nashtucky, so I am diving into my personal time (I am soooo dedicated) to bring you this Monday evening edition of 'Where the heck are we' brought to you by Joe Beans coffee (www.joe-beans.com) and the number 4, which is the number of shows we had this past week.  I was a little surprised, because my calendar had 3 shows on it.  An extra show?  It's like Christmas in July.  I remember my neighborhood had a Christmas in July parade when I was young.  Do neighborhoods even do that any more?  It seems when I was younger, there were far more block parties, outdoor functions, and overall get-togethers than there are now.  Why is that?  Maybe because most folks don't know the names of the people living in the houses right next to you.  I am hoping my next house is on a street I can block off, set up picnic tables, and tell everyone to bring a covered dish. I also want some of those old metal and woven plastic mesh folding chairs.  The plastic probably gives you some sort of 'plastic immune disease' but I don't care.  My grandpa had them, I want them.  If you have any, I'm paying top dollar.
But on with our updates.  Lots to bring you this time.  First of all, I made a huge mistake before walking out the door.  I forgot my belt.  I tried to go without it the first night, but see, we have these darn wireless instrument and monitor packs we have to wear, and usually they go on my belt.  This time I put them on my waistband to my jeans.  Imagine a small squirrel monkey hanging off the back of your pants for 90 minutes, and that's kinda how it went for me.  I went to the boss for help.  He was kind enough to loan me his belt for the rest of the run.  I returned it to him last night, smelling of whiskey and feet.  I can guarantee that the article of clothing that I borrow will be in perfect working order and in a presentable condition upon its return.  I cannot, however guarantee its smell.  It IS a tour bus, you know.
And tour we do.  This trip took us to Janesville, WI, where we had a fine show with Josh Thompson.  The homemade catering was a treat, and this was one of the first 'livestock' type fairs I have played all summer.  By this time last year, I was about ready to enter my own calf into competition.  Luckily, we haven't had to see too much cattle this year.  Although the lumberjack demonstration was exceptionally entertaining when the dude slipped off the log and straddled it.  Let's just say I hope he is done having kids, because if not, he probably is now.
After that, we headed to Columbus, OH, for a show at the Bluestone, which is a great venue inside a renovated 100 year-old church.  Kind of  a small stage, but a fantastic crowd, and the staff is second to none.  In my usual zest for life, I took a walk through a the surrounding sketchy neighborhood, and didn't find any block parties, but I did find an amazing classic car restoration warehouse, specializing in foreign classics.  He must have had a million dollars' worth of cars in there.  And we didn't even get to the 2nd floor.  He was nice enough to let Andy and I walk around like a couple of kids.  Below are a few shots from the day.
The next night we were at the Ribfest in Saratoga Springs, NY.  It was my first trip to Saratoga, and the town and surrounding area are beautiful.  We played next to the harness track and casino, where we had a great crowd, and I don't think I broke a sweat.  The weather was perfect.  Except for the 'skeeters.  But I can handle those.  We were put up at the Gideon – Putnam resort, which is where Roosevelt used to come and hang out when he took advantage of the hot springs in the area.  Very swanky, and above my pay grade. The money was evident everywhere, which made our arrival at the casino (front door, I might add) in a golf cart even more funny.  Then, dressed in shorts and t-shirts, were taken to the VIP of the club, where we saw the locals dance the night away.  Too much for me – I was back at the resort and in bed by 1.  The next day we were in Gettysburg, and I didn't want to be hungover.
I've been working on this story based on and around the Civil War for a while, so any time I can walk an old battlefield, or see some of the things the soldiers saw, it helps with my creative process.  I saw Gettysburg, and I may have to rewrite the whole thing.  I kid… The area is very moving, very sad, and strangely, very beautiful.  There are 1300 monuments dotting the landscape, and the place is pretty much the center of the Civil War buff's universe.
We were lucky enough to have someone drive us up to the battlefield, and also sort of be a tour guide.  Our first stop was to Big Round Top, the very top and end of the Union defenses.  It was a good hike up the path to get to the positions, with markers off in the woods around stone walls that once protected cannons.  As we walked in silence, I couldn't help but notice we were all in step.  Although there were only three of us, we sounded like trained soldiers walking this path.  The whole thing sort of hit me at once – the location, the sounds, the fact that the battle would have occurred a month earlier – we were in the middle of it all.  I will get back, and with a better camera, but for now, enjoy this little show.
Notice the unsuspecting gentleman in the middle picture.  I crack myself up sometimes…
Once again, I managed to visit some places I have never been, and in the case of Gettysburg, revisited after 25 years.  My first trip up there was with the boy scouts, and there are a LOT more monuments now than when I visited.  I will be back, and next time I will tour the grounds on horseback.  That's about as real as you can get.
If you don't know a lot about the Civil War, or even if you do, there are a lot of really great books out there on the subject.  War doesn't fascinate me as much as learning about humans and what we are capable of in certain situations, and I hope and pray that war is something that none of us have to face again. Especially in our back yard, and against our friends and family.  Think about that for a second – and that was just part of the struggle.
But – to end on a happy note – someone once told me that dragonflies bring good luck, especially if one lands on you.  Well, I sort of picked this little guy up, and well, he didn't want to leave.  I held on to him for a good five minutes, and even then I had to sort of ease him off me.  My band thought I was a bug expert.  I knew that the barbecue sauce on my finger wasn't hurting the situation at all.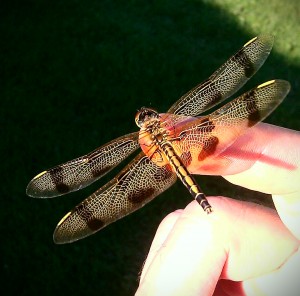 Enjoy your week, and the last few weeks of summer.  I know we will – and in a town near you!
See you on the road!
---
---