Shinybass journal entry 08-02-15
Do you know why you are here?
Happy Monday, fine folk! I hope you had a relaxing, fun-filled, sunshine soaked weekend, and that this Monday isn't the Garfield-inspired Monday, face in the coffee and all. We've been all over creation doing our thing – 'tis the busy season, you know – and with the many miles comes many laughs, cups of coffee, and time to think. That whole thinkin' part is the trouble sometimes.
A musician's life is basically filled with self-doubt. No matter how successful, there is immense pressure to keep the train moving forward. The phone rings a little less, the shows aren't as glamorous, and the travel gets more ridiculous. All these things can and do happen, and the freelance world of the musician can go from cocksure to wobbly-kneed in a very short time. I only bring it up because where there is pressure in our world to succeed, I know the same pressures are in every occupation that involves a dynamic industry. The only professions that won't slow down are probably sanitation engineer and iPhone repair. Everything else could go away at the blink of an eye.
Which is why I asked the question above. Do you know why you are here? Is it really to work? Is it to teach? Is it to make a difference? Most musicians don't really want to have a 'real' job. It's just truth. They hop on a bus and play shows – other people's music, mostly – to not have to 'work'. The harsh reality is that it's all work – and more taxing than being at home punching a clock. There are pipe dreams of riches and fame, however these elude even the best players, so the hamster wheel perpetuates, and we make enough to make bills and supersize our fries, but not to truly live.
And sadly, very few people truly live. As proper Americans, we work 40-50 hours a week, and are feeding kids or watching TV in the few, short hours between work days. We 'live for the weekends', which I suppose is where the troubadours such as ourselves come in: to entertain the hardworking folk. Is there a formula I am missing? How can I tell people that there is more to life than just grinding away?
The rub for us musicians is that with any decent talent and luck, we can essentially 'exist' on the road forever, which is why, I suppose, lots of guys stay out here for a long time. I know a lot of people who have decided to pack it in and join the work grind, or maybe they found a balance between the road and working in-town. And maybe that's the key right there: balance. But I ask this : Is it better to work a bunch and try and retire at a decent age, or just have a good balance of life the entire time?
There's something to ponder as you consider your next move. As for our moves, they have been all over the map. Literally. We started our week in Milwaukee at a private show. Within one block of our performance, two big moments in history took place. Oh, and we ate at the Calderone Club again. I'm on my 'all carb' diet. I have not walked around the city of Milwaukee very much, so I was pleasantly surprised at the blend of old and new downtown. Pretty cool stuff.
The next 36 hours at home were a whirlwind, and before we knew it, we were back on the bus headed East. Next stop was Maryville, TN, where we played on the campus of Maryville College. They took great care of us, and we aired out some new material at the show. Then we headed to Philadelphia, MS for the Neshoba County Fair. I played there in '98 (I think), then again in '09. And once again, I witnessed the chair race, the heavy accents and the sweet tea in catering. Ahhh, the South.
Now, on our way into the fair, we decided to stop for lunch. After standing outside of a 'Japanese' restaurant and debating for 5 minutes, three of us went in. I perused the menu, and this spicy tuna roll is what hit the table. That would be mayonnaise. Lots and lots spicy mayonnaise. There was also a large, ridiculously large container of EXTRA mayo, just in case. This would mark the last time I order sushi in the state of Mississippi.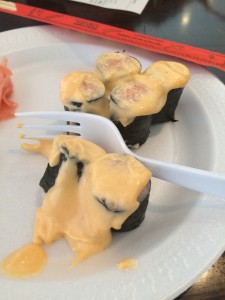 After the lengthy fireworks display, the bus pointed the headlights West, where we ended up in Nocagdoches. As any local will tell you, it is the oldest city in Texas. There is a great historical town square loaded with antique stores, and the neighborhoods are dotted with Victorian Era homes. As we walked the square, we came upon a store from the turn of the century that used to be a general store, but is now a guitar and violin repair shop. As Phil and I walked up (he and I share mutual interest in history and architecture) there were a couple older gentlemen picking on the front stairs. Pretty cool stuff.
So walking around the venue, I spied a picture of my bass-playing friend, Travis, who plays for Thomas Rhett. I had to send him the picture, and play a little game of 'guess which venue'? As we chatted, it turns out his Great-Great Uncle was the architect for the bulk of the beautiful Victorians in Nocagdoches, and I found the statue of his kin in front of one of the houses for which he is known. Yet more coolness discovered in Texas' oldest city.
Which leads up to last night in The Woodlands, a Houston suburb that is home to Dosey Doe's. This venue is something special. First of all, the 'barn' is made of 300 year old beams that were trucked in from a barn in Kentucky. Second, they have some of the best coffee in the state of Texas, maybe in the tri-state area. Third, they take such great care of musicians it should be a blueprint for the rest of the planet.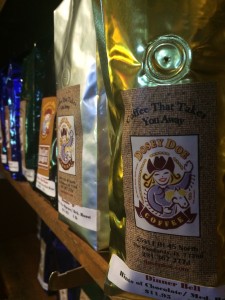 So there is all the news that's fit to print. We are still rockin', still rollin', and have lots more miles to go before we see our own beds. The shows have been a lot of fun on this run, and I am looking forward to the weeks ahead. I promise to have more to talk about next time. Or maybe I shall put it to you – comment below – as to the original question – Do you know why you are here?
See you on the road!
---
---