Shinybass journal entry 08-19-13
Sometimes things slip through the cracks….
As some of you may know, my wife and I left the hipster-laden, gunshot-and-songwriter confines of East Nashville/Inglewood and moved out to a more rural setting a little East of Nashville.  We have plumbing and all, so it's not that rural, but there are more farms than title loan companies.  Call me crazy, but I lost that 'I might get car-jacked' warm fuzzy feeling when I heard a fire fight about 3 blocks from the house.  And as a side note – someone was a REALLY poor shot that night.  It should only take one.  Anyhoo – in moving and updating everything in my life, I neglected to update my web hosting services, and boom, the lights went out, B.
After a quick call to GoDaddy, we were back up and running, and here I am to report all things touring peppered with flashes of insight as I travel this great land.  In our business, we have what is called a 'bus call', which is well, the time we are to be on the bus to pull out of town.  Generally leave time is midnight, which works out great, for there is no traffic, and it's an easy load up and leave process.  For this run we pulled out at 9PM, which means I leave during prime time hours – dinner time, hang out time, music time, etc.  What a difference a few hours can make in our seemingly monkey-trained existence.  I was all screwed up.  The early leave was coupled with an early load in and soundcheck, which actually works out better for me.  That meant more morning time in one of my favorite cities – Pittsburgh!
With deep family ties in the Steel City, I am always happy just walking around downtown, but on this trip, I have brought my trusty 25-year old bicycle to add to the excitement.  As I pedaled along the river, I couldn't help but think of how much this city has changed.  My grandmother used to tell me that the pollution was so bad in Pittsburgh that at one point if you walked outside with a white shirt, you would walk back in with a grey one, covered in soot and ash.  Super fun! It's now an economic superpower, and has kept its legacy as a blue-collar town in tact as it refines itself for the future.  (I should work for the city with that kind of pitch).
Our stage faced Heinz field, not far from the spot of the Immaculate Reception, and was a short walking distance from PNC Park,  which has a statue of Bill Mazeroski in his famous walk-off home run trot from the 1960 World Series.  My brothers and I pitched in and added leaves for both sets of Grandparents for all to see.  Let me know if you find them next time you are there….
I did a fair amount of biking and sight seeing in the morning, got in some time in the Strip District, and played a fun show on a great stage with Mt. Washington as the backdrop.  It was a great night, indeed.
Our next stop was in New Paltz, NY.  Unbeknownst to me, I played up here about 3 years ago.  I was wandering around the fair (OK, I was on my way to the bathroom), and I was stopped by a wonderful woman who owns Awesome Specialty, which is a spice shop that caught my attention a few years ago with a product called Gobs of Garlic.  I was very happy that she grabbed me, because not only did I stock up on more Gobs, I bought a bunch of other food stuffs also, and introduced J Dawg and Jefferson to the garlic-y crack-like goodness.  I was able to get on the bike again, and this time found a couple of postcard settings that seemed untouched.  The little joys…
Reconnecting with some old friends was a huge highlight of the day, and the cool, mountain air of upstate NY was an indicator that summer is not far from closing its eyes, with Autumn soon arising to greet us with a need for hoodies and lawn rakes.  Or prawn lakes.
The bus didn't have far to go for the next show(s), but when we arrived in Rhode Island, it seemed like time had frozen in 1950.  We were slated for 2, count them 2 performances on Saturday on the old wooden bandstand.  Great for the fans, odd for us.  I don't think Phil has ever played a 'matinee', and the hardest part was the 7 hour down time between shows.  We couldn't leave the show site because of the bottleneck of traffic, so we were relegated to the bus, dressing room, and the endless supply of deep fried everything.  I stayed away from the Oreos, but did opt for strawberry shortcake with the biscuit cake.  I know the world could care less about what I eat, but in my opinion, there is no strawberry shortcake unless it's made with a biscuit.  That is all.
Counting the hours until we arrived back in Nashville, my saving grace was a 16-inning baseball game, most of which I watched from the comfort of my bunk.  I realized that years ago it was my dream to watch Pittsburgh sports from the bunk of a tour bus, and somehow, someway, I am still here.  Thank God for that.  And I am also thankful the game lasted almost 5 hours.  That helped the trip along considerably.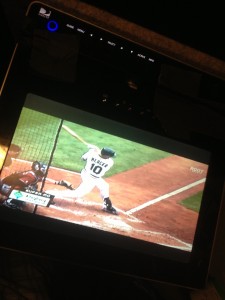 So back to the real world.  I hope your week is a great one, and that you are doing every thing you set out to do.  Within the past week I learned of 3 people passing away that I knew, or were close to people close to me.  They ranged in age from 20-92 years old.  Death has a way of stirring up lots of emotions, and realizations.  We (not all of us – but me included) seem to be drifting through life and not leaving enough substance.  Don't let your obituary read 'Achieved High score at Halo' or 'Tweeted more than any human ever'.  Go be something, and go DO something…
See you on the road!
---
---