Shinybass journal entry 08-21-12
We have met the enemy, and they are ours…
Somewhere down the line I was instilled a sense of appreciation for history.  It was probably because of my Mom, who liked to seek out historical places to take the kids, and growing up in the cradle of our nation, Virginia is chock full of site with historical significance.  We had everything from early settlers to Revolutionary War to current Military bases and shipyards, which I was able to tour via my Dad.  So take the history and mash it with the military, then give me a job that lets me travel all over the world and seek out sights pertaining to both, and boom.  Heaven.
We stopped in Erie, PA for a 'one-off' this Sunday.  This screwed me up big time.  First of all, we usually get home on a Sunday, so the whole day I was thinking it was Saturday.  I guess when you are on tour, every day is Saturday.  The weather greeted us with a smile in Erie – and as much as I have traveled, I don't remember spending any time in Erie – I may have passed through, but I also learned I was missing a lot.
Jeff and I took a little walk after breakfast and headed towards the water.  No map, app, or other crap – we just walked.  And we started 'discovering', which is my favorite part of the walk.  As we walked through a marina on our way to Lake Erie, we passed what had to be one of the worst looking boats I have ever seen above water.  My photo can't remotely capture the finer points – the plywood door – the trash heaped on the back.  It was like a boat I designed and wanted to try and build when I was 12.  And yet, someone made it work.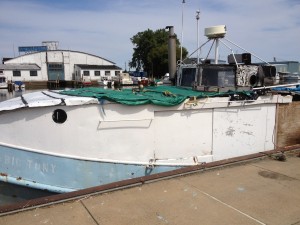 As we continued on our walk, we found a little pier with a water taxi that takes you on an hour-long round trip to a couple of points on the water.  We needed to sound check, so we walked the half-mile back to the bus, played a few songs, then headed back to the waterfront.  $8 bought you a slow boat ride, and it bought me a wonderfully peaceful hour.  As we eased along the lake, we took in the warm breeze, the soothing sunshine, and I started getting that sailboat urge again.  Not sure why…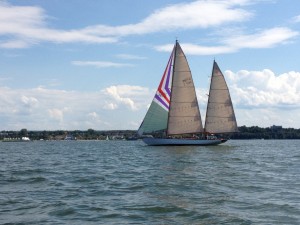 The above picture is of a 1920's-era ketch that was painstakingly restored a couple of years ago.  I am glad that the owner had it out for a Sunday sail rather than just keeping it in his slip as a show piece.
As we continued on our trip, I went up and talked to the captain about the area and the history.  It turns out that the 'Presque Isle 'State park (which in French means 'nearly an island' like France means 'nearly a country') is one of the top ten most visited parks in the country, beating out Yosemite.  The spit used to house a French fort during the French-Indian War, and more recently was the stomping ground for Oliver Hazard Perry, captain of the USS Niagara (please!), and the hero of the Battle of Lake Erie.  My time in Put-in-Bay educated me on Perry and the huge monument on Middle Bass Island, as well as how to to avoid the police while driving a golf cart at 2AM but that's a whole other story…As fate would have it, the replica of the USS Niagara was sailing while we were out.  Pretty cool stuff.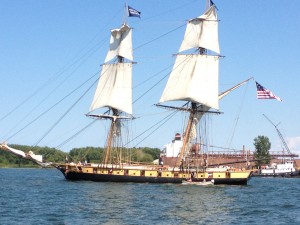 With our water adventure behind us, it was time to get back to Erie proper, and get ready for the show.  Which meant more walking around, and an eventual shower.  The celebration was pretty big – I was impressed with the city's commitment to the event, and it seemed there was something for everyone.  Including those pesky chalk artists.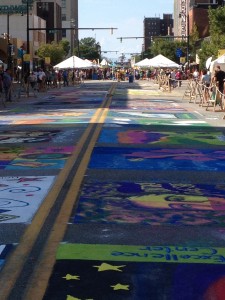 I could not believe the number of people at the show.  We hit at about 8, and the weather, crowd, sound – everything was perfect.  We must have had 4 blocks' worth of people.  It was insane.  Plus we were in Steeler Country, so it was good to see some Black and Yellow as well.  And for the double win, we were back in Nashville 3 hours sooner than I expected.  We call that a 'hook-up'.  Plus, I was able to enjoy a little bit of domestic time for that extra 3 hours.
Then it was off to the races.  I told you there were announcements.  Well, yesterday there was a doozie! So there it is.  Every home game for us.  No other NFL team is doing this, and I guarantee the front office phones were lighting up from management companies trying to get in on this action.  It's nice to be the first.  Upon seeing the stage yesterday, I was floored.  This will be a tremendous experience.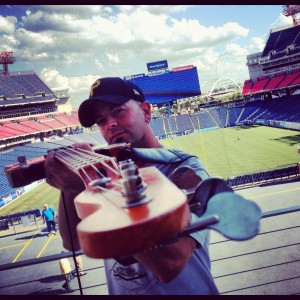 So there is my cocky end-zone stage shot.  Get ready for a lot more of these in the coming months.  We play to play the games!  (Shawn) They may also involve snow.  Yep – we play when it's cold, too.  Careful what you wish for….So look for us on Thursday on ESPN.
See you on the road!  (or in the end zone)
---
---