Shinybass journal entry 09/13/18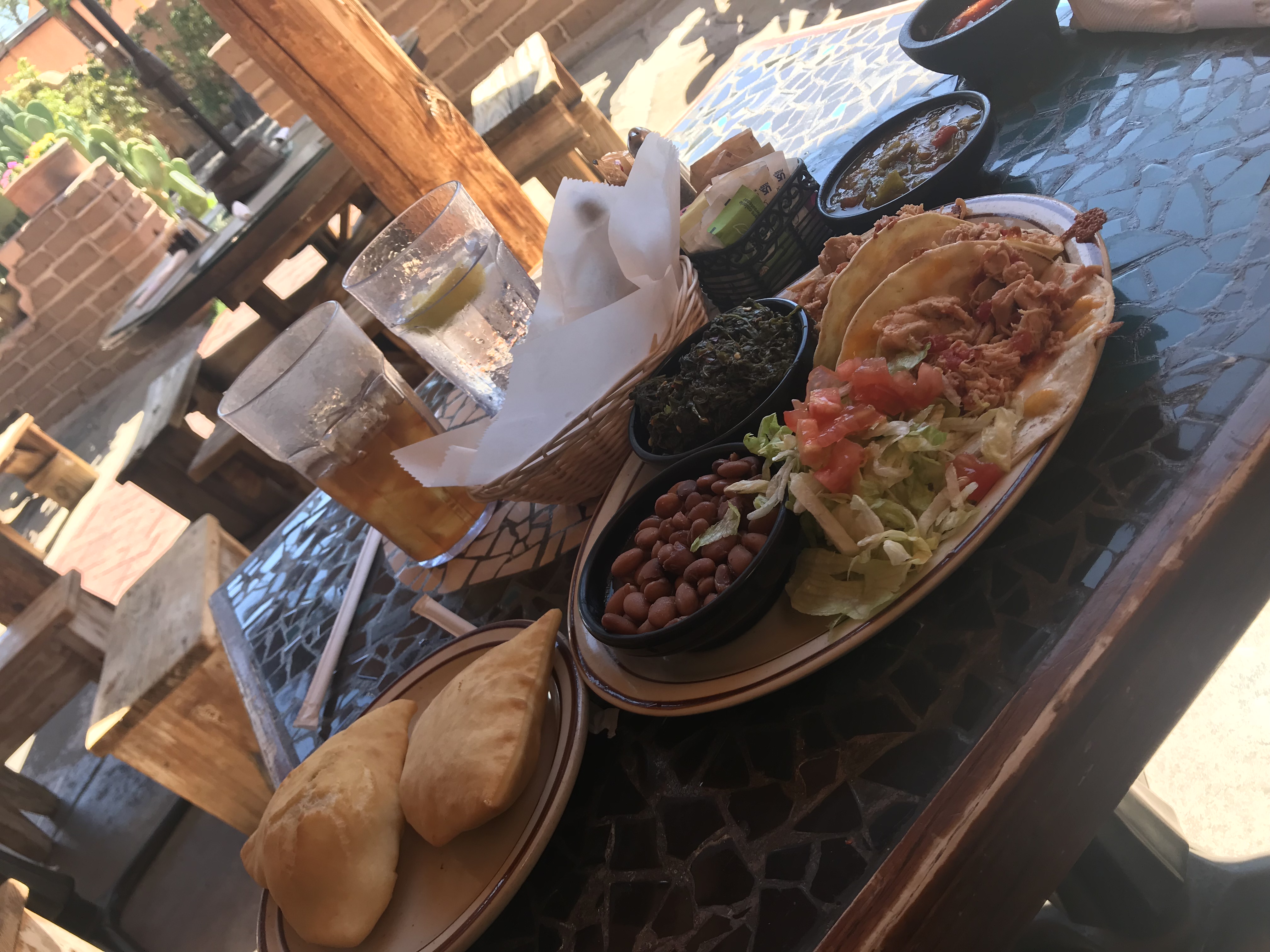 Back on the horse?
Greetings from somewhere in Arizona. It's about noon, at least 137 degrees, and we are currently making omelettes on the bus. Not in the galley, mind you, but on the metal roof. I'm sure it's sanitary. And the locals just sit and laugh from their comfy, air-conditioned homes.
If it weren't for the copper mining, or the need to get from one side of this fine country to the next, then why, pray tell, does anyone live here? I suppose if housing is inexpensive, or if this is where you have roots, this is your spot, however, I like seasons. And seasoning. Which may be why I feel like a rotisserie chicken out here.
We've been out for a little while, with a quick United flight on the day of show to get us moving. My day that day started at 3AM, so Steve (third person of course) didn't have much sleep, and didn't get any on our two flights. Not worries though, my coffee addiction keeps the lights on (even if no one is home). The town of Grand Junction is pretty nice, and my Ebike and I are currently on a mission this run: Find as many trails as I can. Grand Junction didn't disappoint. It's a peaceful time, that 6PM ride around the water, with mountains on one side and the wind whipping through my…eyelashes.
On the way to Wyoming, I was fortunate enough to get up and watch the sunrise over Flaming Gorge, Utah. I was so moved, I hopped on Instagram and did a live stream, and then FaceTimed with my Dad to share the splendor. I am a lucky boy to see what I see out here, and I love to share as much as I can.
Rock Springs, Wyoming. A dot of a town in the middle of nowhere that apparently was a coal hotbed (bed of hot coals?) at the turn of the century. When I cruised the streets of downtown Rock Springs, I felt like I went back in time. Their museum is real hip, and I learned a lot about a not-so-favorite son: Butch Cassidy, who apparently spent some time in town during its heyday working as a butcher, which, ironically is not the source of his name. Go figure. It was a great morning spent, for sure.
The next day we hit up Denver for a show at the country stalwart Grizzly Rose. I have never had the bike in Denver (nor are we ever there when the weather cooperates), so after sound check, I hightailed it downtown. To say it was nice day is a total understatement. I made it along the river to the confluence, and enjoyed every sunshine-soaked rotation of the pedals. I'm trying to tell my touring friends: Get a bike or get a jog or something on the road. Or grab an e-bike and just cruise your way to a beautiful day.
The next day was Sunday, and a football afternoon for our day off in Denver. Jake and I hit a great little burger joint for a late lunch, and then that evening we swung over to the Bluebird Theater in downtown Denver to catch Butch Walker melt some faces. I have never seen him live, even though we have a ton of mutual friends. I was floored. Just floored. He is a true talent, a consummate frontman, and one who is carrying the torch of a lost art like a prophet leading his people to prosperity.
The bus fired up late that night to get to Albuquerque. I lobbied to get us as close to Old Town as possible. I mean, we've all seen the mall, right? Let's get those genuine sopapillas and soak in some history. I honestly didn't mean for my day to run like it did, but for those really wanting a play-by play, here we go:
I woke up. Got out of bed. Dragged a comb across my…um no. Wait. That's Paul. I did wake up, and I did unfold my bike and head over to Old Town. I really didn't mean to do this, but I went Full Tourist 2.0. I hit the t-shirt shops, I perused the local jewelry and hot sauces, I visited the church in the square, as well as the American International Rattlesnake museum, which has the most disciplined horned lizards in the world. Yes.
Then lunch. I am a sucker for history, so I dined at one of my favorites : Church Street Cafe, located in a former house, built in the late 1700's. The food is insanely good (the spinach is spicy, watch out), and the sopapillas, are legit. With a very full belly, I throttled my way toward a paved bike path. At the fork, I took a hard left (not being able to see around the bend), and started off. After a couple miles I smelled, well, large animals. I looked to my left and across the river I saw an elephant pen.
Well, as the trusty GPS told me, I was near the Zoo, so I locked up my steed and proceeded to be even more of a tourist. I know – borderline nerd, right? BUT – it was Monday, there was no one there, and day drinking just ain't for me. It's a great zoo, and I learned a lot. Great afternoon, indeed.
So I made it back to the bus in one piece, managed to do some laundry, and headed off to bed with dreams of days to be dancing around my head. Our next stop: Safford, Arizona.
I woke up early, as I usually do, and hopped into the jump seat. The driver said 'Ain't nothing to see up here except desert…', and well, judging by the first picture, I have to disagree. We pulled into our hotel in Safford and it was still relatively cool outside. I was able to sit and play guitar for over an hour in the shade of the bus, a rare treat that never happens. I told myself once the sun hits my shoulders, I am done. It only got up to 108 that day. The locals say it's cooler than normal. Yikes.
There's a lot of copper mining in Safford, and well, not much else. OK, tacos. Lots of tacos. And I really, really like tacos. I will say this: for a small town, the venue was incredible, and the hospitality was great. The locals are strong people – I mean, you have to be to live in a convection oven.
This run was special, but not for the reasons you think… In our 'heads down society', we generally take for granted the natural beauty all around. As the sun slept, 4 planets became visible with the naked eye in a beautiful arc in the summer sky. It's a fascinating feeling; an insignificant feeling as these planets that have been comforting and baffling man for millennia greet me as a familiar face in a sometimes unfamiliar world.
There are a few constants in my life. My family, my bass, my bike, the planets and that shifty moon. I can also rely on the affirmations that hit me at the right and most needed times. Enjoy this beautiful day, and remember that as we jump around the country, there are friends and family in various uniforms in other countries that don't get to go home weekly. So as I sign off in the middle of this long run, I'll remind myself, and I hope you'll remember…things ain't so bad.
See you on the road!
---
---