Shinybass journal entry 09-17-12
I'm going to start this journal entry on a political rant.  (and then I hear the soft sounds of computer mouses clicking over to Yahoo to see where Kate Middleton will be laying out next…) It's not a rant, per se, but maybe just an observation.  I love how facebook and twitter have, in some minds, leveled the playing field as a platform for ideas and opinions to be heard.  The fact that someone with 30 followers on twitter and 40 friends on facebook thinks they have a chance to compete with someone that has a million twitter followers is comical, but that is also what makes this country great.  The fact that we aren't censored, we can post to whomever and whatever we want, and the government won't shut it down is proof that the founding fathers knew all about the internet 230 years ago.  But why do we spend so much time sending a tweet that we hope will be retweeted 10000 times and then start a revolution?  Because it's easy.  Granted our attention span has shortened to..umm…Kate Middleton…where was I?  Ahh yes, focus.  I'm not bashing the little guy on twitter – I'M the little guy on twitter (and bashing social media only weeks ago!) – but follow-through is the key.  You can't just put up a single flyer for a yard sale and expect the world to show up. The more effective method of changing the world, at least our little corner of it is to get in direct contact with the people that are in office.  And then have your people do the same.  Vent all you need on facebook, but in reality, the world will change with your voice actually talking to someone, not posting a misspelled and misinformed rant to your 50 'friends'.  Unless they are all US Senators.
Where this ALL stemmed from was last weeks' adventures.  I didn't realize it at the time, but the dots were connected in the past 24 hours, when I realized that I don't write letters anymore.  I mean, who writes actual letters anymore?  I receive things from my family, the occasional invitation and cards from well-wishers at the holidays, but that's about it.  When was the last time you wrote an actual letter to someone to say hello?  I can't remember, either, and I write for money.  That's scary.
We didn't have any shows last week (aside from the Titans game and the show in Indiana on Sunday night), but the bus rambled to Lynchburg, VA, for the Miller Home golf tournament, hosted by Phil Vassar.  This annual event raises a lot of money for the Miller Home, and it's a great way to catch up with friends and family.  My oldest brother came in to play the morning round, and by the time we were finished, then it was only 1 PM, and I had the rest of the day to myself.  Here's Andy and I with our game-day golf faces.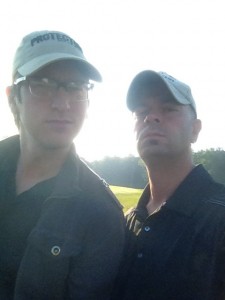 So I borrowed a late-model Excursion and headed into the Virginia wilderness.  After a quick smart-phone search, my first stop was going to be at the National D-Day monument.  As I exited the interstate, I saw the entrance to the Memorial, but as I looked ahead, I could see the quaint town of Bedford's church spires peeking above the trees.  Now that I had my destination, it was time for my usual side-track trip.  As I wound through the sleepy streets of Bedford, VA, and eventually into this historic town, there were more glimpses of life in the early 1900's than the early 2000's.  The street called Avanel (which has the former plantation home by the same name) was beautiful, and the small downtown has block after block of historic storefronts.  And a clock.   There's always a clock…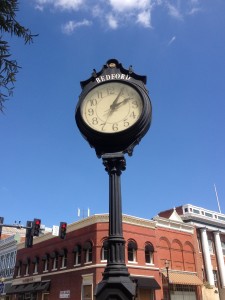 So I pointed the car back towards 460 and the D-Day memorial.  As I parked and walked up to this massive expanse, something hit me.  Hard.  I honestly almost started crying as I walked closer.  This memorial was like none I had ever experienced.  I didn't have a lot of time to spend, because I did have another stop, but I was able to walk the length of the grounds, and read a lot of interesting facts about the 6th of June and the events leading up to that day.
The above monument has random firings of fountain shots around the concrete landing craft and soldiers, which mimics the shells and gunfire from the D-Day landing, which gives this monument an eerie life.  I watched an older gentleman, probably in his 90's and in a wheelchair, marvel at the displays as he was rolled around the grounds, and I saw him tip his hat to one of the statues.  I didn't ask, but I am sure he knew a lot about something that I had no idea about.
The next stop for me was a scant 18 miles away through the forest and literally in the middle of nowhere to my next stop – Poplar Forest.  I heard of this place a few years ago, and knew it was around Lynchburg, but I had no idea it was so close to the site of the golf tournament.  The drive in was odd – through a bunch of neighborhoods, then down a very long gravel road, which I assume was THE road the wagons would travel as they arrived at this 2nd home of Thomas Jefferson.  We are still fascinated with Thomas Jefferson, and will continue to be until all of his mysteries are solved.  He was a thinker, a doer, and yes, he wrote lots of letters.  Some 20,000 of them.
The house is remarkable, being sold off 2 years after Jefferson died and staying in private hands until 1984.  Over the years it was given 'modern' amenities, like electricity and indoor plumbing (the matching outdoor privies, however, are still there), but the preservation society is painstakingly restoring the house to its original splendor, which means a full gutting, then rebuilding.  It was a fascinating tour, as I love the detective work of archeology, and they are all over this site, piecing together the full story of the grounds.  It's worth the visit, if not to just sit under a big tree that Jefferson leaned against and watch the sun set on a perfect Virginia afternoon…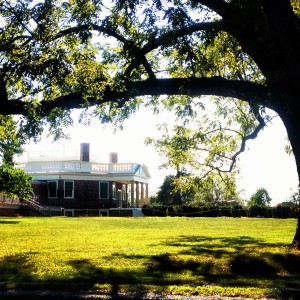 After I headed home, I started thinking.  During Jefferson's time, he wrote a lot of letters.  The boys overseas during the war wrote letters home.  I do not write letters.  I write 3 – sentence emails and even then only occasionally.  Very sad.  It is the modern age, however, that doesn't mean our past should be lost, especially something as easy as putting pen to paper.  So I sign off today, as I do most days – respecting the past, hoping for a better future, and roaming the countryside in search of truth and understanding.  And snacks.  I like snacks.
See you on the road!!
---
---