Shinybass journal entry 12-12-11
It don't mean a thing if it ain't got that swing…
As time on the road gets shorter this time of year, it is pretty easy to get lethargic, but, for once, I sort of have an excuse.  I had a birthday on the 7th or, as Roosevelt said :'A date which will live in infamy', or as my fiance says 'A mate that will live in infancy'.  OK, I am a child pretty much all the time, but I think it keeps me 'young'.  The exception is the fact that my rotator cuff has been giving me grief, but I have been staying off of my shoulder, and begrudgingly stopped playing racquetball (for now).  I was thinking maybe I could 'stretch it out' or lift weights to 'push through it', and instead of a sore 'muscle' it is actually a tear (according to the interweb), so without any medical direction whatsoever, I am just doing cardio, and keeping my wind up.  Which pisses me off to no end, because I hate being limited.  Yes, Mom, I will have it looked at professionally.  Surgery is the last option, because it will keep me out of the game for about 3 months, and I sort of need to play to eat.  So for now, that swing will have to wait.
And how does one celebrate his birthday these days?  Last year, for the big one, Elizabeth, I had a show at 3rd and Lindsley to benefit 2nd Harvest Food Bank.  Craig White, Patrick Davis, Bucky Covington, and the wonderful Jonell Mosser were kind enough to lend their talent to the evening, capped with a reunion, of sorts, of King Konga.  I go back and watch old video of the band, and I smile and cringe.  Again, people, how did you let me leave the house dressed like that and with my bass ratcheted up so high? (Seriously – like the 7:18 mark of the video – yikes.)  For some reason, I had to tuck my shirt in a lot, and played my bass with my chin. Aren't we supposed to get wiser with age?  Hmmm.  Maybe we should have a closer look.
For fun, let's look at the progression of Steve through the years, shall we?
We begin with Day 1.  A pawn shop bass, knock-off Vans, a Sting button on his strap, and a dream in his heart.  He was now someone.  OK, not really.  His hair was still in tact (he was 13), and he had no clue about, well, anything. The look was very hip for his day. Many kids in the 2000's would wear this outfit.  (See: Mute Math)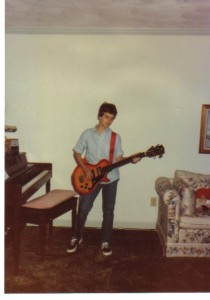 Then we somehow get through college, where I met a few other musician-types who were trying to figure out the best way to get rich and not have to work for a living.  After I graduated and subsequently returned to Hattiesburg, I started touring, albeit severely misguided.  Things wrong with this picture below – first of all, shorts on stage.  We ain't Mark Bryan from Hootie!  Second, I am trucking around the Southeast with an expensive custom FRETLESS bass playing in a semi-acoustic band.  This was great ear training, but not the most practical bass to have out.  Third, the wearing of the jersey should only be attempted when either singing the Nation Anthem or the jersey was given to you before the show.  Sad. (side note – the hat WAS a joke, but even funnier was that it was hiding a Nike bandanna.  That, too was sad.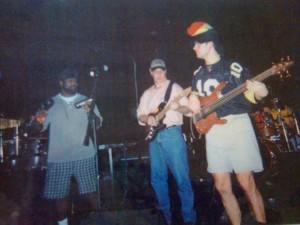 Fast forward to the present day.  I have no hair, no longer wear shorts on stage, and have somehow maintained a career playing music for a living.  I got rid of the expensive bass for a much cheaper one (and one that can be dropped without loss of sleep), and whereas I still wear the occasional funny hat, I have real Vans now.  And they suck.  They are cheaply made, and after a mere 3 months, I needed new ones.  So thank you Mom, for buying me the knock-offs.  I wasn't the coolest in school at the time (or ever), but now I know the value of a dollar, and where to spend the money, and where to save.  And Mom was the one who drove me to the pawn shop to get the bass you see above.  Thank her for 25 years of noise pollution!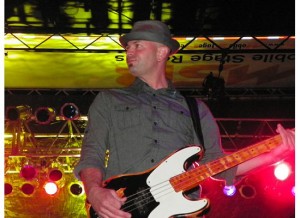 So back to the issue at hand – my birthday.  I was on the bus on my birthday.  Phil had a private show in Fredricksburg, Virginia for a powerball winner (I can't make this stuff up) on the 7th, and we flew back the next morning.  They say as you get older that birthdays don't matter.  In my case, I like to have a birthday week.  My close friends groan around Dec 4, because it means there are going to be a few nights I call my 'birthday nights'.  I just like for folks to get together and have fun.  This year was no exception, with a show, then a brother coming in, then date night on Saturday.  Good days, indeed.
In a beautiful full-circle, we flew through Midway airport, which has an SBD-4 Dauntless hanging in the Southwest terminal.  I am pretty sure they knew how important WWII is to me, and that they hung the plane knowing I had to walk that way.  I was amazed, however, at the number of people who just walked by, not taking 30 seconds to read anything about the Battle of Midway or the airplane.  Shame.  I'll wait, if you want to read about, oh, the most important Naval battle of WWII.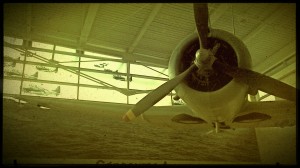 Back to the music!  Like tomorrow!  Grand Ole Opry.  Ryman.  Holy crap – again!  It simply doesn't get better than to play such a hallowed hall.  If you are in Nashville, come check out the show.  We are playing some really, really cool Christmas tunes from Phil's new record, Noel.  Worth every penny.  Making a Christmas record is tough – it really is, but Phil nailed this one.  Come out and give us a little listen.  And we may go out afterwards and celebrate my birthday again.  We'll meet you at the stage door.
That's all for now.  Give yourself a break today and breathe deep for 10 breaths.  If you don't pass out, then hopefully you will feel calm, relaxed, and more focused.  Namaste.  (Can you guess my resolution this year?)
See you on the road!
---
---